Under threatening grey skies, a small crowd has gathered at an outdoor soccer arena near Chula Vista, CA. A flurry of activity criss-crosses the Salt Creek Community Park's pathways and parking lots. Two people are setting up a blue pop-up tent, which has the United States Association for Blind Athletes logo emblazoned on each side. A documentary film crew is capturing footage, and an athletic trainer looks on from the bench, with arms crossed and a wide smile. Nearby, white passenger vans are neatly backed into asphalt slots, and adults in performance gear with USA and Canada embroidered on them scurry about, carrying mesh bags of soccer balls, caddies of water bottles and bags marked as medical kits.
A light drizzle is settling over the pitch. Under the dramatic backdrop of the Jamul Mountains, a line of men in white kit makes its way across the playing field. They are led by sighted goal keeper Kyle Knott, and each man behind him has his right hand on the right shoulder of the person in front of him. All except one, who is without his right arm below the elbow. He reaches across with his left hand.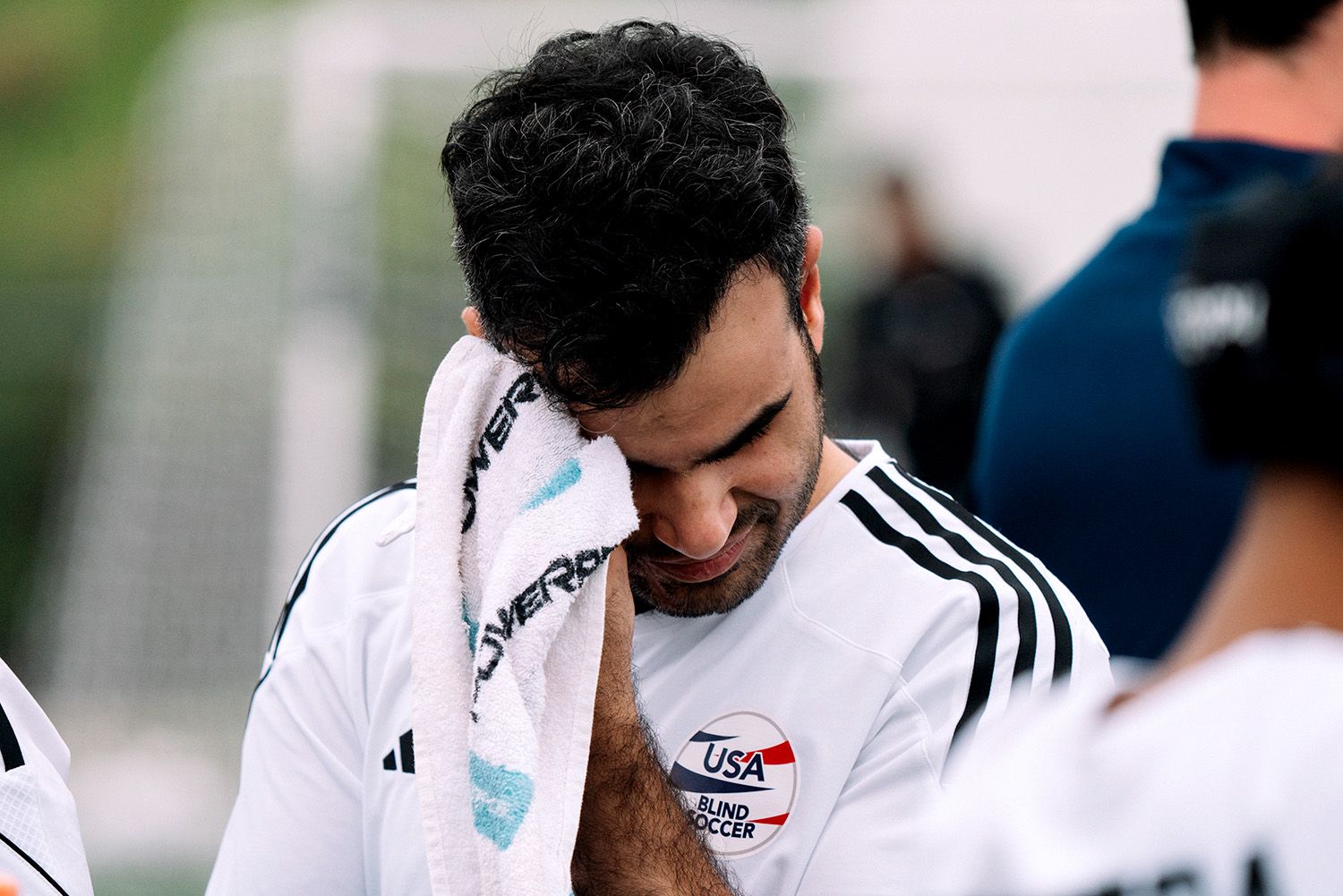 Following warmups, the teams gather at midfield for ceremonies and the national anthems of each country. The U.S. men line up shoulder to shoulder, and belt out the Star Spangled Banner with grand enthusiasm.
Among them is a 26-year-old — the one missing his right arm. He has a huge smile on his bearded face and is singing perhaps the loudest of all the U.S. players. Nineteen years ago he was walking with a friend on a street not far from his home in Baghdad, Iraq, when a bomb detonated and forever altered the course of his life.
His name is Ahmed Shareef, and he's one of the few victims of war whose personal tragedy led him to a different version of a familiar childhood dream.
---
In 2004, the United States' invasion of Iraq had been underway for more than a year. U.S. forces had taken control of Baghdad the previous spring. But street fighting remained a consistent threat as insurgents took the fight to coalition forces, hoping to lay claim to a state in ruins, one with a dictator in hiding and a military in disarray from corruption and abandonment.
As a 7-year-old, Ahmed Shareef and his friends quickly learned how to live with war. They still went to school, and they still played soccer whenever they could. Before the invasion, soccer was a way of life for the Shareef family.
"Because we loved the sport, we would play with slippers on, we play with no shoes. We would set up goals and we would play all these children," Ahmed says. "Because we love it. We go home from school, and then do our homework, eat dinner, watch a soccer game at night. We would watch La Liga, the Premier League, all these European leagues — it comes on at night over there in Iraq."
Soccer is a lifeline for so many young boys and girls around the world. It's the most popular sport on the planet because all you need is a ball. For Ahmed and his friends, they didn't even need shoes. Just "a field of concrete."
It was April of 2004, the second day of Ramadan, and Ahmed and his friend Dawood were walking home from school. Hearing the sounds of gunfire and explosions had become routine. On this day, Ahmed says that his usual path home had "an obstacle."
"I was walking with my friend, and I finally just got scared because we see nobody in the street and we were like 'What's going on?'
"We were wondering if we cross, 'Are they going to shoot us?'"
"And we ended up at an intersection, and we had to cross the street there because it was the only way home. So we crossed the street and continued on toward our block. We looked to the left and we see the street is blocked, and we're like 'Oh!' and I looked to the right and I see people with machine guns, and we were wondering if we cross, 'Are they going to shoot us?'"
Ahmed says U.S. forces were on one side of the street, and insurgent fighters on the other. He and his friend crossed the street, and started running until they got to a sidewalk, where they slowed to a walk.
"We were walking in the middle of the block, and there were U.S. tanks and Humvees and all these military vehicles. I'm walking in front of my friend, and he was scared. I turned my face and was going to say 'Let's walk faster' and as soon as I turned my face the bomb went off."
Two young boys — friends and schoolmates — navigating the disheveled streets of war-torn Baghdad, littered with rubble, buildings pockmarked by bullets. Imagine the fear of standing at that intersection, looking left at an obstacle that prevents you from going that direction. Then looking right and seeing a hoard of men with automatic weapons. Friend or foe?
Then imagine making the choice to cross the intersection, which is eerily empty. Two 7-year-olds with fear rising from the pits of their stomachs, only to then see U.S. military vehicles. Friend or foe?
The smell of diesel exhaust, a cloudy haze of dust and fumes. Radios crackle with comms. Tension spills onto the street. Weapons at the ready. Panic sets in as Ahmed turns to his friend to tell him to walk faster, only to be met with the blast force from a presumed improvised explosive device (IED).
"The bomb hit me upward, and like hit my face. And I was unconscious for five minutes and then I stood up and I heard my friend crying. And I'm like, 'What's happening?' I was in shock mode. And if I remember correctly, a few minutes later they picked me up and took me to a nearby hospital."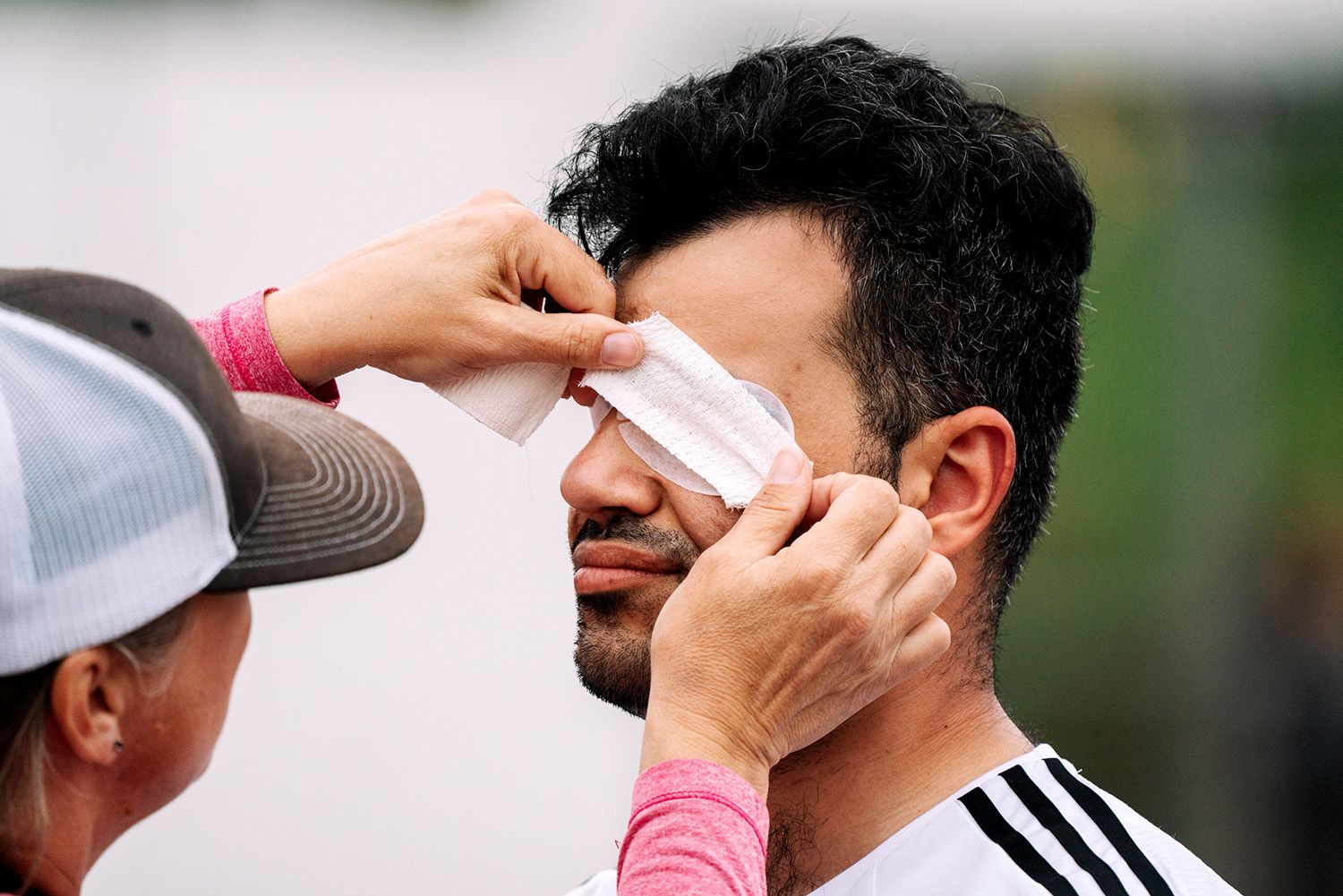 The bomb severed Ahmed's hand at the wrist. The blast propelled his dismembered hand into Dawood's abdomen. Ahmed's face was badly burned, and his body was filled with shrapnel. He realized he couldn't open his eyes. His body was numb. It was neighbors who scooped the boys up, placed them in the bed of a pickup truck, and rushed them for treatment.
Ahmed was only a block and a half from home.
His family was expecting him to arrive from school. His brother heard the explosion, and when Ahmed failed to arrive home after a couple of hours, began to worry. Meanwhile, the neighbors who took Ahmed and his friend to the hospital were met with a new problem: the first hospital couldn't help them because of a lack of supplies.
The second hospital also rejected them.
At the third hospital, the neighbor begged doctors to treat the boys, because they wouldn't survive the trip to a fourth hospital. The staff agreed, and put the boys on gurneys.
The neighbors drove back to the Shareef home, and knocked on the door. Ahmed's father answered, and when he learned the news about his youngest son, he collapsed.
---
Ahmed would spend a month at this hospital, undergoing treatment for burns, shrapnel wounds, a further amputation of his right arm, up to his elbow, and ultimately, permanently losing his sight. Doctors were set to amputate his left arm, until his oldest brother, Saad, intervened and begged them to stop. Dawood would eventually recover from his injuries.
Ahmed's future was at best murky. After a year of war, Iraqi hospitals were inundated with injured civilians and fighters. Supply chains remained disrupted. Ahmed would need prosthetics, and would need replacements as he grew.
Shortly after he returned home from the hospital, his oldest brother sought additional aid. He went to a U.S. military facility and asked them to help Ahmed. There, he was connected to a charity in Staten Island, NY called Global Medical Relief Fund. Its founder, Elissa Montanti, agreed to personally help Ahmed.
"Elissa came to get me from Iraq, actually from the Kuwait border with Iraq, and that's how I came here for the first time," Ahmed says.
Montanti worked through dozens of doctors, eventually getting Ahmed fitted with prosthetic eyes and a prosthetic arm. He returned to New York to get resized as he grew. On his third trip to America, Ahmed made the biggest decision of his life, and he was only 15: he decided he wanted to stay.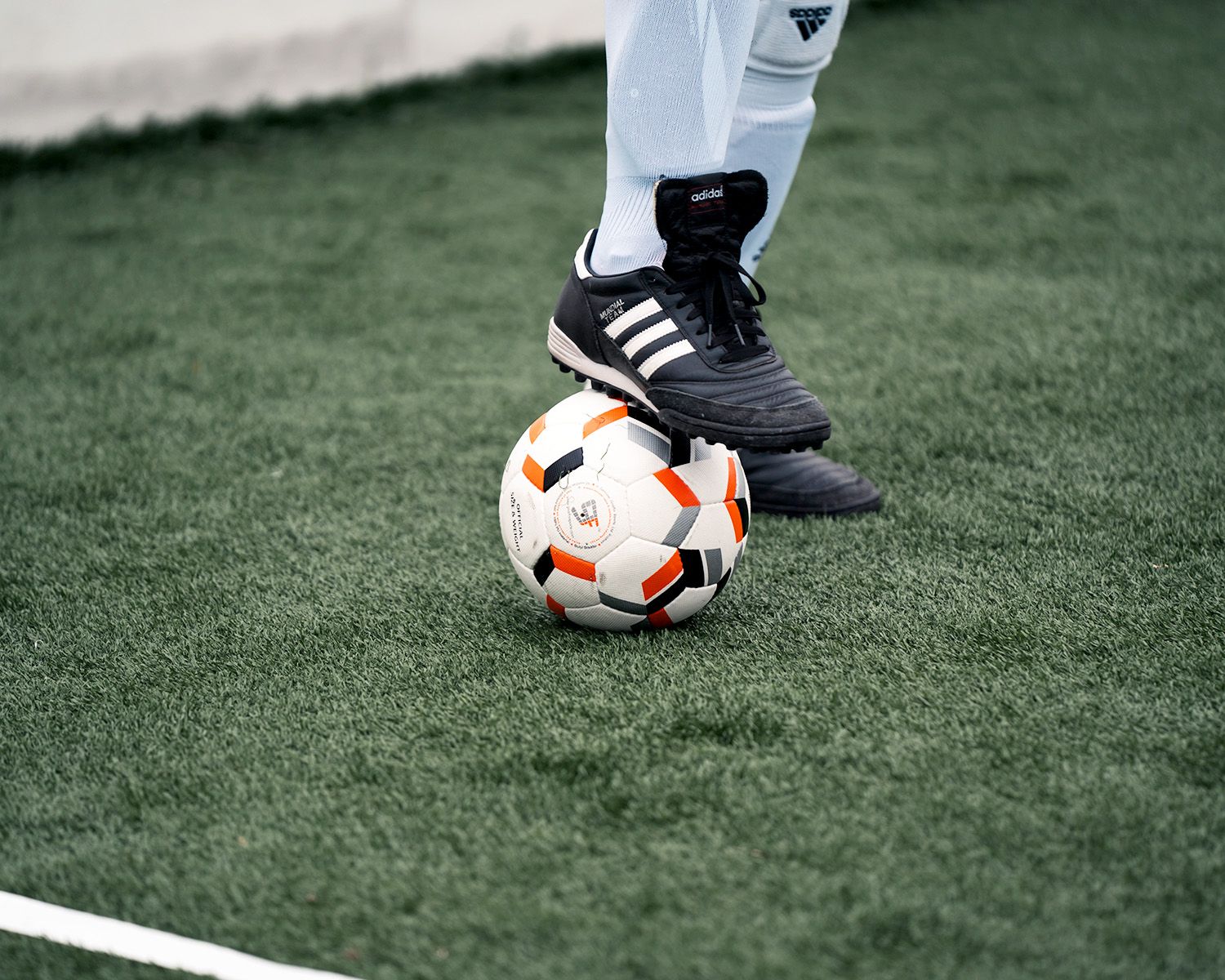 "I made the decision I'm not going back to Iraq."
Montanti worked with Ahmed's parents to receive guardianship, with all parties believing his future was more predictable and stable in the U.S. than in Iraq. So with a determined spirit, Ahmed was now living on Staten Island, not far from Ellis Island, the famed gateway for millions of immigrants.
Speaking only broken English and having not been in school regularly for the previous eight years, Ahmed enrolled at Curtis High School.
"I don't know what signs mean. History or algebra, Latin, environment, math. And especially going to learn Braille as a blind student. I was the only (blind student) in school, so I got to say Curtis High School did a great job of how they accommodated me and how they created a great support system for me."
Ahmed excelled in his music classes, finding a love for jazz. He learned to play the piano, trumpet and drums. Later he added guitar. Today, he performs in a band called Blind Ambition and works at Curtis High School, where he teaches music and English as a second language to Arabic students. He also hosts a podcast, Ahmed: In Retrospect.
---
Ahmed is here in Chula Vista, in this moment, because he responded to an email nearly four years ago. Blind soccer programs had been available in other countries, and the U.S. was just getting started.
"I was signed up for this newsletter and I see that blind soccer is popping around the U.S. so I looked it up. I was like, 'Okay wow.' So I just got in contact with the association, you know, said, 'This is my story, I would love to be on a soccer team.'" It had been 15 years since he had last played.
His return to the sport started with some local camps and grew from there. Eventually Ahmed and others — including many on the inaugural national team — were invited to California. They could sense it was the beginning of something special. Fast forward to fall of 2022, and Ahmed and his teammates are announced as the first group of men to represent the U.S. in blind soccer. Team USA will make its Paralympics debut at the Los Angeles Olympic Games in 2028.
Ahmed has wholly embraced the challenge, wanting to become a dependable teammate and contributor. These traits were evident when U.S. head coach Katie Smith first took notice of him at a camp in Colorado.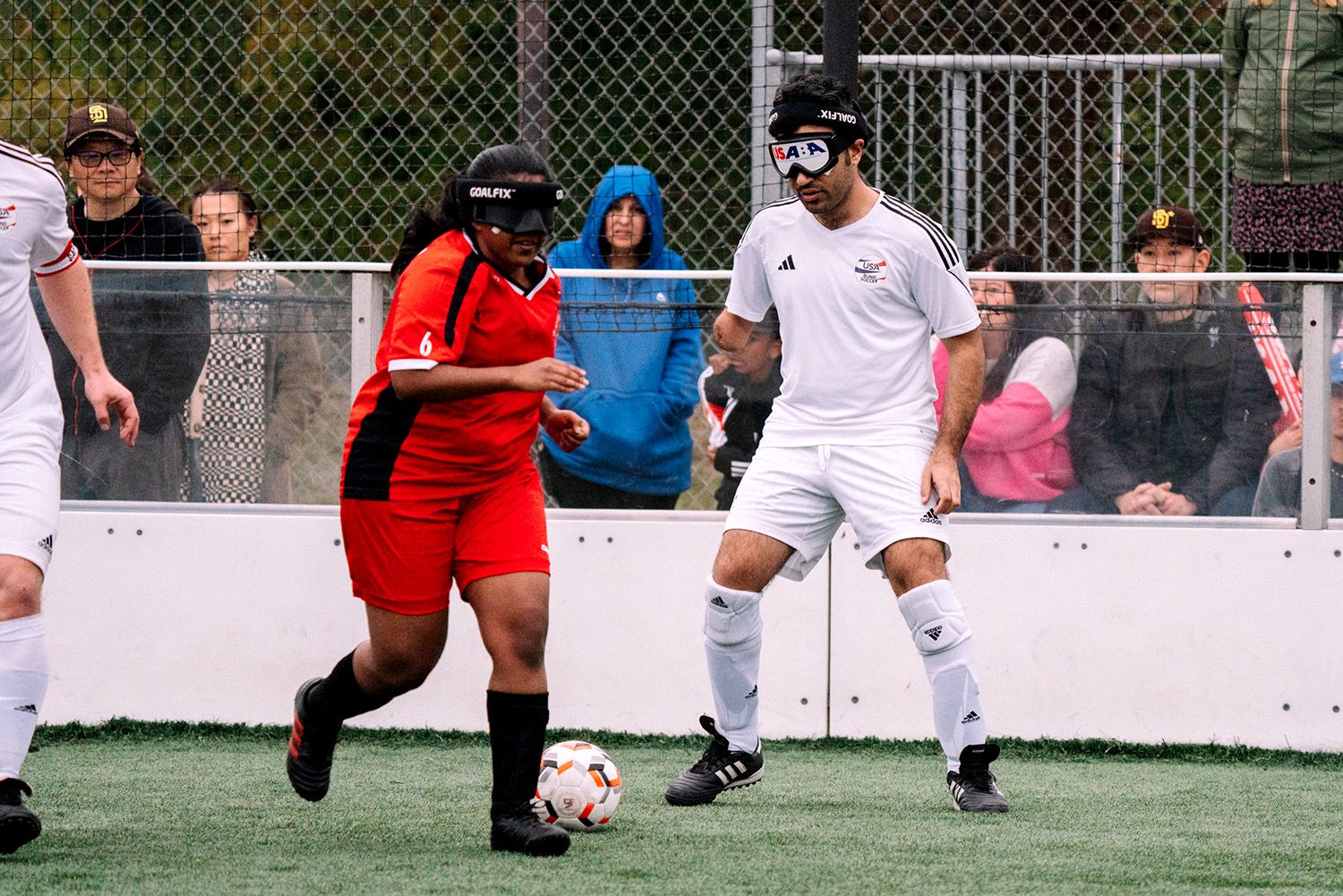 "From seeing him in Colorado to then seeing him at the national team tryout, it was night and day. His defensive abilities, you could tell he had practiced. You could tell he was oriented to the ball. He could hear the ball where it was located, and just was able to make a stop," Smith says.
"His nickname is The Wall right now because no one can kind of get past on defense. So it's just incredible to see that change."
Blind soccer is played five against five, on a pitch that resembles a hockey rink. There are boards that enclose the playing surface. This is important, because auditory skills become the primary sense used by players. For example, the way their voice echoes off the boards tells them how close they are to the sides of the pitch.
Before each match, every player has their eyes taped over, typically with a piece of surgical tape followed by padded gauze. Then, they adorn blacked-out ski goggles. This is done to ensure an equal field of play, as not everyone may have the same level of blindness.
The ball is fitted with bells inside, so it sounds like a baby rattle as it tumbles across the pitch or flies through the air. Another cue for the players.
Blind soccer can be extremely physical, and according to Smith, players must be willing to accept that in order to thrive.
"I think as being somebody who is blind and visually impaired, you have to get over the fear in some ways of getting hurt or that potential of getting hurt," Smith says. "I'm an orientation mobility specialist. So a lot of that fear is like crossing the street. Think of that day in and day out, whether you have no vision, you have to cross the street.
"And they have to be willing to take some of those risks. So I think on the soccer field, that can come back into play. You have to be thinking about your orientation skills. And that takes time to kind of figure that out. But a lot of these athletes are incredible at doing that."
---
During the U.S. vs. Canada friendly in Chula Vista, incredible skill is on display by both teams. In one instance, U.S. captain Noah Beckman sprints toward the Canadian goal, with his sublime dribbling skills mesmerizing the crowd. Players are expected to call out "Voy!" to alert other players of their presence. But Beckman was on a mission to score.
He expertly darts through the Canadian defense and finds himself with an excellent scoring chance. Each team has a coach positioned behind the opposing net to call out scoring options or shooting lanes. When a player is primed to score, the coach yells "shoot!" or "45!" to indicate the angle the player is to the net. All goalies are sighted, and they tend a smaller net than professional soccer.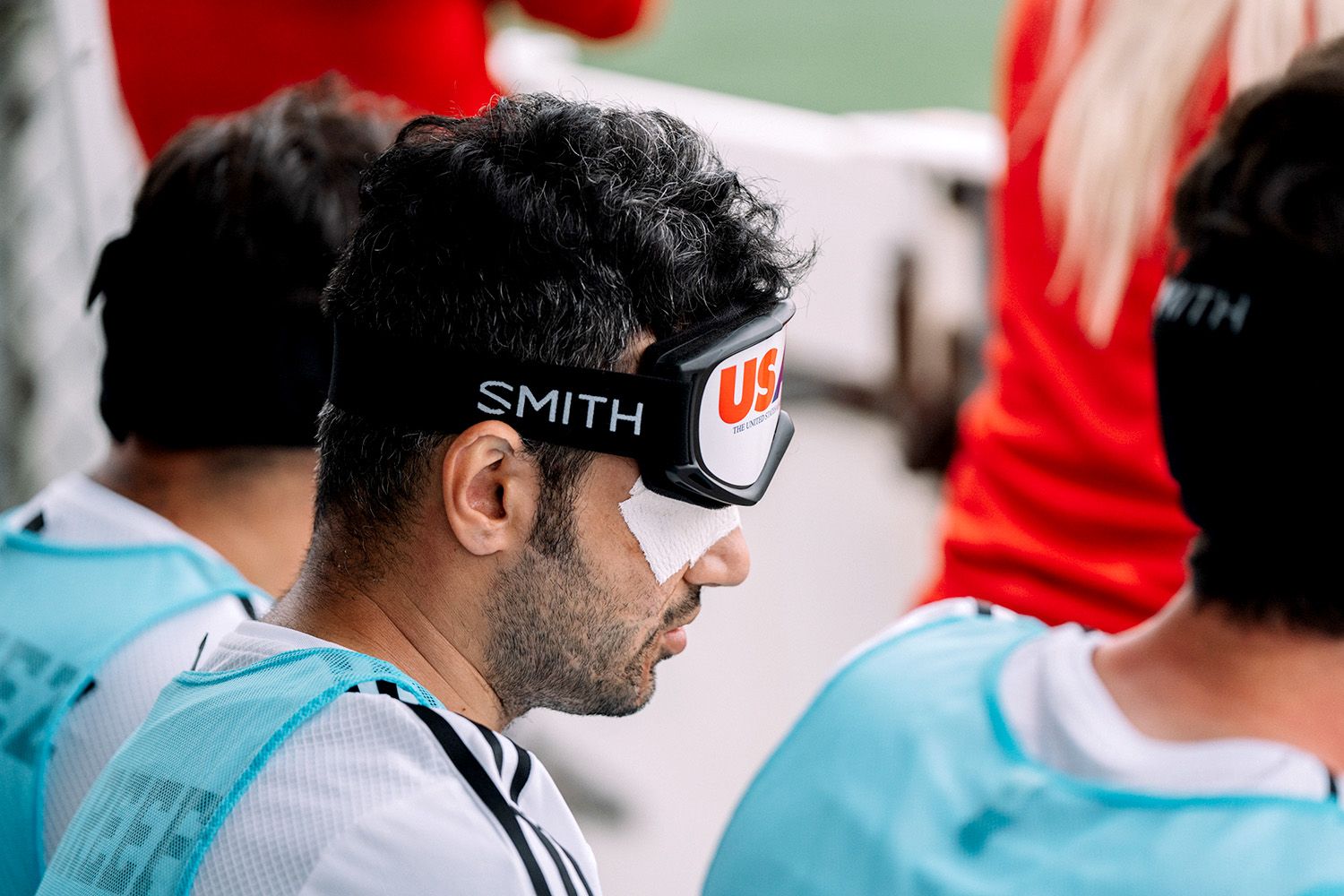 Beckman is slightly off center from the net, and his kick sails wide left. Hearing the ball hit the back boards and the audible frustration of his coach, Beckman snaps his head back in disappointment before turning around and jogging back into position.
As this happens, substitute goal keeper Brandt Herron is whispering play-by-play to other subs on the Team USA bench. They are seated, listening intently to the play, the coaches yelling instructions, and Herron's account of the action.
In one instance, Alvaro Mora Arellano receives a pass along the wall, and dribbles quickly toward the center of the pitch. He is small, fast and barrel chested. As he picks up steam, he collides violently with a Canadian defender. The sound of flesh-on-flesh violence is jarring — both a thud and a thwack. The crowd gasps, and the Canadian defender tumbles hard to the turf, both back and head ricocheting off the ground.
On the U.S. bench, one of the subs asks what happened. Herron whispered "Alvaro just ran someone over." The subs laugh and cheer before Smith and assistant coach Fil Wilkinson turn around to shush them. The players on the field need to be able to hear each other, and the coaches. Everyone has a job, whether they are playing or not … quiet on the bench, please.
---
As the clock winds to zero, the U.S. secures its first international victory by defeating Canada, 1-0. The crowd stands and gives raucous applause, and the players celebrate with chants of U-S-A! U-S-A!
Ahmed raises his left hand and turns toward the crowd in a quasi-celebratory salute. A warm smile washes across his face, showing joy in the moment and, perhaps, recognition of his journey from Iraq to the U.S. national team.
When you look at him, you see the legacy of a single, terrifying moment 19 years ago. Yes, he lost his sight and his right arm. His face has a large scar on his right cheek. Looking closer, you see indications of multiple surgeries and the smaller marks on his skin — long since healed —that were once shrapnel wounds.
He has come so far. Having earned his U.S. citizenship three years ago, he retains dual citizenship largely because a part of him will always be in Iraq. His family, still in Baghdad, was awake at 3 a.m., watching Ahmed's debut for Team USA.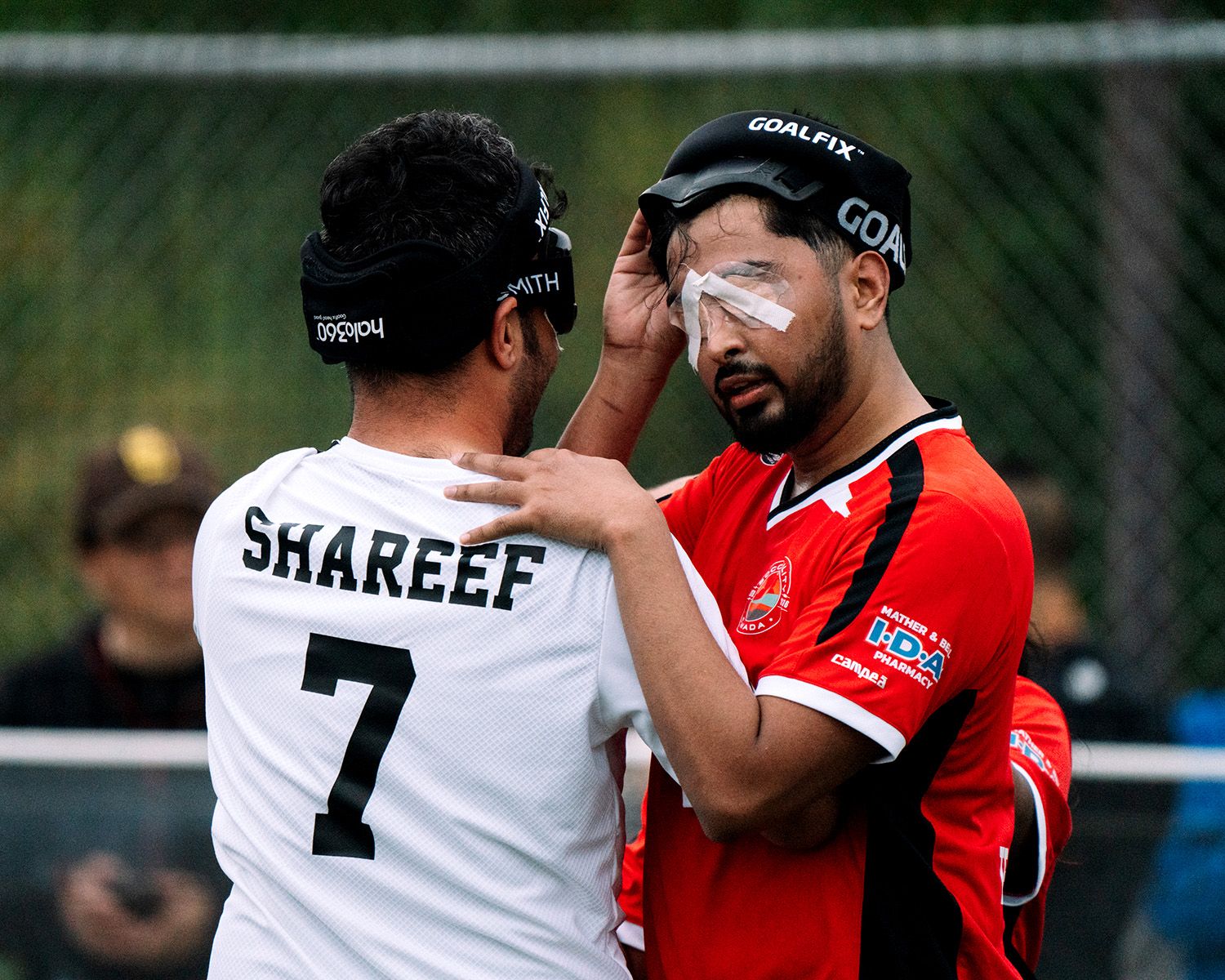 "They didn't think their son and one of their siblings would be doing this. In their own words, they said I made something from nothing."
In the time since he permanently left Iraq, Ahmed has lost his father and a brother. So much has changed in his home country. And here.
I ask him if he remembers seeing. Do you remember your neighborhood? Do you remember the faces of your family?
"I remember," he says, then pauses. "I remember colors, the color of the sky and the sun. My family, it's been a long time since I've seen them, but I know their faces, and I imagine their faces."
Ahmed has adapted, endured and thrived. He has learned to live for today, to be grateful for his journey and to be demanding of himself. There is no sense of self-pity or declining worth. In fact, his confidence simmers on the surface.
Being on this team ties the Ahmed of today to the Ahmed before the blast. He can be that kid again, shoeless on a field of concrete, laughing and competing with his friends. He actually gets to live his dream of playing high-stakes soccer. He gets to merge the old Ahmed with the new.