Reyes Moran Jr. didn't want to leave behind his native Puerto Rico, but it was time to join the rest of his family in pursuit of a better life. He landed in Chicago the day before his 15th birthday with exactly three words of English in his vocabulary: mother, father, water.
Now, almost 60 years later, it's all coming full circle with his grandson's return to the family roots.
Jacob Moran — a junior wrestler at Indiana University and champion most of his life — has his sights set on wrestling for Team Puerto Rico in this year's U23 World Championships and, he hopes, the 2028 Olympics too.
"I started jumping up and down when they told me he was going to do this," Moran Jr. says. "I must have called every relative I have in Puerto Rico to tell them that Jacob will one day represent our island."
A lot needs to happen first. But the possibility is real.
---
Actually, Jacob Moran didn't even like wrestling at first — the yelling, running and pushups part of it anyway. He used to tag along to his older brother's practice, but when it came time for him to participate, he'd disappear.
You can see it: He and his two siblings are at their grandparents' house while their parents work. After finishing his shift as a Chicago police officer, their dad comes to take the boys to practice.
"I was 5 or 6, and I hid in the garage and cried," Jacob says. "My dad came out and saw me and was just like, 'Alright, we're going,' and 'You'll grow up to learn the lessons it teaches.'"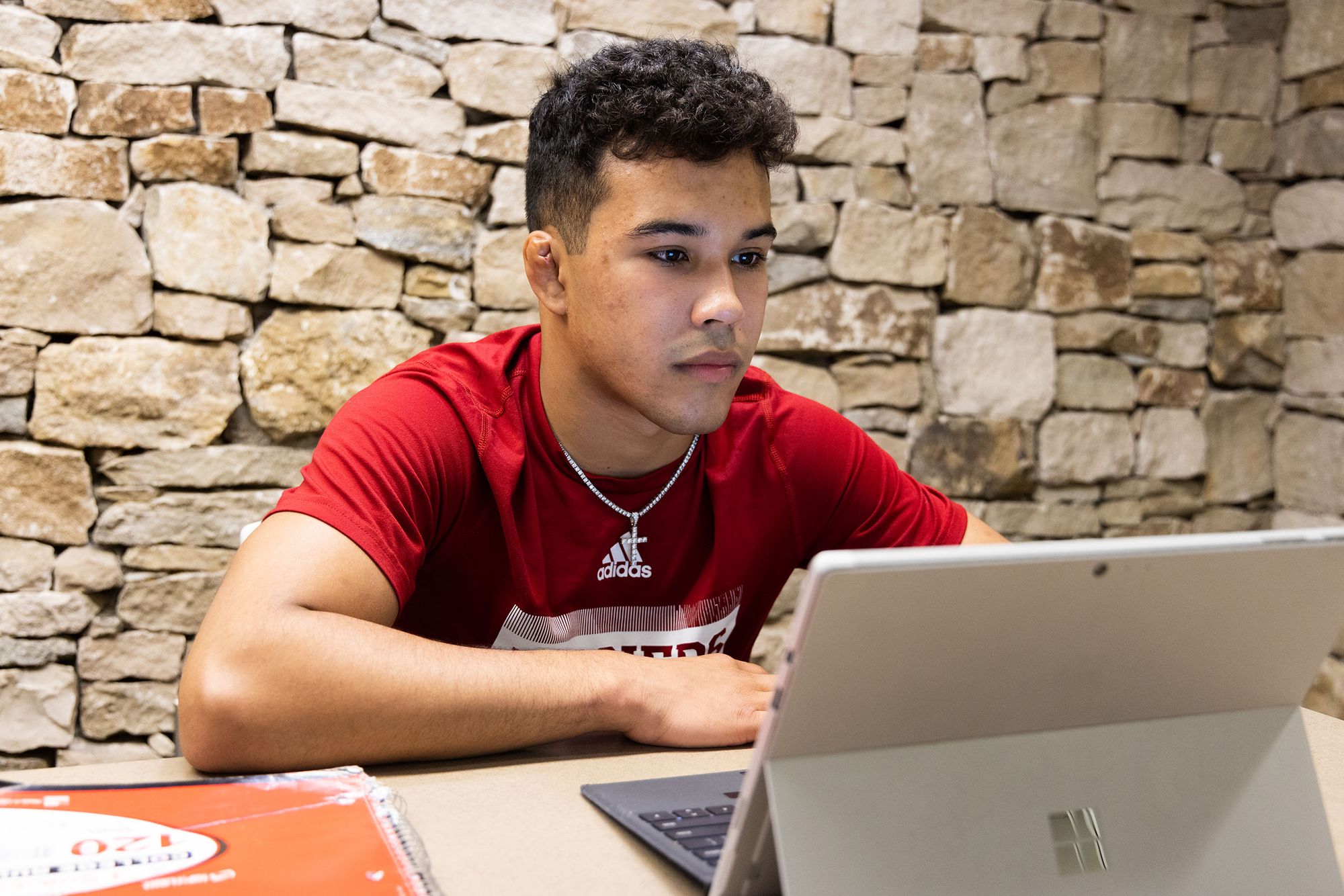 Jacob resisted but went that day. And kept going. It didn't take long before his competitive drive kicked in, and wrestling became central to his world.
His dad, Reyes Moran III, remembers Jacob becoming an aggressive competitor, someone who was scared to lose. It consumed so much of him that the family doctor recommended signing him up for piano to stimulate the other side of his brain.
"He and his brother were so competitive," Moran III remembers. "Who can tie their shoes the fastest? Who can eat their cereal the fastest? They would wrestle all the time, break stuff around the house. It drove us nuts."
Piano lasted a couple of years, until Jacob was able to channel his wrestling.
"So then, at 7 or 8 years old, he'd be playing his Gameboy off to the side of the mat, but when the whistle blew and it was game time, he'd turn into someone else," Moran III says. "His grandma would say, 'I don't even recognize him. Look at that look in his eye.' And then he'd get off the mat and give Grandma and Grandpa a hug and get his Dippin' Dots and get back on the Gameboy."
---
At the time, he wrestled for the Harvey Twisters, a premier kids' wrestling club on the south side of Chicago that helped produce Olympians and national champions, like Harvey native T.C. Dantzler, and exposed Jacob to lessons he still carries.
"A lot of the kids didn't have the privileges I have or the support at home," Jacob says. "And I realized, if these kids are able to excel and come from nothing and succeed in this world and in this sport, who am I to think I can't, especially when I have the support of my family and coaches?"
He poured himself into his sport, and it became clear that wrestling could take him somewhere. The family moved to Crown Point, Indiana, for the boys to attend high school, and then a couple years later, a half hour east to Portage, IN, home of Portage High School.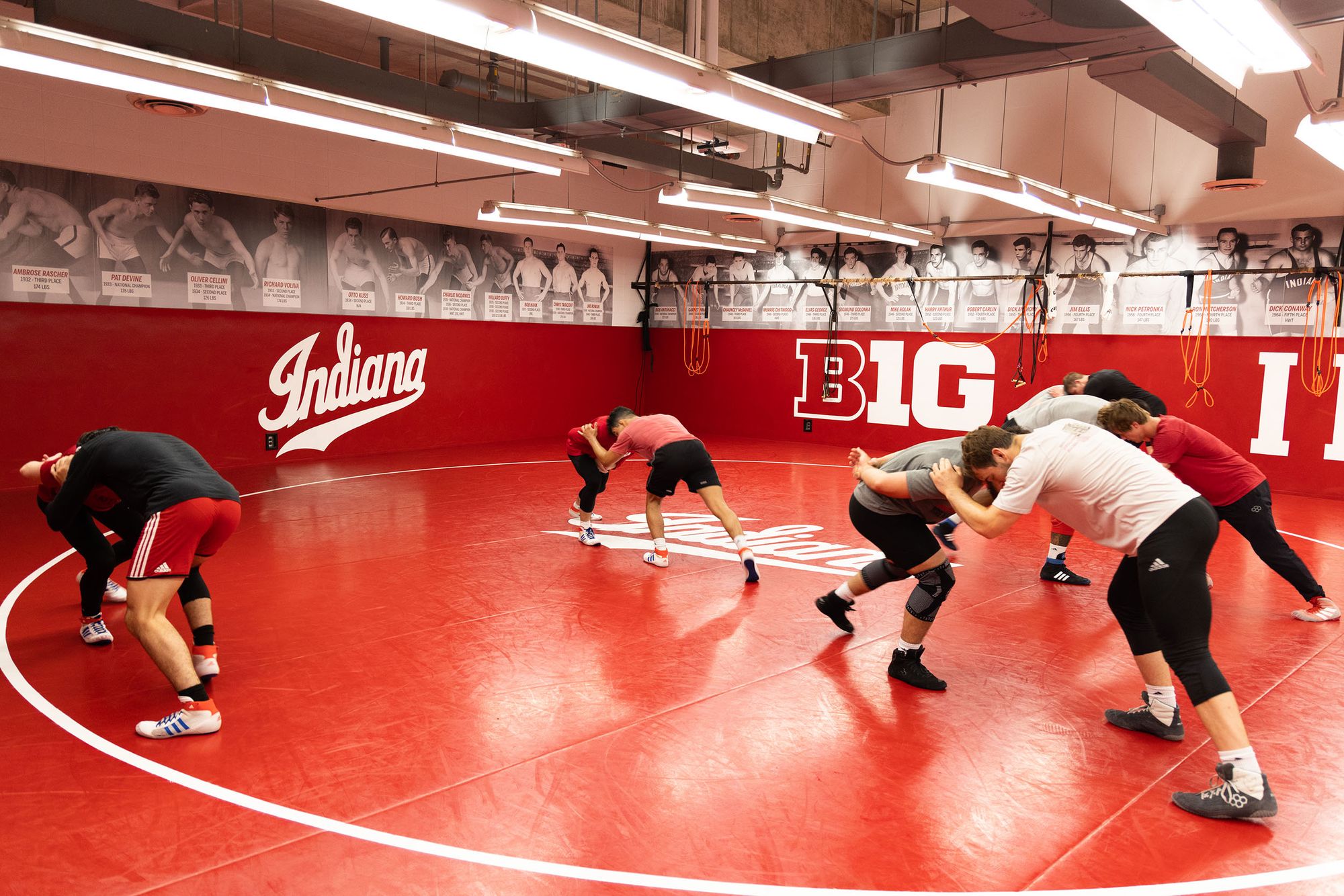 The up side? The Portage head coach at the time was Leroy Vega, a three-time All-American during his time at the University of Minnesota — and someone well versed in both Division I recruiting and competition.
The down side? Jacob lost his sophomore year of eligibility because of transfer policies (and possibly politics) at his departing school. When you're trying to attract college attention, losing a whole year of competition is a huge blow.
"All he could do was train really, really hard at home," Moran III says. "He got bigger and stronger, and the next two years, he won state championships."
---
Colleges noticed. Purdue, Indiana, Arizona State, Northwestern, Stanford, they all came calling.
"The Stanford campus was beautiful," Moran III says. "I'm thinking, this kid is from the south side of Chicago. There are all these trees, and it's sunny. Of course you're going to pick Stanford.
"And then we went to Arizona State, and it's even more beautiful. Look at this place! Everyone's running around in golf carts, every dorm has an in-the-ground pool, and girls are running around in bikinis. How's this kid supposed to say no to this?"
It was Jacob's first big decision. As a dedicated student, he had to seriously consider Stanford.
"I got accepted, and that's where my heart was leaning," he says. "I wanted to go to a place where I knew I could succeed in the classroom and on the mat."
Then came an altogether different opportunity: an invitation to train for a year at the Olympic & Paralympic Training Center in Colorado Springs. Doing that, though, meant taking a gap year after graduating in 2019. Would a college accept that delay?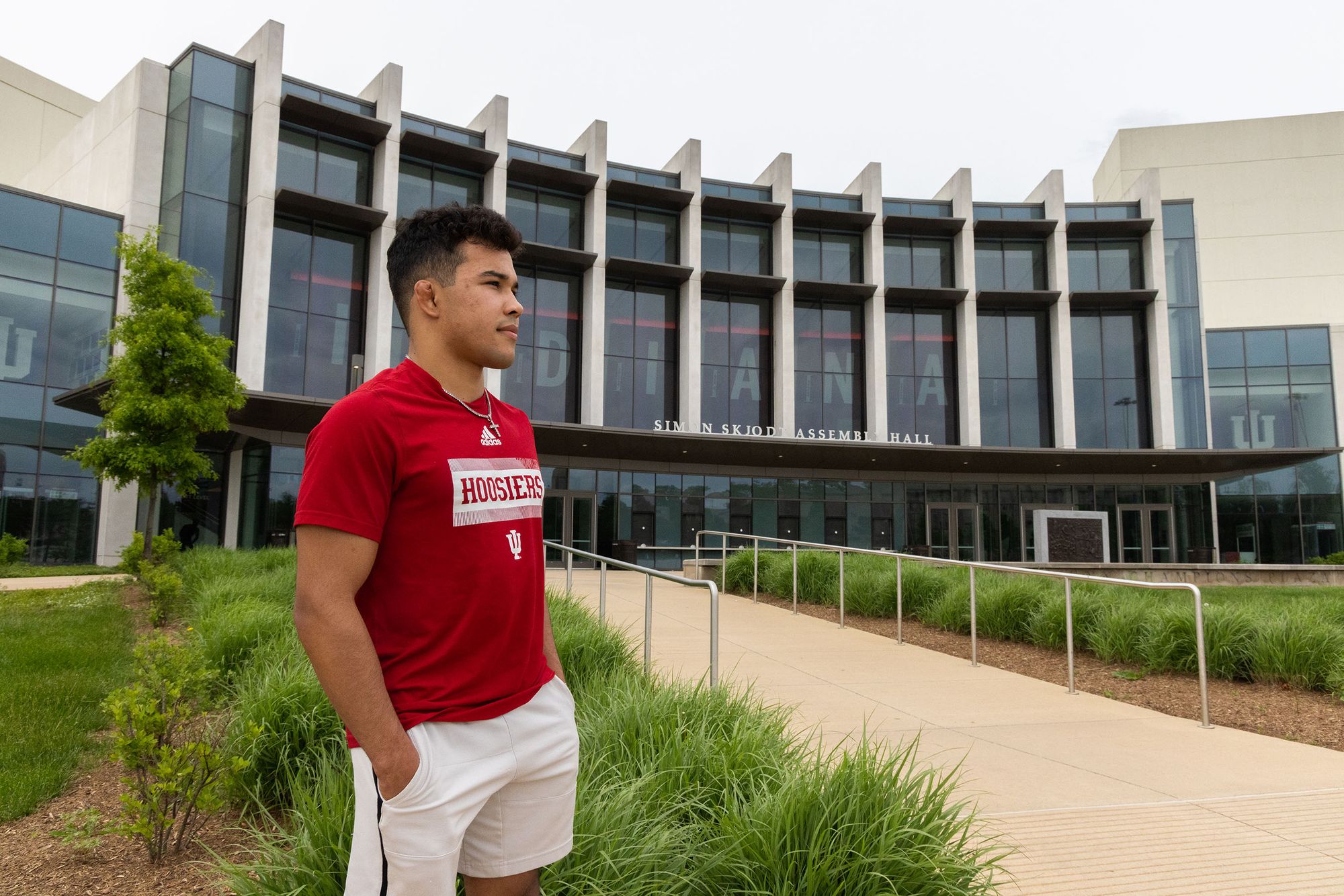 It all came together with Indiana University. His older brother Jonathan was wrestling there, and the coach was friends with the Olympic Training Center coach. That eased any gap-year qualms and made Indiana — and the training center — an easy call.
"It was an opportunity I couldn't pass up," Jacob says. "I got to train with and learn from the best athletes in the world. I got to learn how they go about life. I got to travel the world and have different opportunities."
He competed in Austria, then Latvia. Then came COVID-19. The pandemic cut the rest of the training experience short by two months. Still, Jacob says: worth it.
---
By the time he got to Bloomington in the fall of 2020, COVID still dictated campus and competitive life. It was a short wrestling season, so, like so many student-athletes, he didn't really get a grasp of what a full Big 10 season entailed.
He got that grasp in a COVID-shortened 2021 season, when he saw just how competitive it is. He finished 5–7 that year, 12–13 last year. And now he's gearing up for the Big 10 Championships.
"Big 10 wrestling is kind of like the SEC in football," he says. "Everyone knows how to wrestle and has the skills and techniques, so on this stage, it's about all the little details. Sleep, nutrition, mental preparation, making sure you're recovering correctly. Making sure you're ready physically, mentally, spiritually, all that stuff, and try not to focus so much on results."
"As a kid, I was doing a lot of winning and very little losing." – Jacob Moran
That's a philosophy he's grown into as he's gotten older and faced perhaps his toughest competition.
"As a kid, I was doing a lot of winning and very little losing, and I think that kind of hurts you," he says.
Adversity forces you to to fine-tune the details and recognize what you can and can't control.
"You can control effort, attitude. When you focus on those and take away the outcome, you're going to be more satisfied. It's all about the process and who you're becoming along the way."
---
The competition, the conviction, the mental strength … it all positions Jacob for that ultimate dream of competing for Team Puerto Rico.
Puerto Rico is a territory of the United States, and yes, its citizens are American. But the International Olympic Committee considers Puerto Rico a country that can send its own athletes to the Games. And with his grandparents' Puerto Rican birth, Jacob has a citizenship certificate.
Still, it took a year to complete the paperwork and process of switching his eligibility from the U.S. to Puerto Rico. With that squared away, he'll focus on the Big 10 and National Championships this spring.
Then comes the next step: earning a spot on Team Puerto Rico. That opportunity comes in August with a tournament in Puerto Rico. If he makes it, he gets to represent the island at the U23 World Championships in Tampere, Finland in October.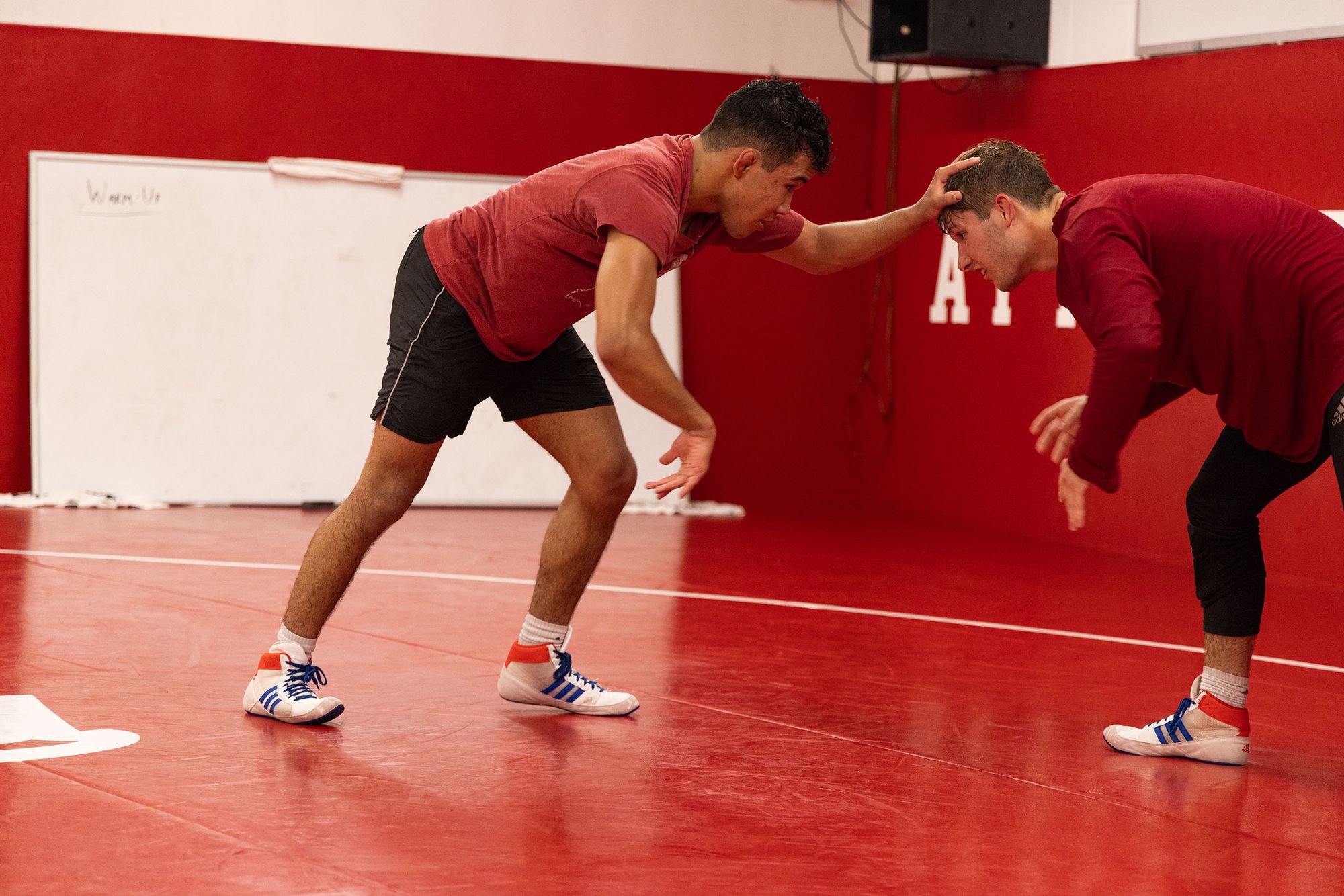 And then of course, he's always dreamed of the Olympics.
"With the 2028 Games in L.A., my whole family could be there — everyone that's ever put time and effort in to bring me to this point. That's years from now, but it starts now. Watching the way I talk to myself. Making sure every day that every decision I make works toward that goal in 2028."
Why Puerto Rico? Family roots run deep.
Many in his extended family are still there, and his grandma's stories and cooking — her fried pork chops and fritas especially — brought Puerto Rico to Chicago.
"It's a big part of who I am," he says. "This is an opportunity for me and my family to represent where my family comes from. My family's history."
All that's left to do is make the team. And maybe learn more of the language.
"We laugh about it," Reyes Moran, Jr. says. "And I think about it. I didn't know English that well then, and he don't know Spanish that well now. I see him as an example of our progress."
Update, Aug. 3, 2023: Jacob earned a spot on Team Puerto Rico's Worlds roster sooner than expected. Puerto Rico invited him to compete in the 2023 Central American and Caribbean games in El Salvador, where he won a bronze medal in the 57 kg weight class. With that podium and success in an international tournament, he's been informed that he will represent Puerto Rico at the U23 World Championships in Finland in October.