At the turn of the century, when he was in his late twenties, Merijn Tinga quit his job and decided to reinvent his entire life. Tinga was working as a biology teacher in the Netherlands, but as much as he loved the subject, this was not his true calling. Tinga's father was a doctor who worked in the tropics; he lived in Africa and the Caribbean as a kid and dreamed of beaches and the ocean, of a life spent windsurfing or kite-surfing and creating visual art and sculpture. And so in 2001, he strapped a bulky kite surfboard to his back and rode his bike for three thousand miles, all the way to the beaches of Morocco.
Tinga wanted to indulge his sense of adventure. He wanted a challenge. Hence, the bike ride, during which he refused to use the lowest gear on his bike while he was riding up hills just to push himself that much harder. But he wanted something more than just a physical test. He was searching for a greater purpose. And he found it on the beaches of Morocco, even if he didn't know it at the time. "There were all these dry bushes and all these small plastic bags that had blown into them and gotten stuck," he recalls over a Zoom call from his current home in the Netherlands. "And the whole landscape was like that."
Tinga began taking pictures of those bushes. He'd always had an ambition to create art that conveyed an environmental and social message; upon his return to the Netherlands, he co-founded an art collective that illegally placed large wooden sculptures around the Dutch town of Leiden, where he lived. Over the course of more than a decade, while creating his art, Tinga read more and learned more about the problem of plastic pollution in the ocean. And in 2014, he found a way to marry his passions: He built a surfboard entirely out of plastic parts he'd found on the beach near his home. And he kite-surfed for days along the coast of the Netherlands and Belgium, seeking to draw attention to the cause.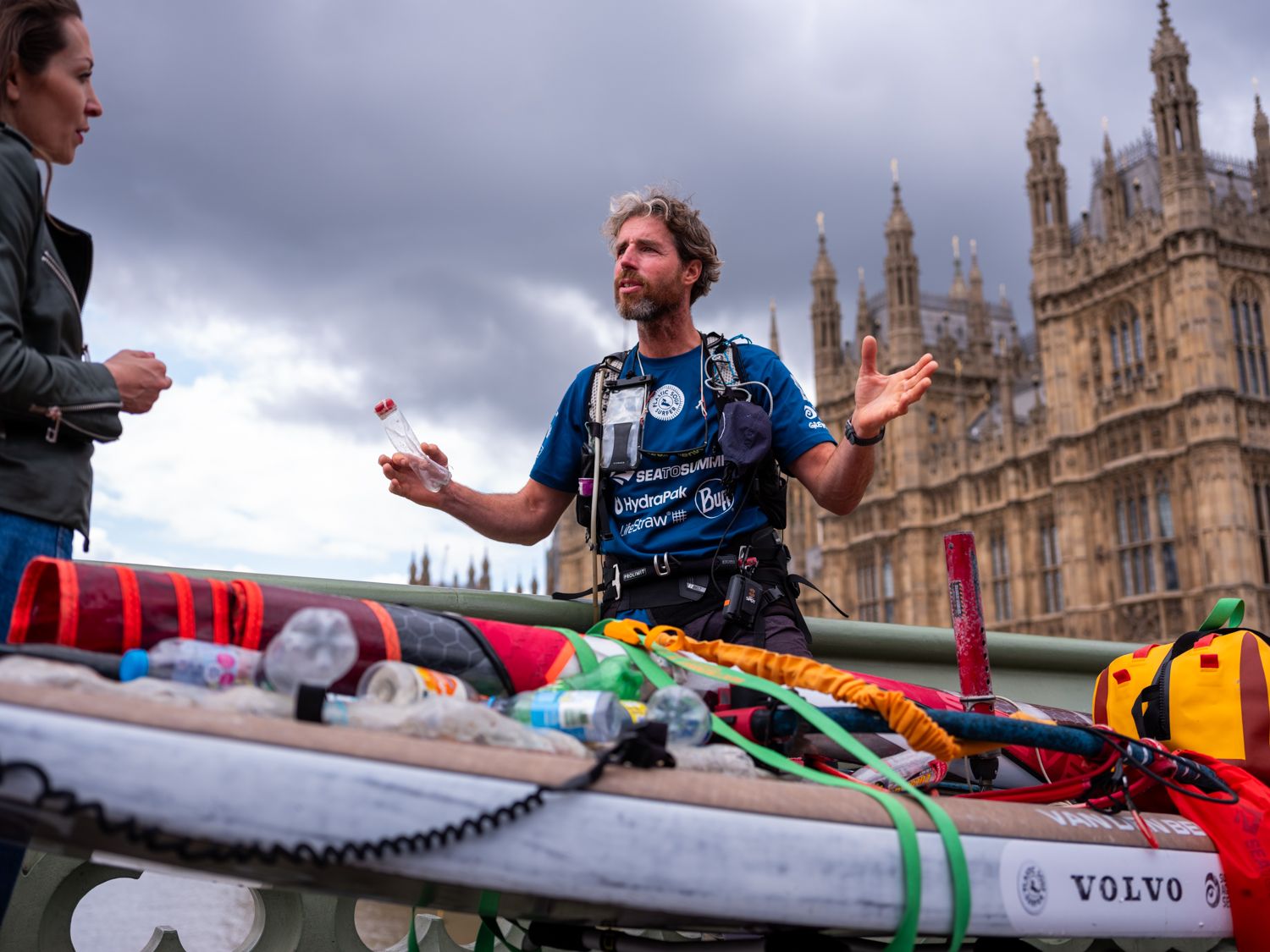 That first expedition … let's just say it didn't go entirely according to plan. Tinga had created a very heavy piece of artwork with that surfboard. He used fishing rope for foot straps, and eventually, the rope cut into his feet, and the heavy board put pressure on his muscles. He was cut up, feverish, exhausted, and had to quit after riding for three days and roughly 200 miles. But Tinga also discovered that his unique synthesis of art and athleticism had a way of getting attention.
"That was the first moment I realized the power of storytelling, and how the power of storytelling works better if you're part of your artwork," Tinga says. "People relate to these physical challenges, and this was the first time I really saw that. This really got a lot of attention – and, of course, it was also the beginning of people paying attention to plastic pollution."
Tinga called that project the Plastic Soup Surfer. And the name stuck. It's how he refers to himself now, and how the media refers to him, too. Nearly a decade after he began, he's managed to change people's perceptions, from average citizens to corporations and politicians. He's even managed to help change the law in the Netherlands.
"I guess," he says, "it all has to do with seeing how far you can go."
---
After that first expedition, Tinga believed he'd only scratched the surface of how far he could go. His process of discovery was just beginning. He called every organization in the Netherlands that was working on the problem of plastic pollution back then; it took him a single afternoon. "If you try that now…there's so many people working on plastic pollution," he says. "Back then, it was just a handful. So I became an authority straight away just by doing that."
What Tinga needed was a call to action, something beyond just calling awareness to the problem. Something that could help solve the problem.
In 2015, Tinga spent five months sailing the coast of Scandinavia and came to a realization: Just cleaning up, a monumental task in itself, would not rid the oceans of plastic. There had to be a reduction of plastic. And one way to do that, Tinga learned, was to charge a deposit fee on small plastic bottles and cans so people would be more motivated to recycle them instead of tossing them away. That became his call to action.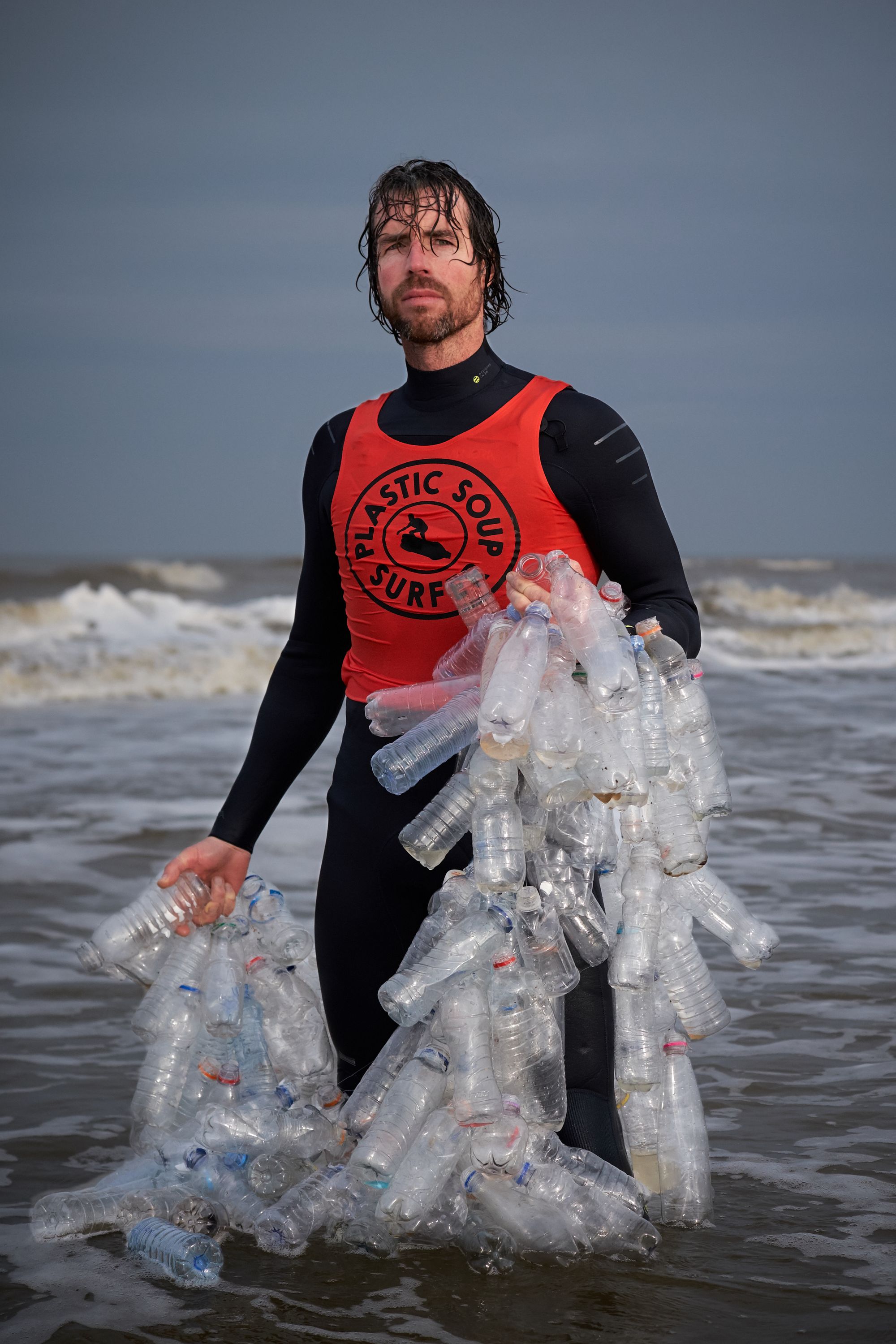 In 2016, Tinga crossed the North Sea on a hydrofoil kiteboard made from plastic bottles – a more aerodynamic one this time around – in an attempt to set a world record and call attention to the possibility of a bottle deposit program in the Netherlands. The wind died down as the horizon of England came into view, leaving him short of the world record. But through sheer force of publicity, Tinga collected forty thousand signatures for a petition. And in 2017, now armed with 60,000 signatures on his petition, he took the next step: He went to the Netherlands' parliament and lobbied for change.
"I always feel like that's the adventure on land," Tinga says. "There's the awareness campaign where people pat you on the back and say, 'That's great stuff you're doing,' and then they go on with business as usual. But once I started collecting those signatures… that's when politicians started turning their heads because they saw there was a certain power here. You have politicians wanting to help you. But you also have companies starting to fear you. The minute things become political or financial, that's when people start noticing you. And a whole world opens."
---
Tinga's petition caught the attention of the country's state secretary, and it became the first motion written by a citizen of the Netherlands to be adopted by the cabinet. But he had to keep the pressure on: In the law as written, the motion could only be adopted if the business community failed to achieve a 70 percent reduction in plastic waste over the course of three years.
So Tinga took his next trip in the summer of 2017: He paddled along the Rhine River on a board made from recycled bottles. Along the way, he picked up plastic waste, and returned it to the heads of soft drink and grocery companies, accompanied by a bailiff to serve a judicial notice to the companies about their inherent responsibilities to deal with the problem. "I feel like a big part of those CEOs letting me into their offices and their boardrooms had to do with the fact that they were just curious," Tinga says. "'Who is this guy doing all this stuff? Who's this guy on the windsurfing board?'"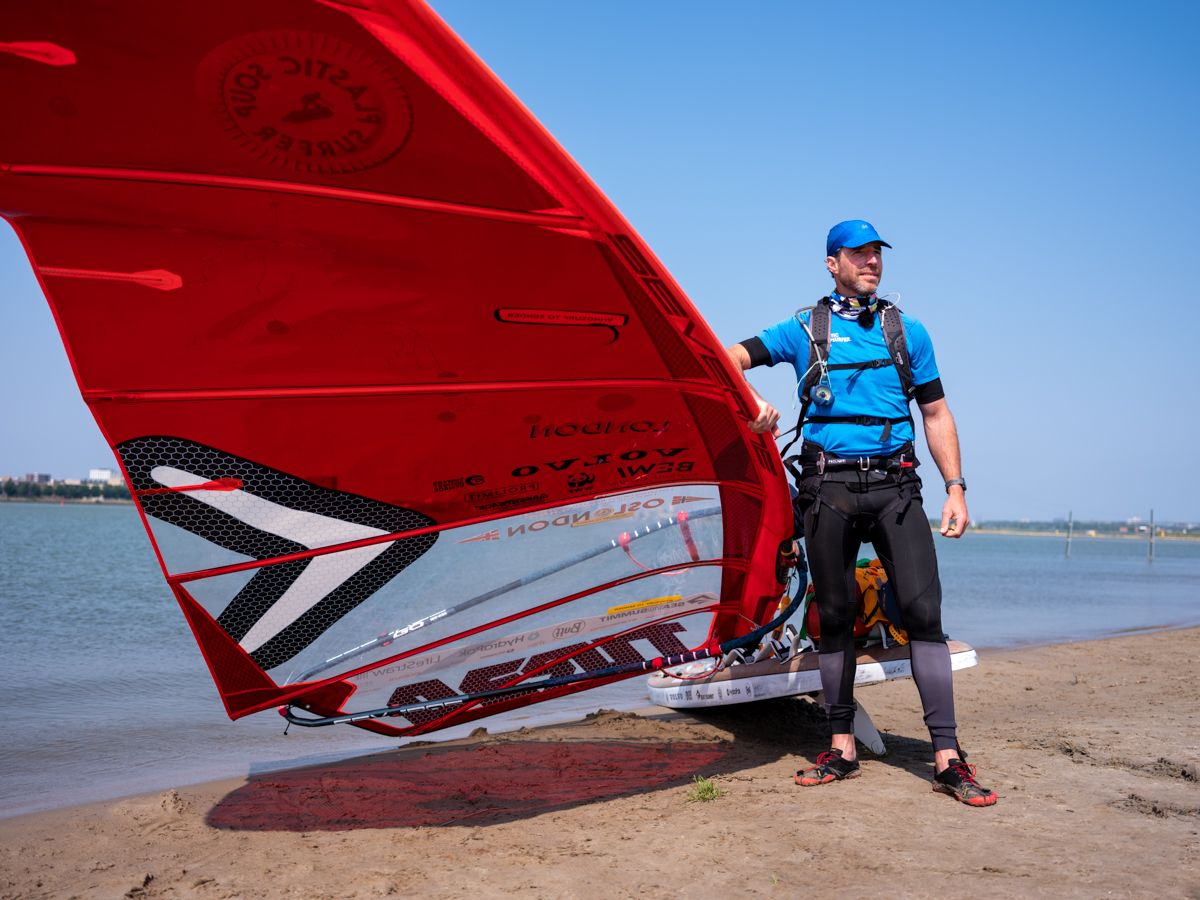 It's not an easy question for Tinga himself to answer. He's carved out a unique niche as a sort of athlete-artist-activist, and it all goes back to a childhood lived by the ocean, and an inherent yearning to push his physical and mental limits. "At a certain point, you become one with your body," he says. "You can see the coast on the horizon, but you're all on your own. You're in control. And that feels like a sort of ultimate freedom. And I guess that's what I sort of look for. That's what I love."
For a long time, Tinga says, his oldest daughter didn't even really comprehend what her father was doing. But now that she's 16, and she sees how the problems her father's been addressing will affect her generation, Tinga says, "She wears a Plastic Soup Surfer sweater to school."
And at the same time that Tinga is satisfying his own inner drive, he's also made a real difference. It took until early 2023, but the Netherlands eventually did adopt a bottle-deposit law.

But Tinga isn't finished: This past summer, he windsurfed from Oslo to London to put pressure on the UK government – which plans to introduce bottle deposits by 2025 – to ensure that it doesn't weaken its law due to corporate lobbying. He wants to influence other European countries to do the same and find a way to help address the throwaway culture that created the problem in the first place. And even now that he's on the other side of age 50, he wants to keep seeing how far he can go–as an artist, and as an athlete, and as a difference-maker.
"The great thing about these expeditions is that, for a while at least, you create momentum," Tinga says. "I mean, you have your team around you, of course, but you have other people working along with you, and the media all focused on one topic. Your impact is bigger than all the parts alone. So, you create more momentum. And you give people hope. But they also give you hope."