Not long after Gabby Scott joins me on a video call from her current home in Orlando, Florida, she makes a confession. "I still say that California's the best state," Scott says with a laugh.
You might expect this kind of candor from a woman who, after a painful rift with a college friend, hosted her own podcast about the breakup of female friendships. But while Scott is a long way from San Diego, California, the city where she grew up – and the state that she loves – her broader definition of home has begun to change.
Scott is 26 years old now, and she's pushing toward the peak of a track career that blossomed at the University of Colorado, where she became one of the best 400-meter sprinters in school history. She's in training to qualify for the 2024 Olympics in Paris, which brings us to the reason she's in Florida, which doesn't directly relate to the state of Florida itself, but to a nearby island where Scott's mother was born and raised: Puerto Rico.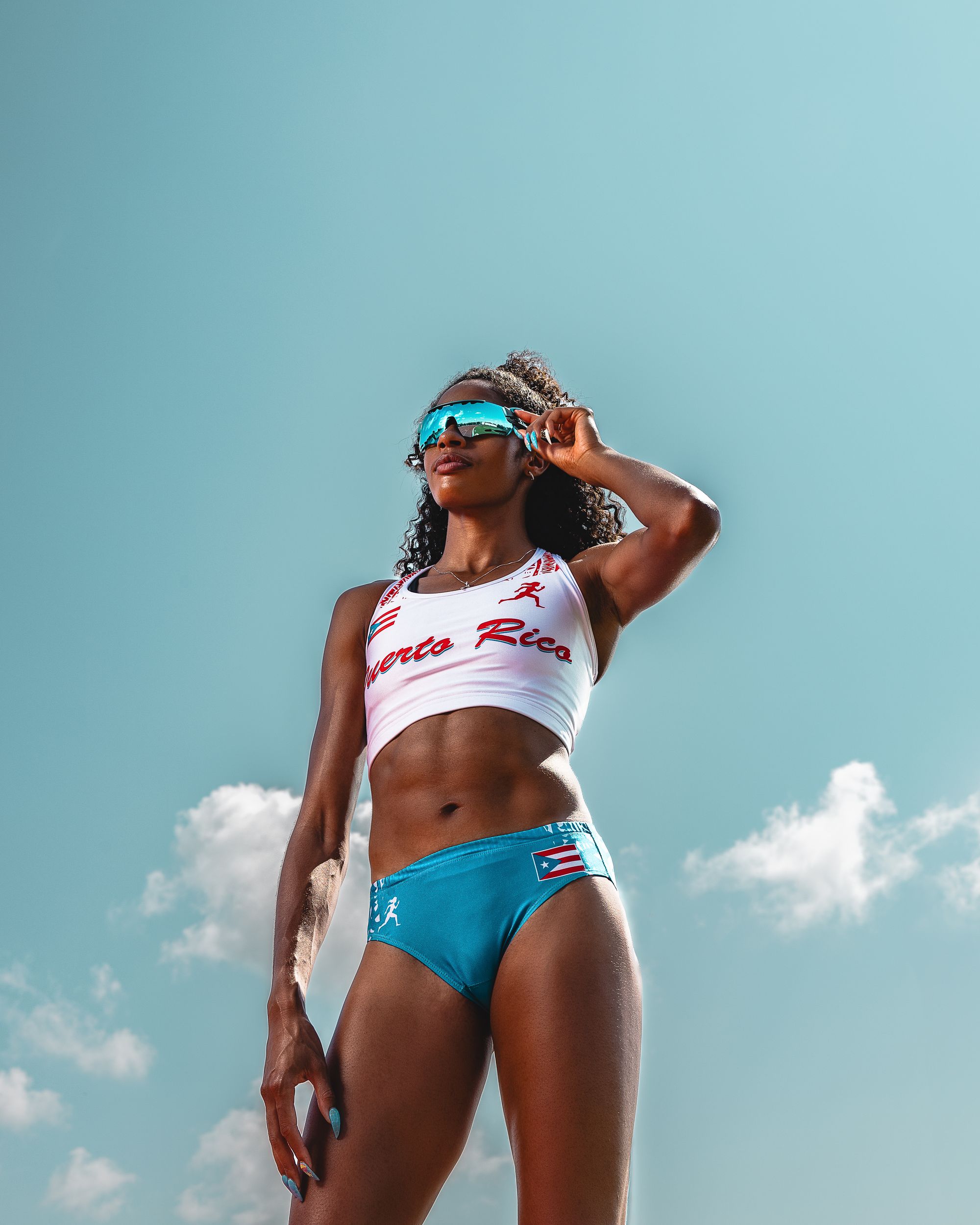 This is how it came to be that Scott landed in Orlando. The country is covering her lodging there, where she trains alongside a cluster of elite athletes from different countries. Unlike some of her training mates, Scott is lucky, in that she doesn't have to take on a part-time job to make ends meet – Puerto Rico's Olympic committee is paying her enough to allow her to train full-time, as she aims to qualify for the 400 meters to compete for her adopted home country in Paris.
In a lot of ways, this whole situation still feels surreal to Scott. Here she is in Florida, a state she never really thought about living in, competing on behalf of a country where she's never actually lived. And she knows that some people will look at the path she's chosen as the one of least resistance. They might see her using her family ties to avoid the arduous path to qualify for the Olympics under the American flag and think she's essentially a mercenary who will do anything to achieve her goal.
But Scott never saw it that way. "For me," she says, "it was like, 'OK, if I'm gonna represent Puerto Rico, I want to be more connected with the culture.' And I think moving to Florida helped that, too, because there are a lot more Puerto Ricans here versus in California."
Already, this whole experience has changed Scott in ways she never could have imagined. It's taken her out of her comfort zone. It's deepened her relationship with her Puerto Rican-born mother. And it's enhanced her understanding of herself.
"I will say just the exposure to so many cultures in Florida is definitely really fun," she says. "And I think being able to connect and love myself more as a black woman, as a Puerto Rican woman, it's helped me grow a lot. And I think it's allowed me to also pass on that knowledge and those feelings to other people as well."
---
Scott's father, Gregg, was the athlete in the family. He competed in three sports in high school and wound up playing professional basketball overseas. And Scott's mom?
"Mom is the smarts," she says. "I mean, my dad is very intelligent, but my mom is an engineer with a photographic memory. She's super-smart."
Scott's mother, Rosa Puig, was born and raised in Puerto Rico. Eventually, the family landed in San Diego, a city where the population is less than one percent Puerto Rican. Still, Rosa Puig maintained close ties with her family back home and would take Scott with her to Puerto Rico most summers to reconnect with her heritage.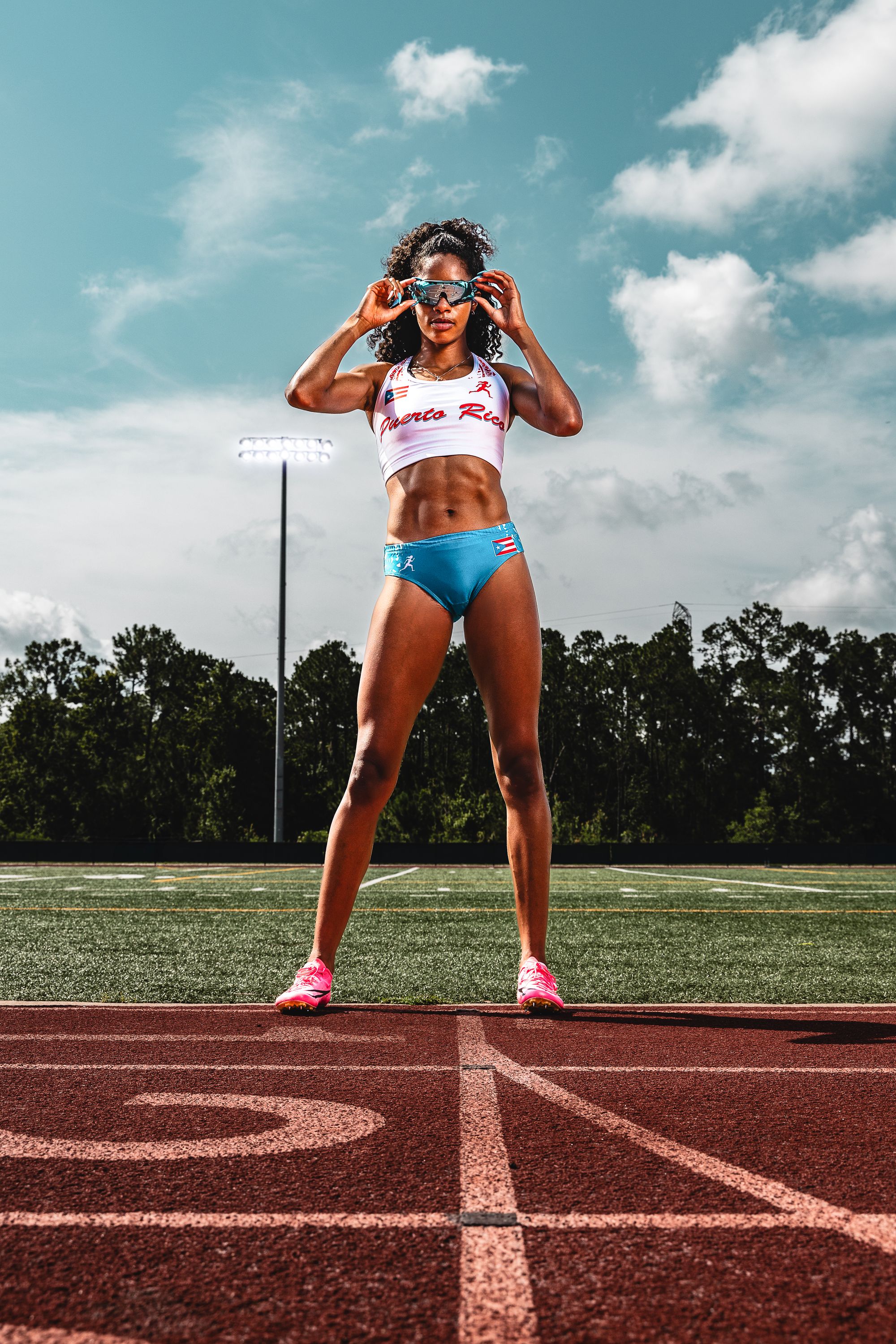 "I'm an only child, and my parents are divorced, so it was just the two of us in the household whenever I switched back and forth," Scott says. "And my dad wasn't really tight with his extended family. But in Puerto Rico, it's like, 'Wow, there's so much family.' And then you have friends who are like family, too."
As it turned out, one of Rosa Puig's cousins was close friends with an employee of the Puerto Rican Athletics Federation. When Scott started having success on the track at the University of Colorado, the country spotted her potential and viewed her as a prospective member of their relay team. In 2018, she started competing for Puerto Rico and eventually focused on the 400 meters as a solo runner.
It satisfied her mother's dream for her daughter. But it was also what Scott wanted, too. Rather than getting lost in the shuffle while trying to make the U.S. team, she could compete in a smaller forum, and develop real connections to her heritage.
Scott initially agreed to go to Florida in 2019. She assumed she'd be there for a few months and train for the 2020 Tokyo Olympics. But then those Olympics got postponed by a year due to COVID, and after she didn't qualify, she chose to stick around in Florida and shoot for 2024. Now, she's living with her boyfriend–former Puerto Rico Olympian DJ Smith, who's also her strength coach–and aiming to shave a few tenths of a second off her 400-meter time so she can qualify for the Paris Olympics.

In July, Scott won bronze at the Central American and Caribbean Games, her first international medal while competing for Puerto Rico. And thanks to new qualifying standards, if Scott runs the 400 in 50.95 seconds at an upcoming event, she'll be in; her personal best up to this point is 50.97, so she feels like she's on her way to getting there on behalf of her adopted home country.
"I wanted to represent a country where I was going to be loved and celebrated no matter what," Scott says. "And because we're a smaller team, you know, the country really knows who we are. The culture is really beautiful."
Over time, Scott says, her Spanish has improved – "I'm about a seven and a half out of 10 when it comes to fluency," she says – and she's learning more and more about Puerto Rican customs.
"I will say, I think I fell in love with (Puerto Rico) more and connected with it more when I got on the team," Scott says. "But I'm also very big on connecting with people in general."
---
For Scott, that ability to connect dovetails with the entrepreneurial instincts she cultivated as a business management major at Colorado. And those entrepreneurial ventures also offer a consistency to her life that isn't always there with the ups and downs of her track career. "Track is always going to be up and down–good races, bad races," she says. "I think it's important to have a side hustle or something that's consistent."
As it was with that podcast about friendship breakups, Scott came by her latest side hustle organically. And as with her connection to Puerto Rico, it was another way to re-examine her relationship with her ethnic roots.
"I grew up in a predominantly white area (in San Diego), and there wasn't really anybody with my hair texture," she says. "When I got to college, I started learning from other black women about taking care of my hair. And I just saw that there was a gap in that area."
Scott started posting on social media about ways to take care of natural hair like hers. She realized she had a passion for it; that she wanted to help people like her reframe their relationship with their natural hair, especially those who may have viewed it as a negative. Eventually, she took a course and learned to become a natural hair consultant. She's started informally consulting several people and is hoping to eventually build what she calls Curl Care Club into a full-time business once her track career ends.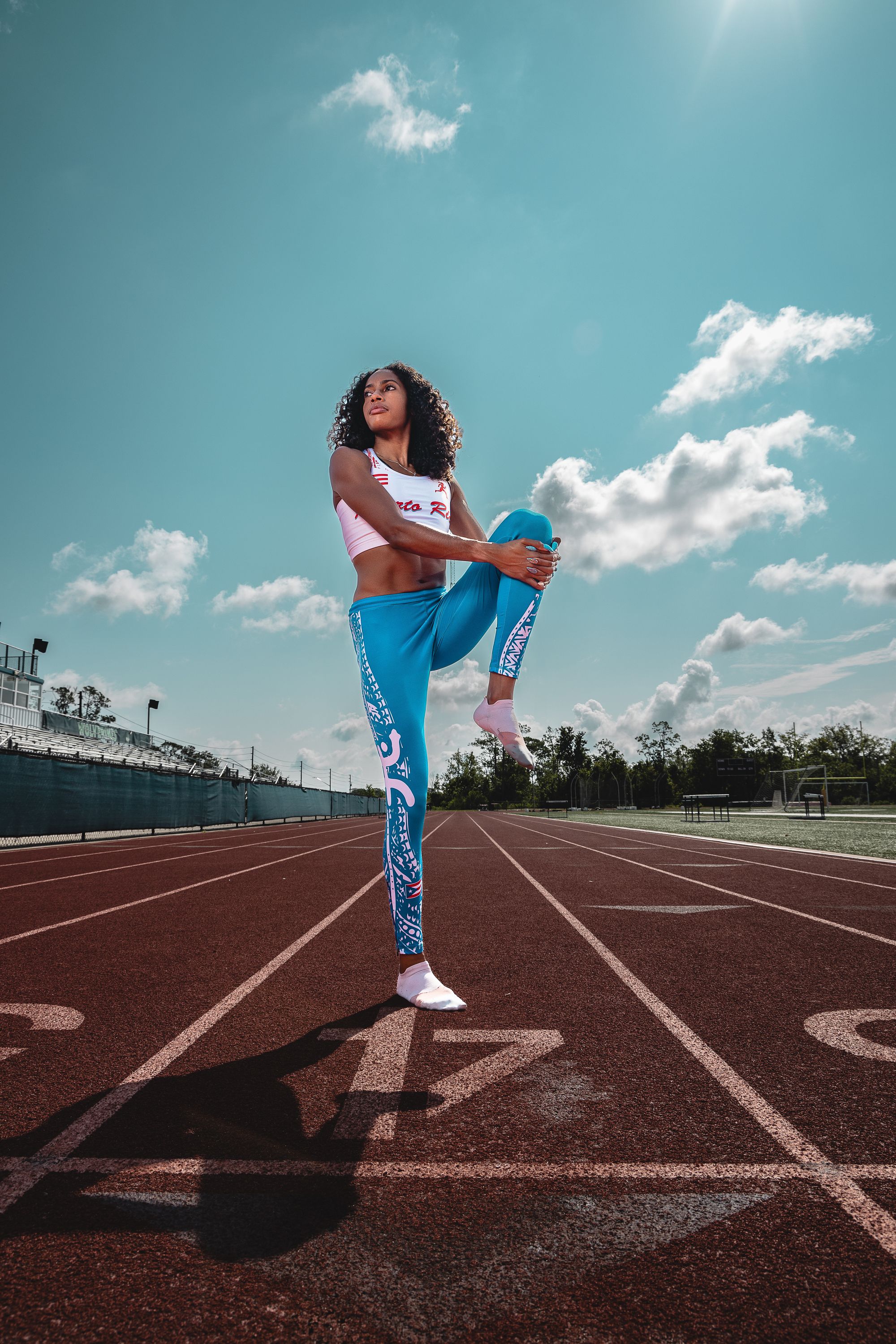 For Scott, that side hustle on social media and her primary hustle on the track dovetail in one crucial way.
"At the end of the day, I'm a black woman and Puerto Rican woman, so it's important for me to connect with myself and love myself in those aspects," she says. "I'm still from San Diego, and there's still young girls who might feel the same way I did 10 years ago. And I always say it's important to share your story, because you never know when it can be part of someone else's blueprint. And it's important for me to connect with myself and love myself in those aspects."
That's true for Scott's relationship with her natural hair. And it's true for her relationship with her adopted country.
"I think it's now become a thing where I'm proud to represent Puerto Rico because it's who I am, not just where I'm from," Scott says. "I'm really immersed in the culture and enjoying it for me."
Scott pauses and breaks into a smile.
"I like to listen to Puerto Rican music and Latin music on my own now," she says. "And not just because my mom makes me come dance with her in the kitchen while she's cleaning."