She has accumulated nearly a decade's worth of wisdom by now. And in the midst of her latest job, Jen Welter called upon the advice of a prominent football coach who'd been willing to give her a chance eight years ago. During her first season as the linebackers coach for the Vegas Vipers of the XFL this spring, as she studied a player named C.J. Avery, Welter remembered something Bruce Arians had told her back in 2015 when the idea of a woman coaching football was still an anomaly.
You've got to learn how to read their eyes.
Arians, then the coach of the Arizona Cardinals, joked to Welter that he'd learned to read eyes back when he was a bartender. For Welter, a Ph.D. in psychology meant she was fully practiced in the subtle observation of human behavior – it was part of what had led Arians to make her the first female coaching intern in NFL history. But now, as Welter watched Avery push himself to his limits on every single play, she understood that Arians' metaphor wasn't just literal. "With C.J.," she says, "you didn't need to read his eyes. You needed to read his gait. Because he would go and he would run until the wheels fall off, and he would do it again and line up again and help everybody else in the process. And he wouldn't tell you he needed to take a play off. You had to see that he needed to take a play off."
It's the kind of insight that comes with experience. And Welter understands she never would have gained that experience if she hadn't been given opportunities by men in power. By Arians. By Brad Childress, who hired her as a defensive specialist with the Atlanta Legends of the Alliance of American Football in 2019. By Rod Woodson, who, as head coach of the Vipers, had the opportunity to choose his own staff, and – having met Welter years earlier – chose to make her a part of it.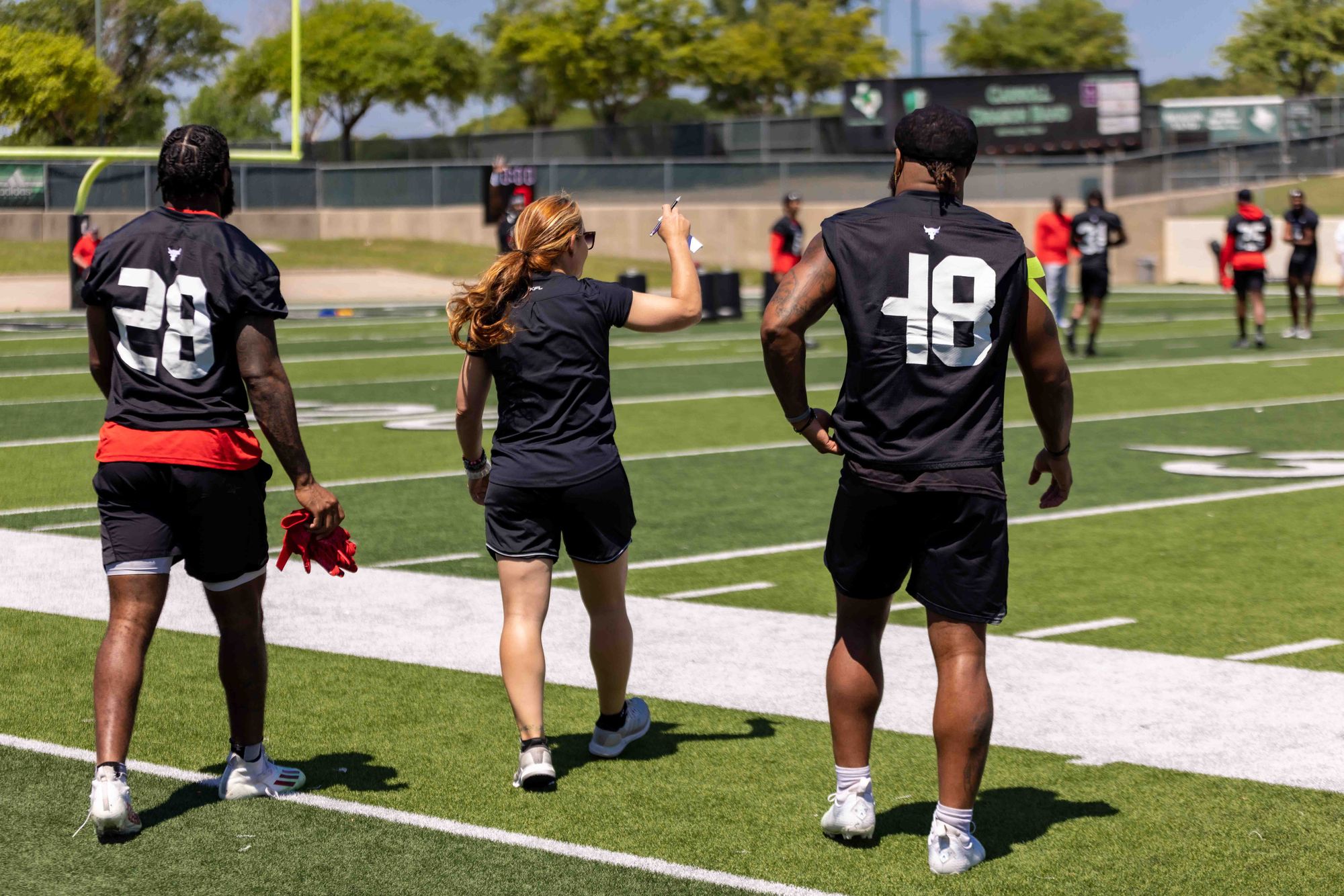 "Some of the greatest change agents that I've found have been the guys who look at something and relate it to how they want the world to treat their mom or their wife or their daughter," Welter says over a Zoom call from her home in Los Angeles. "None of the things that people look at me as having done in this sport and in this life happened despite men. They happened with the help and support of very amazing strong men."
At the same time, as she watches the world change around her, Welter understands that this is only the beginning. She understands that she was only the beginning. The next step is getting to a place where women have the institutional power to make that change on their own. Which is why, the moment she finished the XFL season, she heeded her own advice to Avery and decompressed for a moment or two. And then she turned her attention back to empowering a generation of young girls who hope to have the same opportunities that he did.
---
The first time a football coach read something in Jen Welter's eyes came in 2014, when the staff of the Texas Revolution, a professional indoor football team, invited her to train with them for a day. Welter said that wasn't good enough; she didn't want to be their show pony. She'd been through too much in her life, from poverty to toxic relationships, to be a source of pity. She wanted a real opportunity to make it through training camp. And the Revolution's head coach, Chris Williams, looked into the eyes of a 5-foot-2, 130-pound woman who had played rugby at Boston College before starring in women's football, and thought, Let's give her a shot.
That's how Welter survived training camp and became the first woman to play running back in a men's football league. And the next year, when the Revolution's new coach, Wendell Davis, called and asked Welter to become an assistant coach, Welter hung up on him. Girls don't coach football, she thought to herself.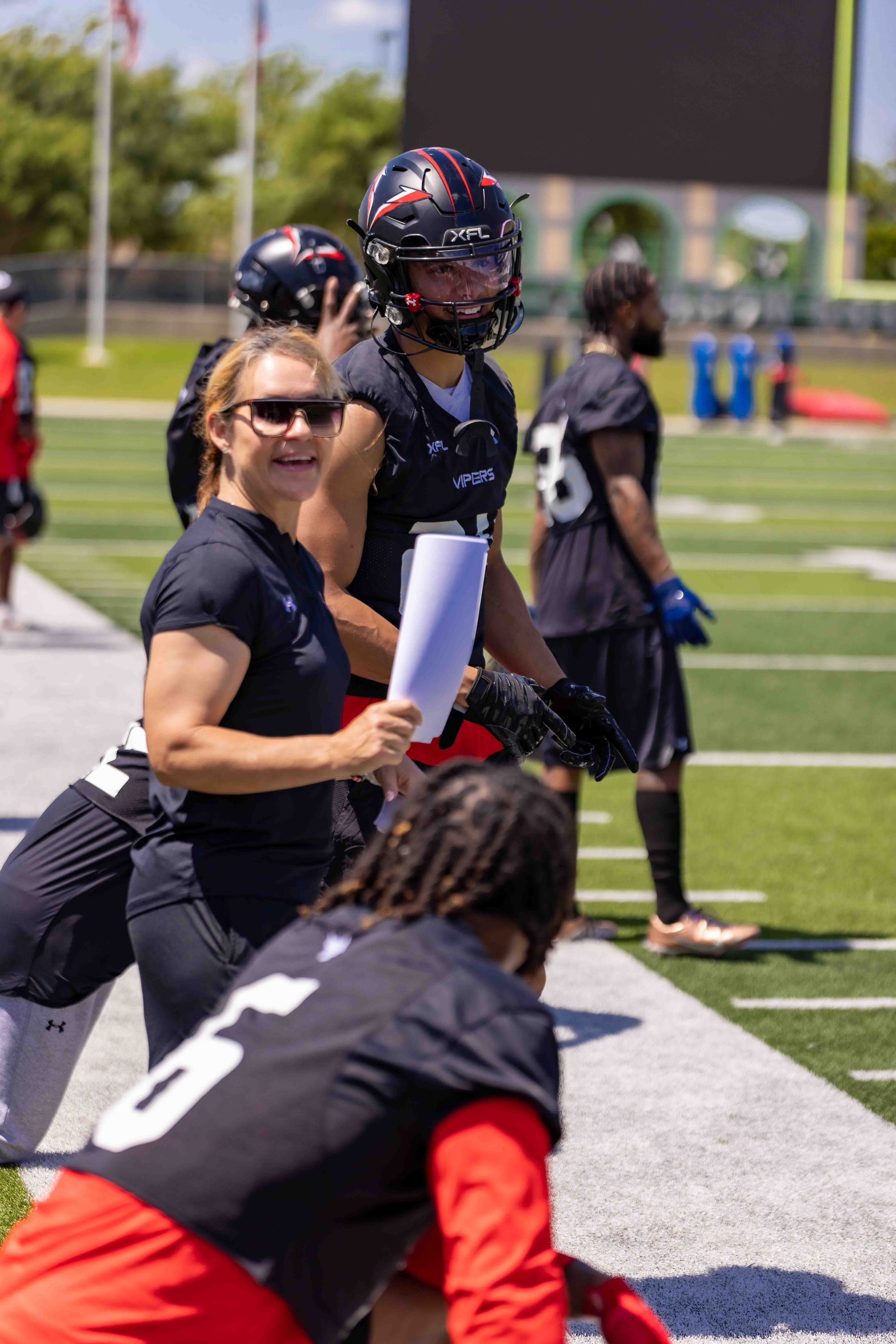 Davis called her back the next day. If you don't take the job, Davis told her, then that's the legacy of women coaching in men's football: We had a woman once, and she quit. "He would not let me turn the job down," Welter says. "He took it on my behalf."
What happened next didn't just enrich Welter's career. It enriched the possibilities for a generation of women who came after. Since Arians hired Welter, the list of female coaches in the NFL has grown longer and longer. In 2020, Katie Sowers of the 49ers became the first woman to coach in the Super Bowl; in 2023, Autumn Lockwood of the Philadelphia Eagles became the first Black woman to coach in a Super Bowl. A female head coach now seems like less a possibility and more like an inevitably. And the bar keeps getting higher: This spring, Welter coached in a league, the XFL, whose chairwoman, Dany Garcia, is a female.
"When Dany became chairwoman of the league, I remember telling somebody, 'Man, she makes me feel like I haven't done enough.' Maybe I haven't dreamed big enough, right? And that's the power of presence."
---
Presence is the reason why Welter started her nonprofit organization, high schoolGirls, which offers football camps for girls ages six to 18–and the kind of opportunity she never had access to herself.
Growing up outside Vero Beach, Florida, Welter developed a deep love of the sport in a football-crazy state. She captained her high school soccer team and dreamed of playing football, but the coach at her high school told her it would cause too much trouble.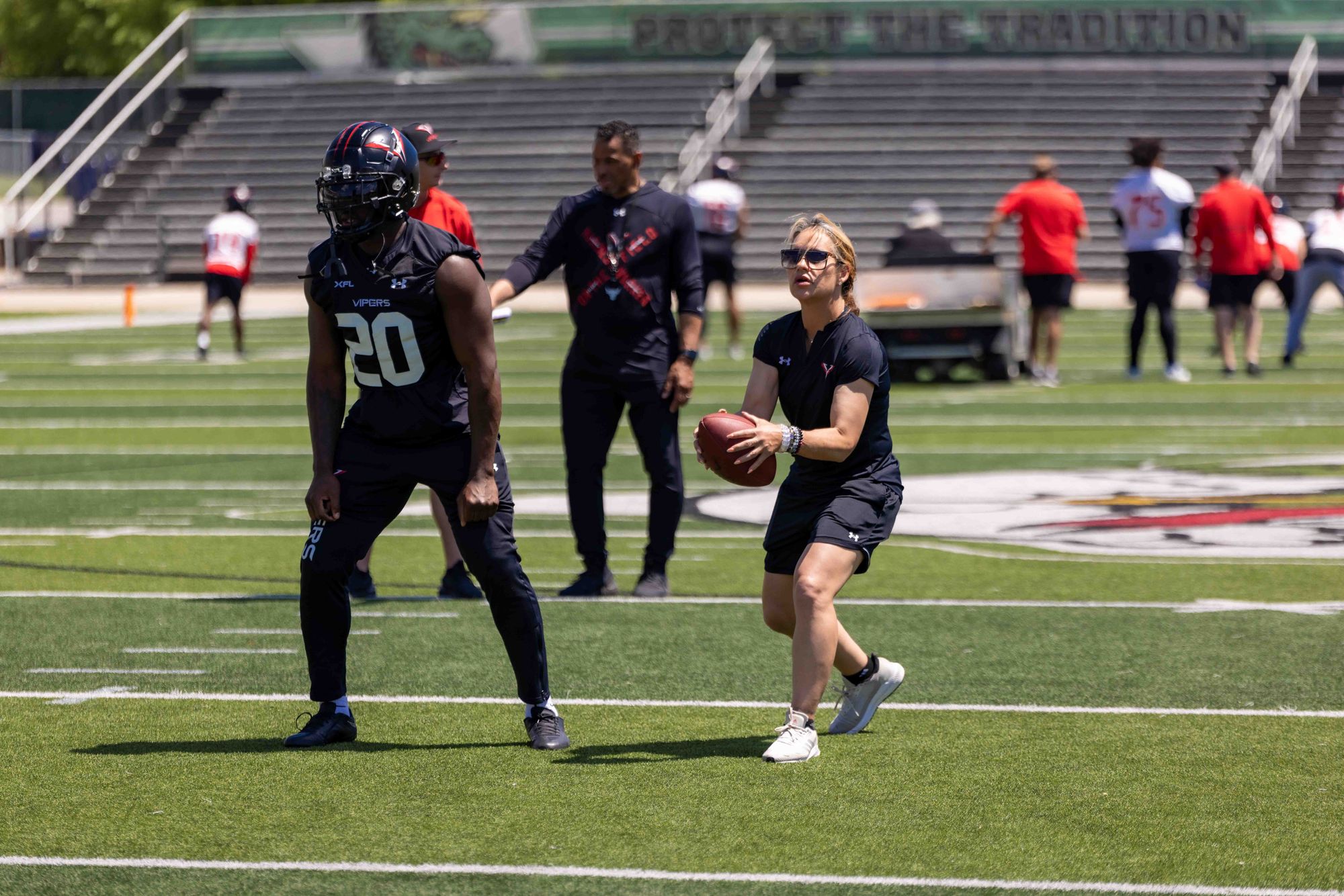 Welter discovered rugby while at Boston College, and found it an ideal outlet, but was told she was too small to play at an elite level. Eventually, while playing flag football, she heard about a women's football league. That opened up new possibilities for her: She played 14 seasons, won four titles with the Dallas Diamonds of the Women's Football Alliance, and won a pair of gold medals with Team USA in 2010 and 2013, at the International Federation of American Football's Women's World Championship.
But even as the accolades accumulated, she felt largely ignored. "We came back to the U.S. after winning those medals, and no one even knew we existed," Welter says. "We were America's team playing America's game. And nobody was supporting the best women in the world."
It took a turn to coaching men for Welter to gain that national attention. And even when Welter started Grrridiron Girls in 2017, there still weren't really any opportunities for girls to find coaching at the youth level. Welter's research taught her that part of the reason so many girls wind up quitting sports is because they don't have any role models to look to. So Welter became that source of opportunity; Welter became that role model. At first, the camps were co-ed, but then she learned that put more pressure on the few girls who were willing to show up.
"The girls would go into these co-ed situations and if their skills were behind the boys, what you'd hear is, 'You catch like a girl,' or, 'You throw like a girl,'" she says. "Listen, there's no such thing. It's either you've been coached, or you haven't. And in the process of doing that, the messaging is that you're worth it. You're worth the right coaching, and with that coaching, you can do anything."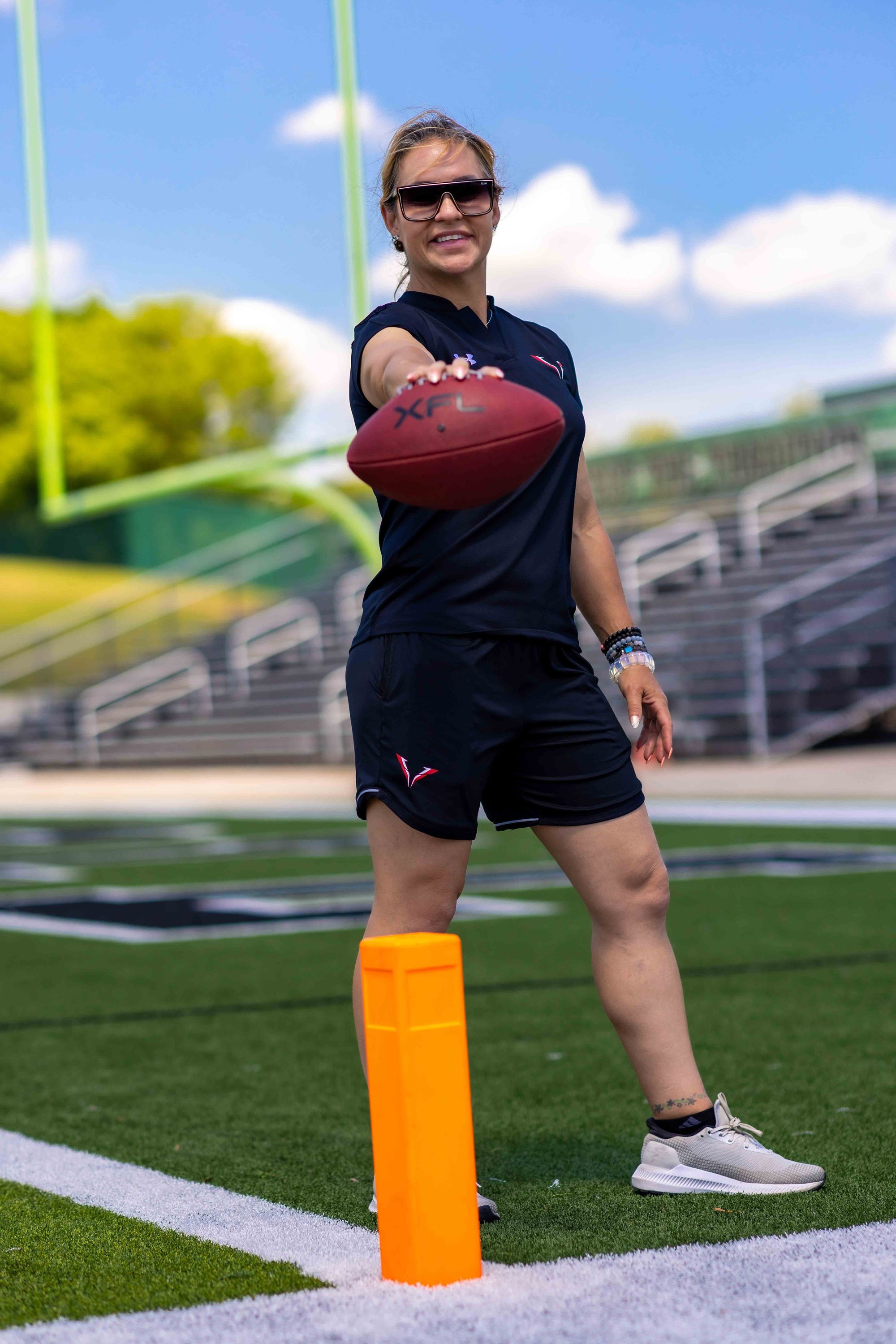 And with that simple message – and with more and more role models in place – the idea of girls and women in football has gone increasingly mainstream. In February, California became the latest of a handful of states to sanction girls' flag football, opening up a massive market for the sport. The NFL and Nike have thrown their weight behind the growth of the sport. And the opportunities continue to rapidly expand.
In 2019, Welter did a camp in Miami with Luther Campbell of 2 Live Crew. "These girls were good," Welter says. "And the girls that day were like, 'Coach, I would play football in college if I could.' And I was like, 'We're working on it.'"
Just a few months later, the NAIA announced a partnership with the NFL to make flag football an official varsity sport, including at St. Thomas University in Miami, where many of the girls Welter coached at that camp are now playing.
Welter's career continues along this dual track: Growing her own coaching experience while growing the opportunities for women in the sport as a whole. While the Vipers struggled through a 2-8 season, one of the linebackers Welter coached, Pita Tamouepenu, was named the XFL's defensive player of the year. And in her mind, whether it's studying her male players or inspiring women and girls with her very presence on the sideline, everything she does is focused on the same goal: Coaching. Improving performance. And just being present. And ultimately, that's what will help propel the next generation of women into positions of power in the sport.
"Girls can see it now – I can go to college and I can change the trajectory of my life through education and through an opportunity that football provided," Welter says. "And that's one of the biggest things that's so different now. But we still have a lot of work to do. It's still a big story when you have a girl playing football. We're still an exception to the rule. "I tell people this all the time – we celebrate first. It sounds great. It sounds like this huge epic thing, but first inherently means only. The responsibility is to ensure that you're not the last."