Trigger warning: This article discusses a specific person's experiences with trauma as a result of sexual assault.
It's 5:30 p.m. on a signature Minnesota Saturday in March: ice, wind, gray.
Inside Richfield Ice Arena, fans filter into the stands, and the Minnesota Whitecaps and Connecticut Whale players peel off after their pregame warmup, the second to last of their Premier Hockey League regular season.
Whale forward Tori Sullivan, 26, is the last to leave the ice. As fans bob along to the Black Eyed Peas' "I Gotta Feeling" blaring overhead, Sullivan seems aware only of the puck yo-yo'd to her stick as she cuts and weaves through some final moves.
And those moves are mesmerizing — enough so to draw play-by-play from a teenage girl sitting by the Whale bench.
"She's so silky. A Michigan AND a between-the-legs-bar-downski?"
The top-tier skill never left Sullivan after she was sexually assaulted in 2015. It's the joy in the game and her own self-worth that she's had to pry, bit by bit, from the black hole of the years that followed. This hard work continues.
---
From the very start, Sullivan has been wired to go. In the neonatal intensive care unit, the nurses marveled how she already had the strength and will to move her tiny 3-pound body even at 2 months premature. "She's got a little spitfire to her," they told her mom, Maggie Sullivan.
That same innate drive and physical force no doubt played a part in her walking at 9 months, dominating on boys' hockey teams, and striking out boys as a bases-loaded relief pitcher.
"She just went up there and got them out of a jam," Maggie Sullivan says. "That's what she always did."
She even came in second out of 102 batters as a 12-year-old at the 2009 Home Run Derby in Cooperstown, New York — the only girl participating. The Queen of Swat, they called her afterward.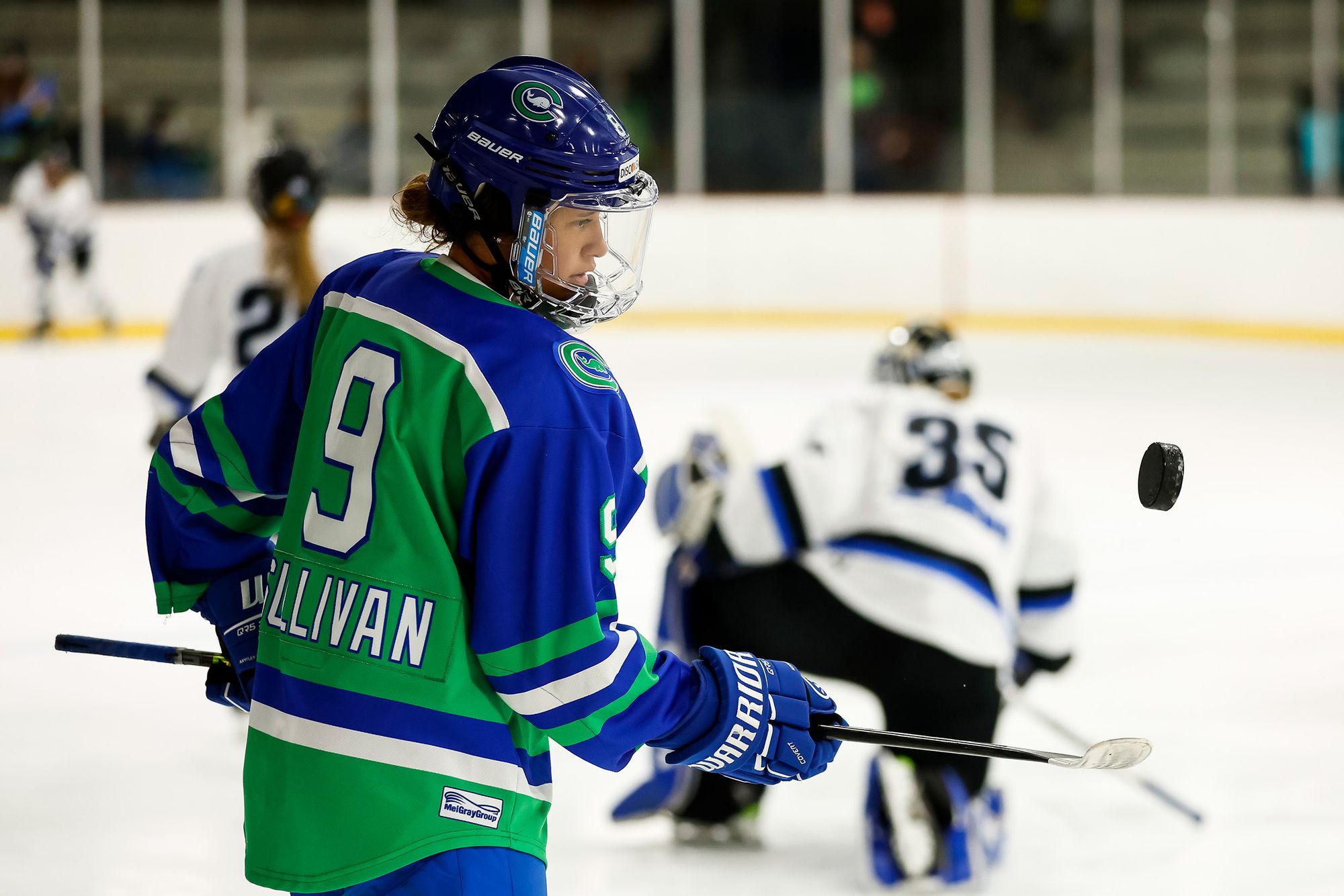 Tori and her two siblings tried just about every available sport growing up in West Bloomfield, Michigan — baseball, figure skating, gymnastics, tennis, basketball, swimming, hockey, roller hockey. But for Tori, hockey offered two enticements that the others didn't: 1) a chance to compete with her older brother, whether it was dressing fastest in the locker room or sprinting down the ice, and 2) equipment.
"When we got the gear, I was putting it on and was like, 'Ohhh, this is cool.'"
With few competitive girls' programs at younger age groups, Tori played on boys' teams, even through three years of checking, which was allowed at the Pee Wee level (ages 11 and 12) at the time. At 14U, when the boys were bigger and checking harder, she switched to girls' hockey.
And that's when she started learning about the big-time, big-stage possibilities: college women's programs and the U.S. National Team program, best-of-the-best levels that appealed to her inner drive.
On a trip to Boston to visit family and do college visits for her brother, Tori saw Boston College for the first time. Its immaculate grounds and imposing stone buildings atop Chestnut Hill hooked her.
"It was so pretty, and I realized they had a hockey team that was really good. And I was like, 'I think I'm going to come here.' That was my first year of 14U."
---
Colleges noticed her, too. Going into high school, she played AAA hockey for HoneyBaked Hockey Club and participated in USA Hockey player development camps, the pipeline program that culminates in national teams at the U18 and Olympic levels. Development camps are also heavily scouted by college coaches, so the stakes and pressures can hit with white-knuckle intensity.
They hit her hard during development camp following her sophomore year. She'd had a couple of injuries during her regular season and was playing with mono, but like so many athletes in the thick of recruiting, she felt like she couldn't afford to take time to rest or heal.
"Physically and mentally, I wasn't feeling great. Pretty much everything I did, I told myself, 'not good enough, not good enough, not good enough.' I'd think I had a bad game, a bad camp, a bad practice. My shot is ruined. No one's going to want me. I've ruined my chances.
Pretty much everything I did, I told myself, 'not good enough, not good enough, not good enough.'
"I always had a hard time with self-doubt and stuff like that. I thought I was a good player, but the belief in myself … it could be better for sure."
She did not ruin her chances. She made the cut for national camp and committed to Boston College with a full scholarship her junior year. The added bonus? She'd be going to BC alongside HoneyBaked teammates she'd grown up and shared huge moments with, including consecutive state titles and the 2011 USA Hockey U16 national championship.
"It was just meant to be," she says.
---
With college squared away, she crushed development camps the summer before her senior year and the fall tournaments with her club team. She was invited to USA Hockey's U18 camp in December for one last opportunity to make the U18 national team competing at the 2014 Women's World Championships in Hungary.
"I remember being nervous, but at the same time, I knew that this was something I really had to just be present in and do the best I could. So I tried to have as much fun with it as possible, and I did well."
She made the team and got a taste of that crisp pinnacle, traveling to Budapest to compete for Team USA gold. She'd never been overseas before, let alone represented her country. And while Team USA lost to Canada 5–1 in the finals, she wouldn't trade it.
"We had a really good group of girls from the beginning and had so much fun together. It was such a great experience."
---
That fun continued into her freshman year at BC, where she joined a handful of fellow HoneyBaked and U18 national team alums and took a heavy course load as a pre-dental student.
"I already had friends there, so going into it, it felt comfortable, and it was easy to go in and connect with the team. School-wise, it was challenging, but I was getting the hang of it. All the locker rooms are in the same area, so I made a lot of friends with other athletes. I had a great time. And hockey-wise, we were good, really good. I was playing, too. I felt the best I'd ever felt."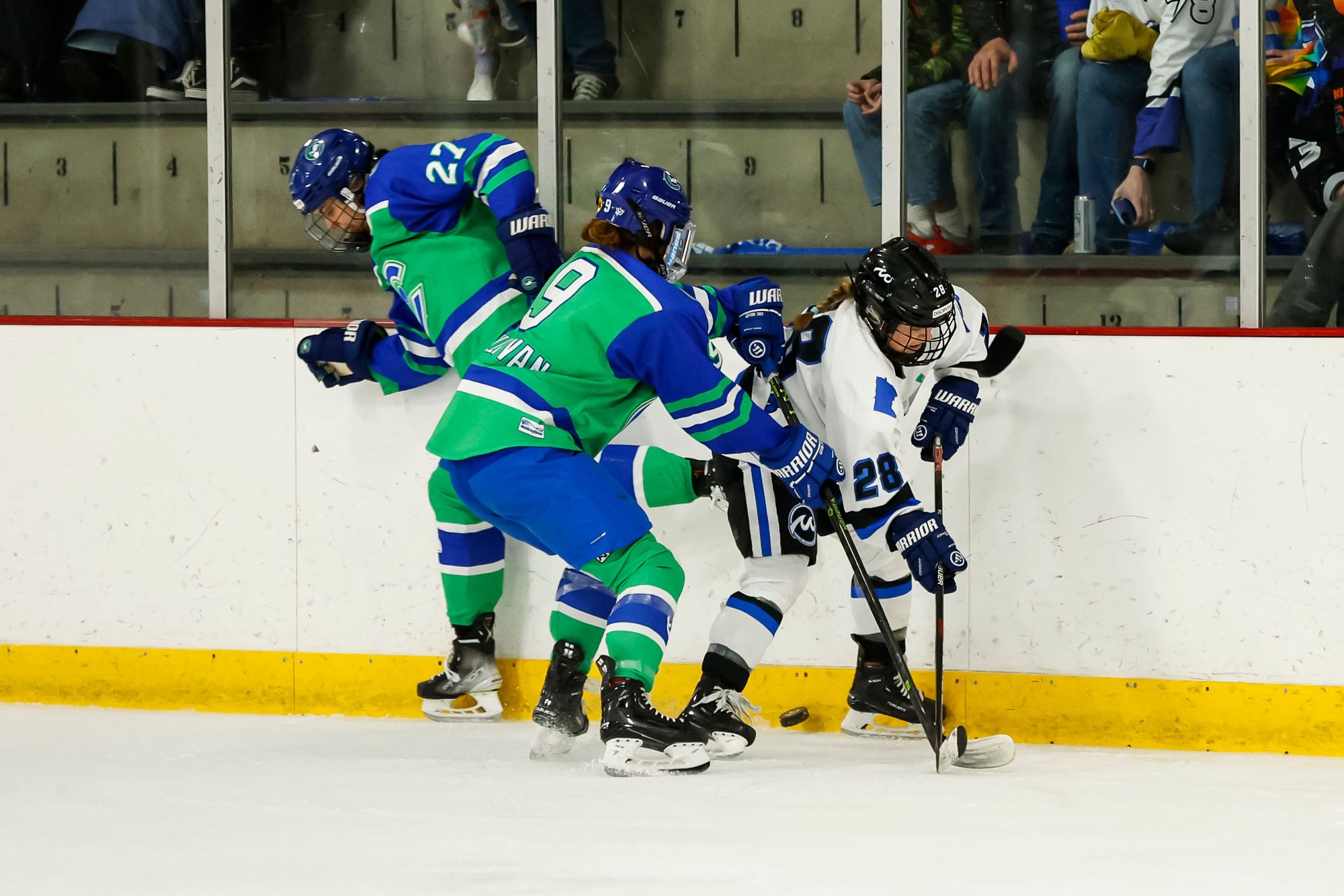 She tried to come in with no expectations for playing time given how stacked the roster was with talent — future Olympian talent — but she played in all 39 games and finished the season with 28 points, a +38 plus/minus, and Hockey East All-Rookie Team honors.
It was as good a freshman year as she could have hoped for. So when it came time to return to campus for her sophomore year, she couldn't wait. There was all the usual fall-in-New England magic. Football games, tailgating, parties.
---
And that's when it happened.
On Halloween night of her sophomore year, Tori and her teammates got together with BC football players for a party, as they so often did. Yes, there was alcohol. Yes, she set boundaries of what she did and didn't want. No, she did not consent.
"He didn't listen."
In the days and weeks that followed, she tried again and again to process what had happened. She kept coming to the same conclusion: I was raped by a football player.
She confronted him by text. He apologized for "forcing it a bit" and said he was worried that she'd tell.
It took her a while to tell anyone. And based on the reaction she got, you begin to understand why victims of sexual assault don't come forward. "Maybe you shouldn't have been drinking," Tori remembers her teammate and best friend at the time saying.
When someone you trust blames you, where do you go from there? Other teammates were supportive at first, but that didn't last.
She tried to deal with it on her own using all the resources she knew of.
"I tried counseling. I tried opening up to other friends. I was also drinking a lot. I was blacking out a lot. Isolating. All those not very helpful coping skills."
I tried counseling. I tried opening up to other friends. I was also drinking a lot. I was blacking out a lot. Isolating.
Her parents and siblings came to Boston a few weeks later for Thanksgiving, and then they all got together again in Florida for Christmas and Texas for the Cotton Bowl. Tori said nothing.
"She just wanted to be alone," Maggie Sullivan recalls. "I didn't like it, but I thought maybe she was just tired. I realize now that's when I started noticing something was off."
---
That January, Tori's parents flew to Boston to watch her play. When they landed and turned their phones back on, there was a text from a BC/HoneyBaked teammate: "Can we talk about Tori?"
"Your stomach drops," Maggie Sullivan says. "Instead of going to the hotel, we went to the athletics office and into a conference room. There were three of her teammates telling us that she was struggling."
Maggie and Jim Sullivan talked to their daughter after the weekend's games finished, but she told them she was fine and seemed more concerned about whether the teammates revealed anything. They didn't.
"We could tell she was struggling, but she couldn't tell us anything," Maggie Sullivan says. "So we're trying to figure out what happened. We're thinking, kids go to school and sometimes have mental health issues come up. Maybe the schedule is too much. You try to think through everything."
And that's how the rest of the sophomore hockey season and school year went. Tori tried to move forward on her own, but that wasn't so easy, not when she saw her friends "hanging out with him all the time." The spring semester dragged on, and she was stuck, mired in feelings and emotions too thick and heavy to define.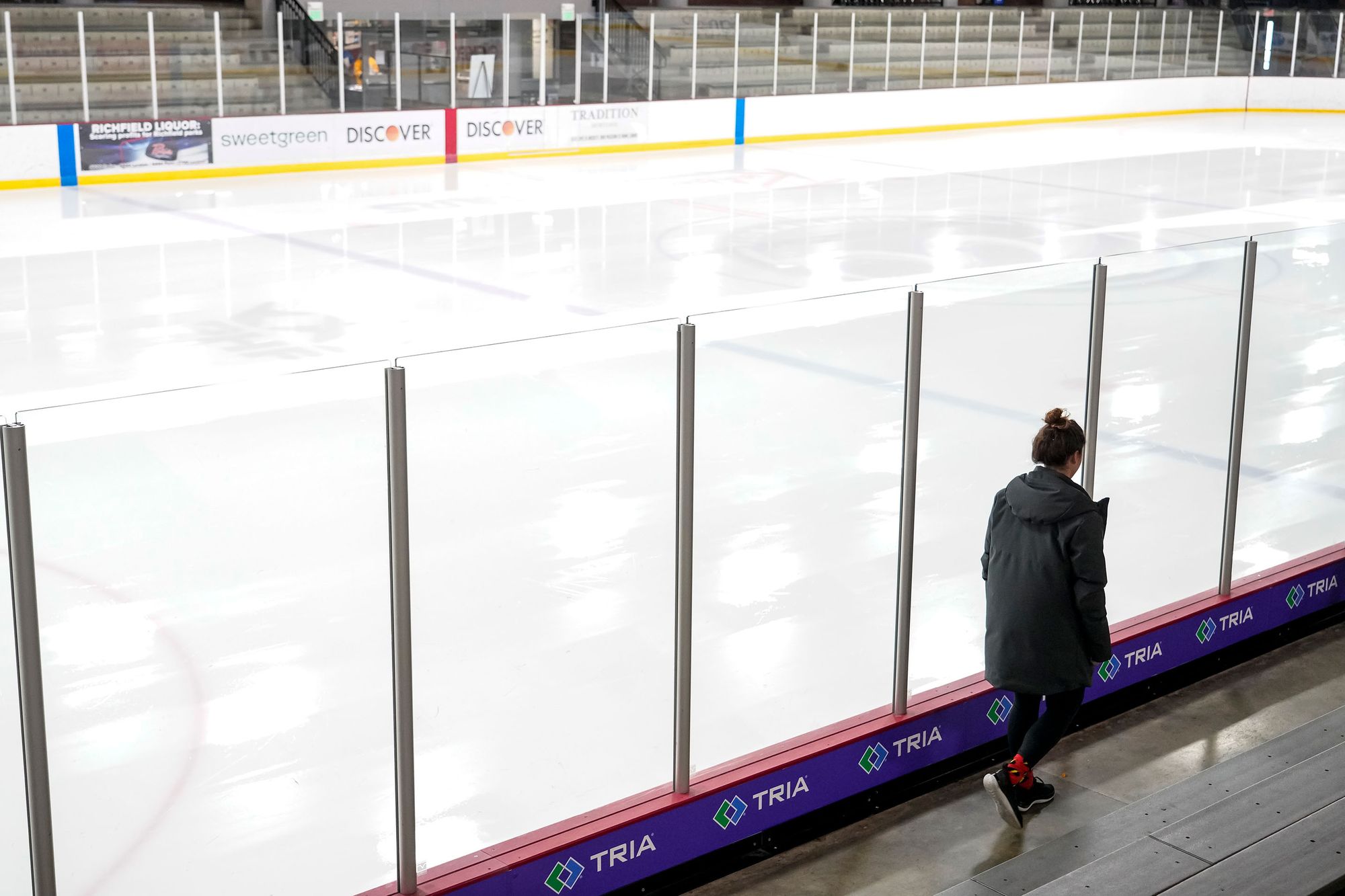 Going into her junior year, she resolved that it was going to be different. Better. But the first day back on campus, she went to a soccer game and there they were: her friends and him, together again.
She was never not stuck. But now she was desperately, dangerously stuck. At one point, she drank to the point of unconsciousness and ended up in an ambulance to the hospital after her friends called 911. No one checked on her the next day.
By October, it was all too much. She called her parents and said she needed to take a leave of absence from school and hockey. "I need to come home."
Her mom flew to Boston the next day to talk it through, but Tori's mind was made up. Maggie Sullivan sorted out the technical details to preserve Tori's status as a student-athlete on medical leave, and home they flew. Tori was removed from the roster and the team group chat.
It had been almost a year since that night.
"She came home and immediately found a psychiatrist and went into counseling and therapy," Maggie Sullivan says. "She was working really hard to get back. And we still didn't know. She was going to get through this on her own, be a survivor."
---
Week by week, month by month, Tori did make progress, enough that by spring, she started to talk about returning for the fall semester and her junior season. She'd been skating on her home rink and helping out with the HoneyBaked 12U and 19U girls' teams, smiling as she demonstrated skills and led drills. To those girls, Tori was a rock star, everything they aspired to be. "Her smile gives me life," they'd say.
They gave her some life, too.
"At the time, I felt like I wasn't a part of anything — my own team, BC, anything," she says. "So to be with the 12U team and the 19U team, I felt like I was part of something. I don't think people realize how much they helped me."
In late April, Tori made an appointment to talk with the BC coach and compliance officer about coming back in the fall. She and her mom flew to Boston full of anticipation and excitement about settling back into the busy, demanding school and athletic routine that she wanted and needed.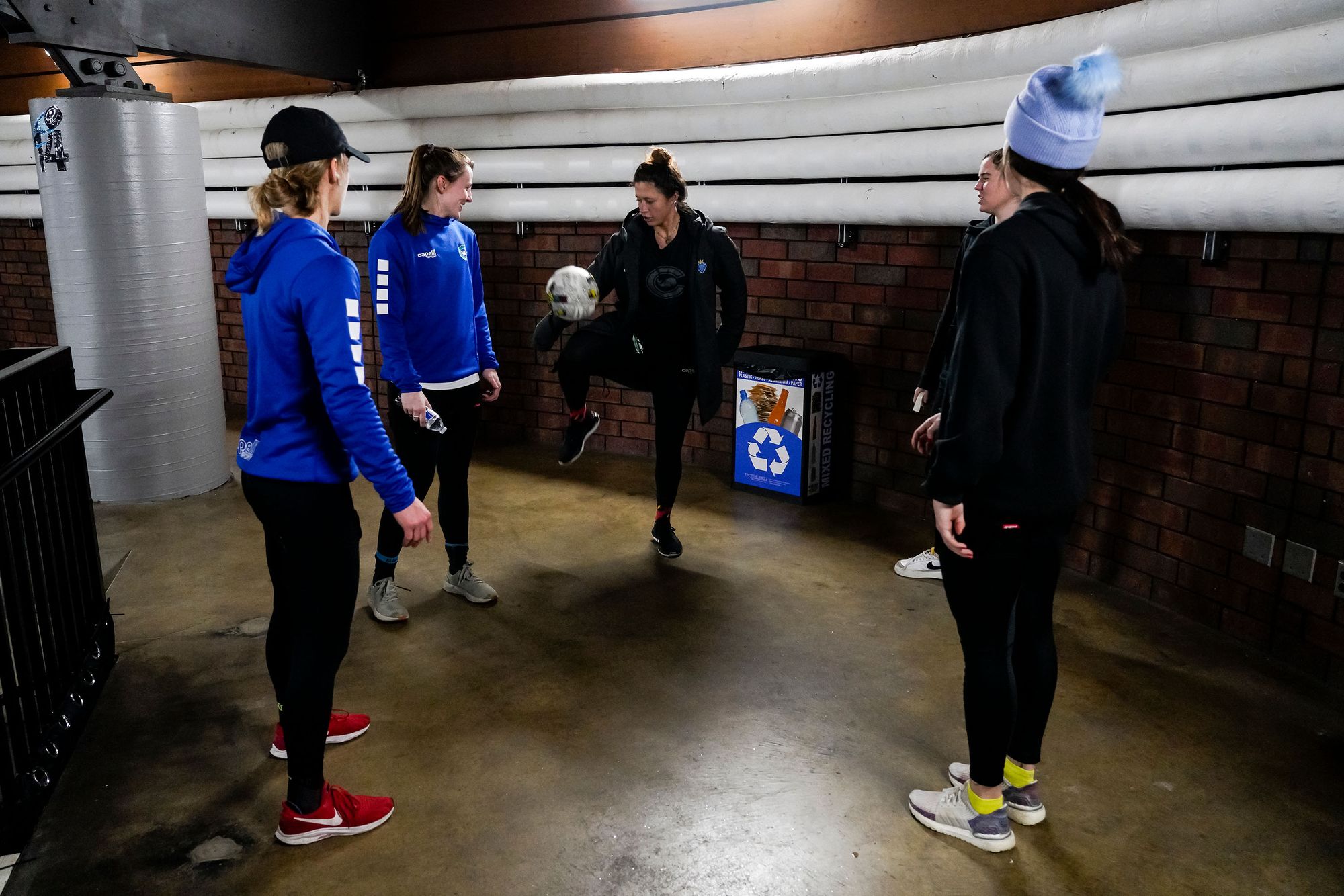 "I thought I was setting up my classes and schedule for the year," Tori says.
Instead, they told her she was no longer part of the team. That she was a disruption and not a good fit. (The BC women's hockey program did not respond to a request for comment.) And just like that, just as she'd gotten herself to a better place, another devastating loss. Suddenly a huge anchor of her life was gone. Being part of a team, playing her sport, hanging with teammates, her life as she knew it, just … gone.
As anguishing as that was, there was so much to do, and fast. Could she find another school with just four months before the start of the school year? Should she pursue legal action for being cut? And should she, after a year and a half, finally tell her parents what happened?
Because she was contemplating a discrimination claim against BC, she decided to open up to her parents. She invited them to a session with her therapist, and that's when they learned about the sexual assault.
"That's when it all made sense," Maggie Sullivan says. "I didn't know it at the time, but I've learned what shame can do to a person, and it's a common reason why victims don't tell their parents — fear of disappointment."
As for finding another school, Tori jumped into action. BC gave her a release so she could still play Division I hockey, but, it being May, most colleges had their fall rosters and scholarship money committed. Plus the North Dakota women's team had just folded, so Tori was competing with all of those women for spots.
She sent messages to coaches in the WCHA, the Ivy League, at Boston University and at Northeastern University. Northeastern responded in minutes.
"Northeastern was really the only option that I had, but it was the best option I could have ever hoped for. The coaches, the staff. That place is incredible. It was meant to be."
---
When she arrived on campus that fall, she found not just a team but a home. The environment, culture and coaches all put people first. She could see and feel how the coaches cared about each person on the team.
But even a positive environment doesn't erase trauma. She was still stuck in the trauma of the sexual assault, the trauma of being cut from BC, and the trauma of being cut off from her BC teammates, all of whom ghosted her as if she were never one of them. Even the ones she'd played with back at HoneyBaked, gone.
She continued to abuse alcohol and have thoughts of self-harm.
"I was struggling a lot with substances and my anxiety and depression and sleep. It was all out of whack. I was having dark thoughts and I didn't know what to do or where to go, and I felt so stuck. For a long time I felt stuck."
Head Coach Dave Flint noticed and called her parents for guidance. He didn't know what had happened. When they and Tori opened up to him, he offered the support, comfort and accountability she needed.
"There were times I was trying to stop drinking," Tori says. "Coach Flint put me on a dry season, but I had to sit out a couple games because I broke the rule."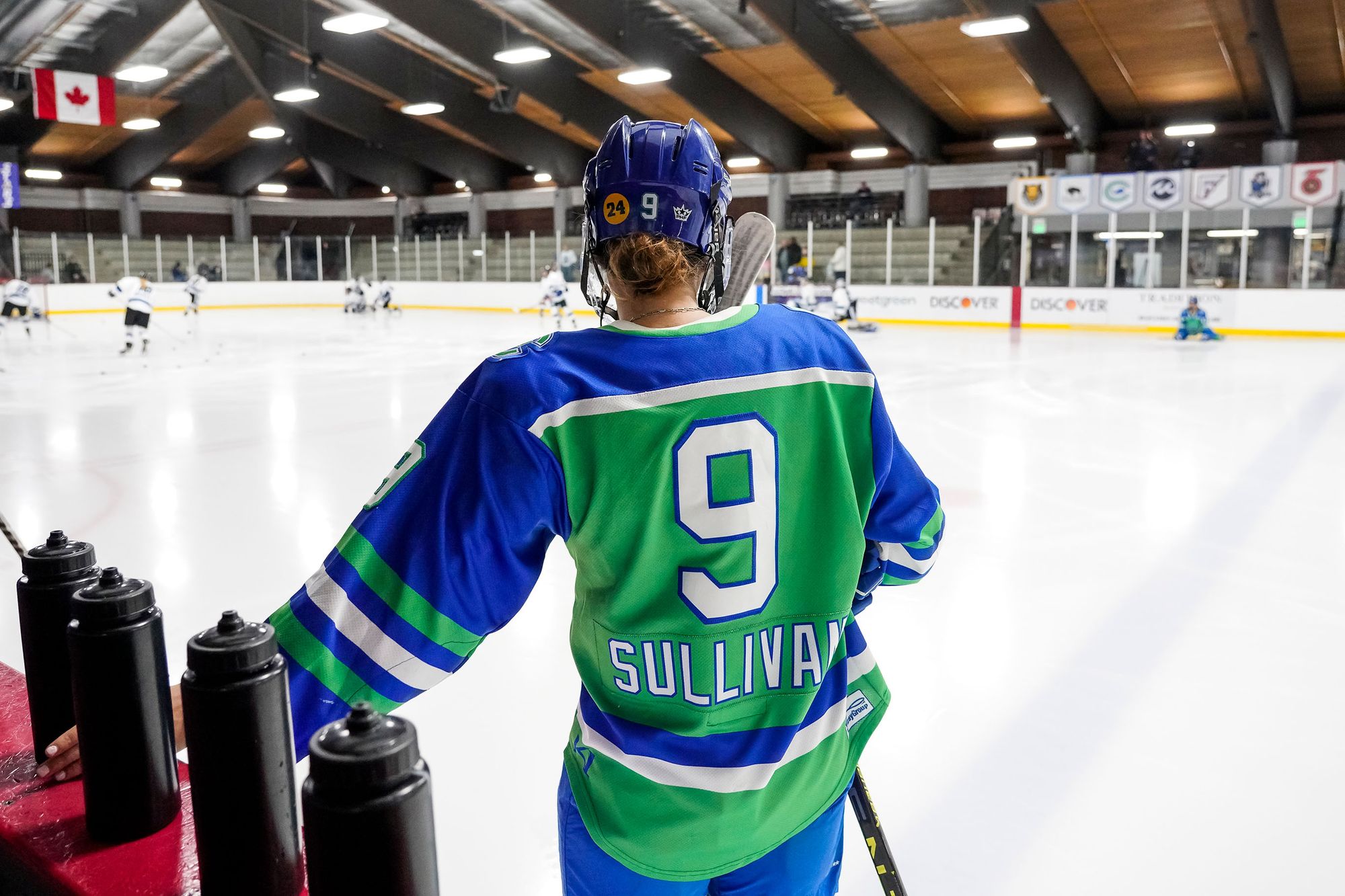 She understood the rule and sat out willingly — with that accountability came unfailing support. If she needed to leave practice early for a therapy session or even leave for a full week of treatment, she could do so without jeopardizing her ice time. Such reassurance was huge for Tori.
"Hockey is really triggering for me. Even today, I still get really anxious on the ice sometimes. What comes to mind are thoughts like, 'If I was a better player, maybe (BC) wouldn't have cut me.' Even though I'm not there anymore, I'm still afraid if I make mistakes or I'm bad — I know it sounds so irrational — but I'm afraid the coaches will cut me.
"At Northeastern, they did the best they could to help me feel like I belonged on a team and belonged there. They supported me in every way possible. At the time, I was struggling so much that I wasn't able to enjoy and be present in it and take it all in, but that school and those coaches, they saved my life pretty much."
One of them was Todd Lampert, volunteer goaltending coach now in his 18th year with the program. Once Tori shared what had happened and why she had transferred, he watched out for her and "tried to help out."
"A lot of times a kid will say, 'I'm ok' and be lying through their teeth, but she never said that," he says. "And then one day we talked, and I said, 'When you wake up and look in the mirror, you're going to see a great person. A great smile.'"
From then on, he'd text her smile emojis. And even as she struggled, those emojis meant something. They still do.
---
Healing is not linear. Throughout her junior and senior seasons at Northeastern, therapy and medication helped, but Tori went through cycles of depression, anxiety, alcohol use disorder, and thinking she was "less worse." She wasn't.
"Occasionally, I would think I'm doing better, but I was just ignoring it, keeping myself busy."
The cycles continued into the 2019–20 school year. Her athletic eligibility was up, but she came back to Northeastern to finish her degree in behavioral neuroscience and to help out on the coaching staff. She got to keep playing, too, when the Boston Pride signed her.
"I thought it was so cool that I was continuing to play after college. It was awesome, and the Boston fans were incredible. But just like at Northeastern, I was so guarded and anxious and triggered on the ice."
The Pride had a great season, going 23–1 and making it to the 2020 Isobel Cup final. Enter COVID-19, social distancing, travel limitations, and general nationwide upsidedown-ness. The Isobel Cup finals were canceled. Tori's college graduation was canceled. Also affected: her in-person group therapy sessions. They happened over Zoom, but it wasn't the same.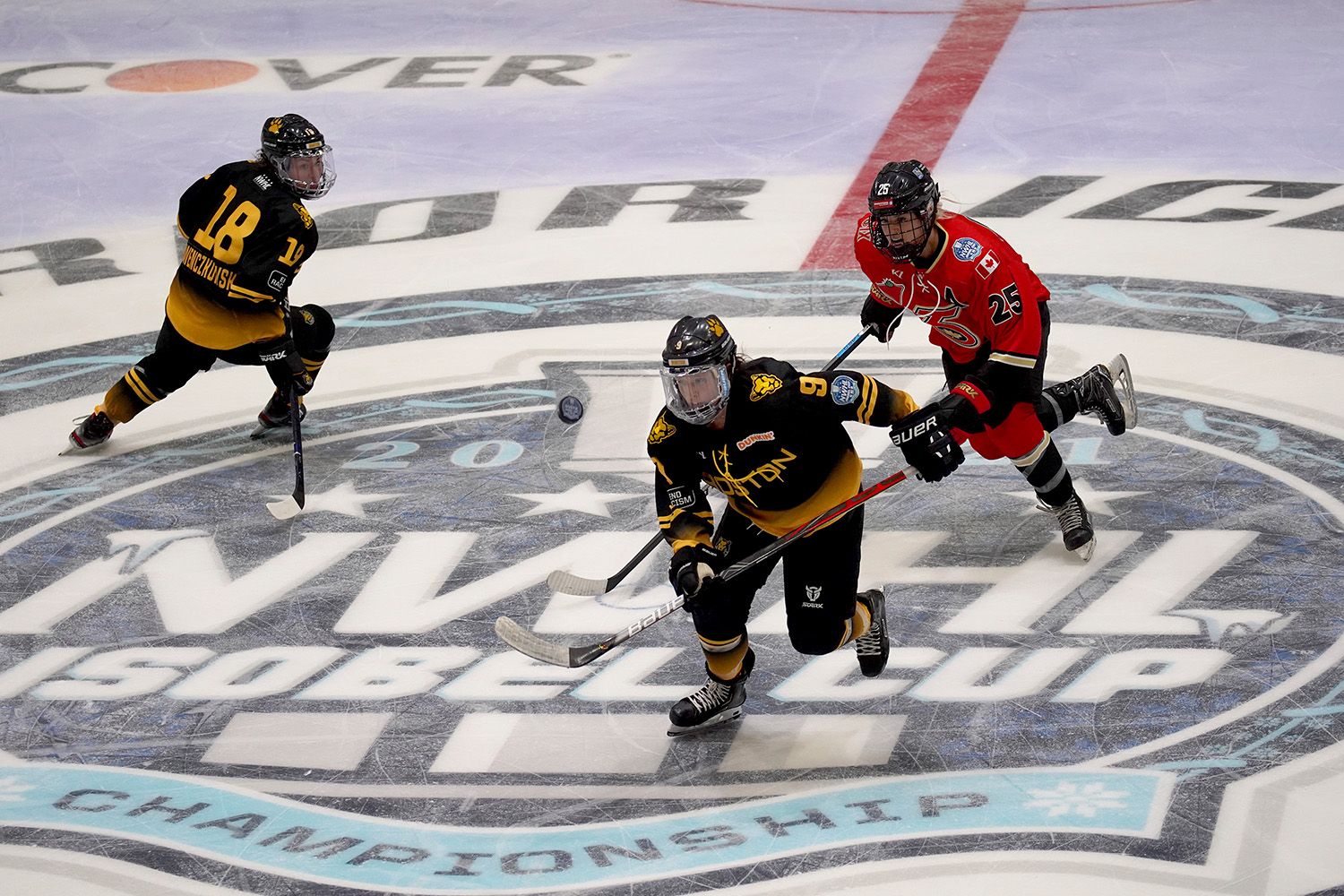 In early 2021, she landed back in the hospital because she was "extremely unsafe." That time, it was a friend from The Pride who took her.
Almost as soon as she got out of the hospital, she returned to The Pride to play in a two-week "bubble" NWHL season in Lake Placid. A COVID outbreak cut even that short. But when the playoffs did happen in March, Tori and her team won. She was once again a champion. And drinking hard. And struggling.
Not long after the big win, as she boarded a plane to Florida with friends, she had a seizure.
"The drinking picked up a lot that spring, and I think because of the drinking and mixing my medication, I had the seizure. My friends, my roommates were like, this needs to stop. You need long-term help."
She agreed. She had been seeing a therapist, but it was clear she needed more intensive care.
---
At the Arizona and California treatment centers she went to, it was indeed intense. She spent five months facing and learning how to process her pain, her loss and her shame — and how to see her self-worth again.
"That was the hardest thing I've ever done, one of the most painful experiences. But it was the best thing for me. The therapists could see right through me. I used my humor to deflect things, and they got me to sit down and, like, not avoid and actually feel things.
"I don't know how they did it, and I don't know how I did it, but I know that whatever I was doing in the past wasn't working."
Today, she still lives out east and works as an advisor for HC Sports Management, helping young female hockey players develop and find the path to reach their goals. She isn't using or abusing substances, and she joined the Whale for the 2022–23 season.
She says there's still a lot of work to be done, but her parents tell her they see a difference in her.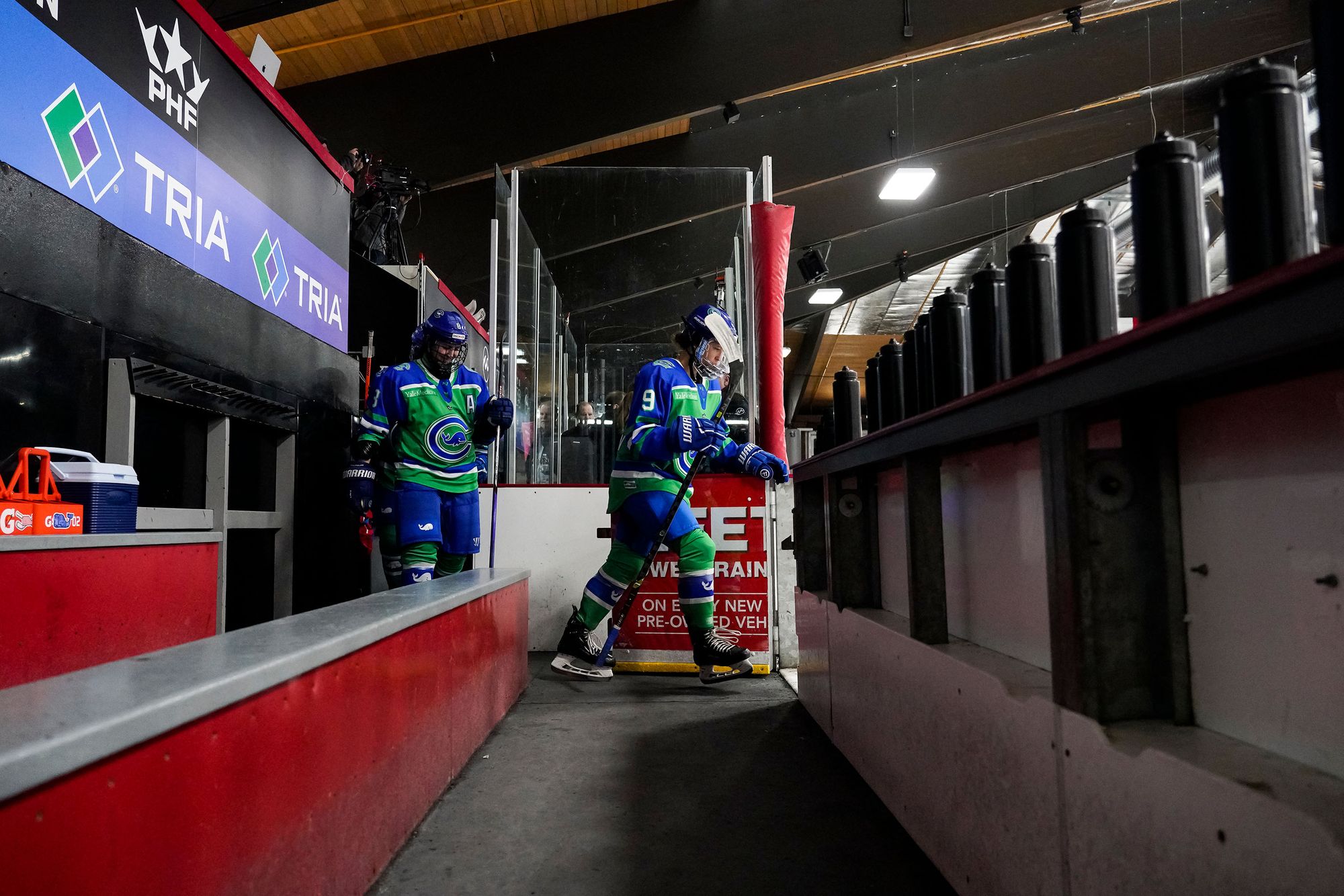 "They notice that I handle things better than before, like standing up for myself and speaking for myself and taking care of myself.
"Taking care of my mental health is probably the number one thing that I prioritize in my life. And I know that if I'm missing sessions or too busy to do things, things can start spiraling. It's hard. Every day has its own challenges. But I think I've put a lot of work in to make sure I'm trying to live as best I can."
That includes being courageous. Amid all the black hole density following Halloween 2015, Tori discovered books by Brené Brown, a research professor at the University of Houston who studies courage, vulnerability, shame and empathy. In her book Dare to Lead, Brown offers a mantra that sticks with Tori: Courage is contagious.
It's a mantra that helps her live as best she can.
"If I can share something about myself and be courageous, maybe it'll help others."
---
Back at Richfield Ice Arena, the Whale are controlling play. Tori fist bumps and "good jobs" each teammate at the forward end of the bench as they finish their shift.
She makes the most of her time on the ice, too, drawing a tripping penalty as she's about to streak into the offensive zone with the puck. Perhaps a smart defensive play given her pregame Michigan and between-the-legs-bar-downski.
At the end of the second period, the Whale are up 1–0, outshooting the Whitecaps 30–12. As her teammates file off the bench and toward the locker room for the intermission, Tori smiles and gives a shoulder or head tap to each one. Once again, she's the last one off.
Resources
If you or someone you know is struggling, here are resources that can help:
National Sexual Assault Hotline: 1-800-656-4673
Suicide and crisis lifeline: 988
Substance Abuse and Mental Health Services Administration National Helpline: 1-800-662-HELP (4357)