Little Wolf is hungry
After five years of anxiously waiting, she's ready to finally feast on an Olympic triathlon that could send her into the Guinness Book of World Records books—alongside all the record-holding athletes she grew up admiring.
To claim her own record won't be easy. But Tia Watson, the 16-year-old nicknamed Little Wolf, has never been one to back down from a challenge.
As she stands on the sandy beach overlooking the clear, cool waters of the salty ocean in Dubai, she's hoping to set a world record for the fastest time to complete an Olympic triathlon while carrying a person. She'll be racing with her older, heavier brother: pulling him through a 0.93-mile swim, pedaling him through a 24.8-mile bike ride, and pushing him during a 6.2-mile run.
And she'll have to do it all in under three hours and forty-five minutes.
"Growing up, we always got the Guinness World Record books for our birthdays or Christmas. And I always used to say, 'I want to be in this book,'" Tia says. "I knew I wanted to attempt a world record with Rio."
Little Wolf is loving
Tia has an unbreakable bond with Rio, her older brother, who's known in the family as Angel. He's the zen to her anxiety. She's the free spirit to his reserve. Together, they're a duo who loves dancing and singing, joking and laughing, racing and competing.
"They are the most connected humans I know," says their mom, Delphine Watson. "True soulmates."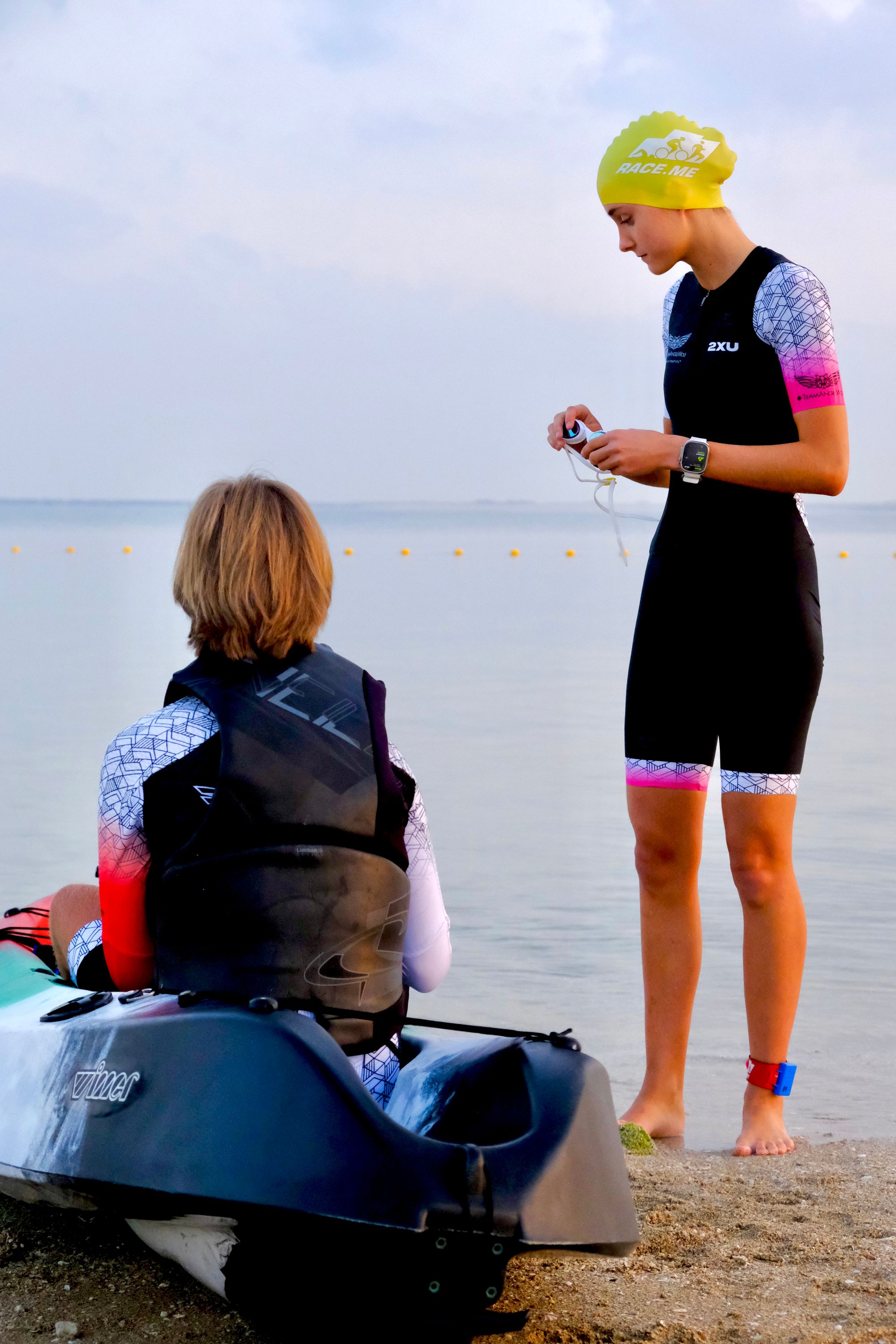 Rio has a rare genetic condition known as 1q44 deletion denovo, meaning, in simple terms, he's missing his first chromosome, which leads to intellectual disabilities, seizures, and sensory sensitivities. He doesn't like wearing t-shirts or shoes. But he loves the breeze that comes with racing, the salty air while on the water, and the warm sun against his skin. Rio is also largely non-verbal, though on racing days he's known to shout, "SWIM! BIKE! RUN! TRIATHLON! YAY!"
"That's when he's in his element," Delphine says. "He loves racing with a passion, and I think it's really given him a purpose."
Tia never had much interest in racing during the dozens of weekend mornings she'd spend watching her dad, Nick, race with Rio. But Rio's happiness and laughter after races were contagious.
She asked her parents if she could train but had no intention of racing. She grew to love the long distances, largely because her dad is an endurance athlete but also because she feels she finds a better rhythm the longer she goes.
"I can be quite stubborn and determined," Tia says. "I think that helps with endurance, which often feels more like a mind game. I can stay focused and in a zone to complete the task."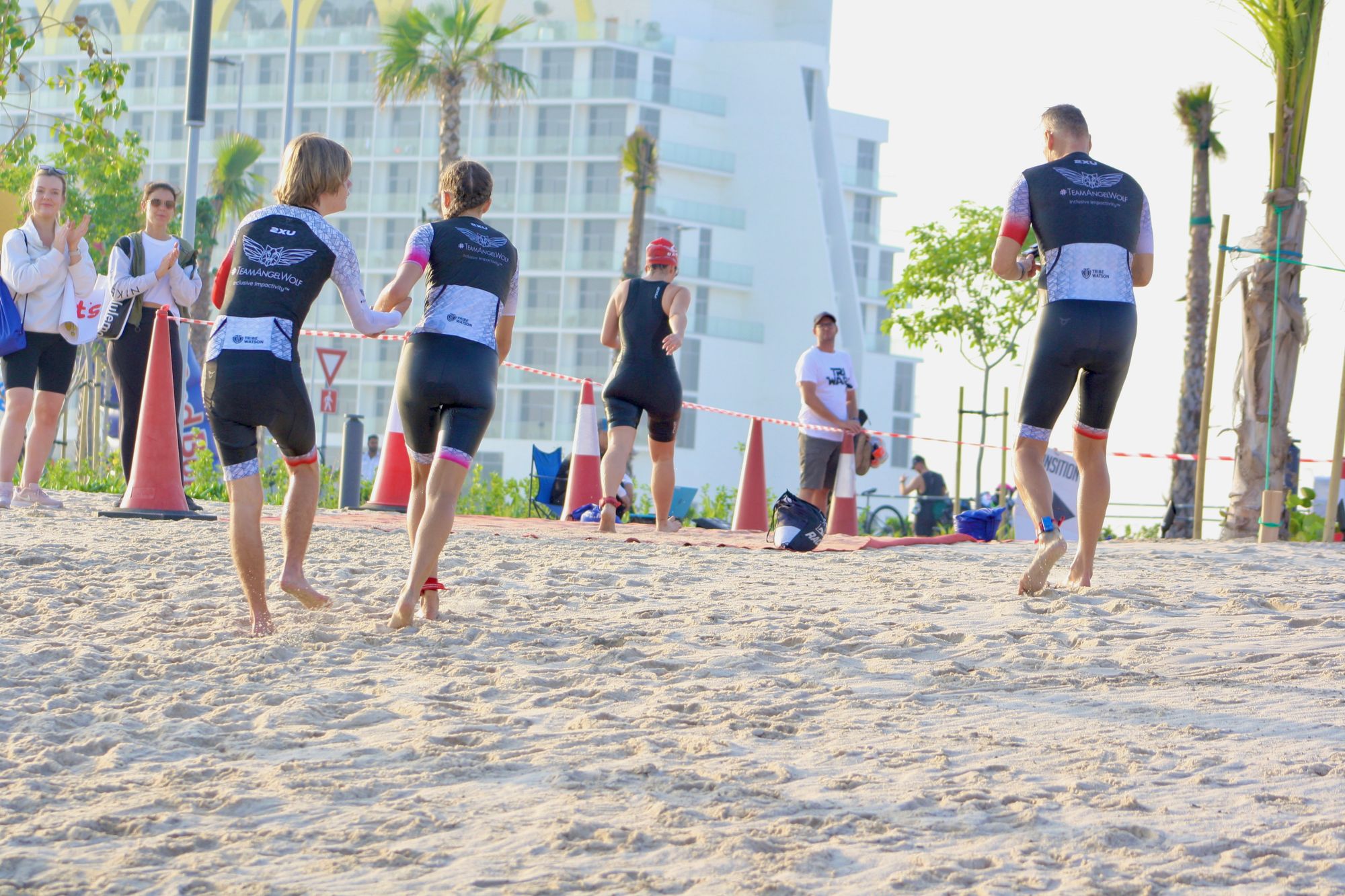 Before long, her endurance training grew into competing alone in races. Racing alone grew into racing with Rio. By the time she was 8, Tia signed up for a duathlon — a run-bike-run competition — with her brother. Together, they've now completed more than 75 races, totaling more than 300 miles of swimming, biking, and running.
"The most rewarding part is knowing that Rio is included," Tia says. "Also, the amount of friends he's made throughout the years has been great to see."
Little Wolf is determined
After cruising through the swim with Rio on their world-record attempt, Tia struggles on the bike. The heat is sweltering. A strong wind slows them down. She starts doubting if they'll cross the finish line before the cutoff.
But she's never been one to quit.
Plus, she has Rio seated in his chair at the front of the bike, whose cheers provide the motivation she needs to keep pedaling.
"Wooo!" he yells. "Go, go, go!"
"He fed me energy and confidence at a moment of self-doubt and energy depletion," Tia says.
While Rio encourages Tia on the course, Delphine says Tia has helped Rio's personality shine. Tia is a free spirit, Delphine says, whose feisty personality — "like an uncontrollable puppy with no respect for boundaries" — broke through Rio's barriers.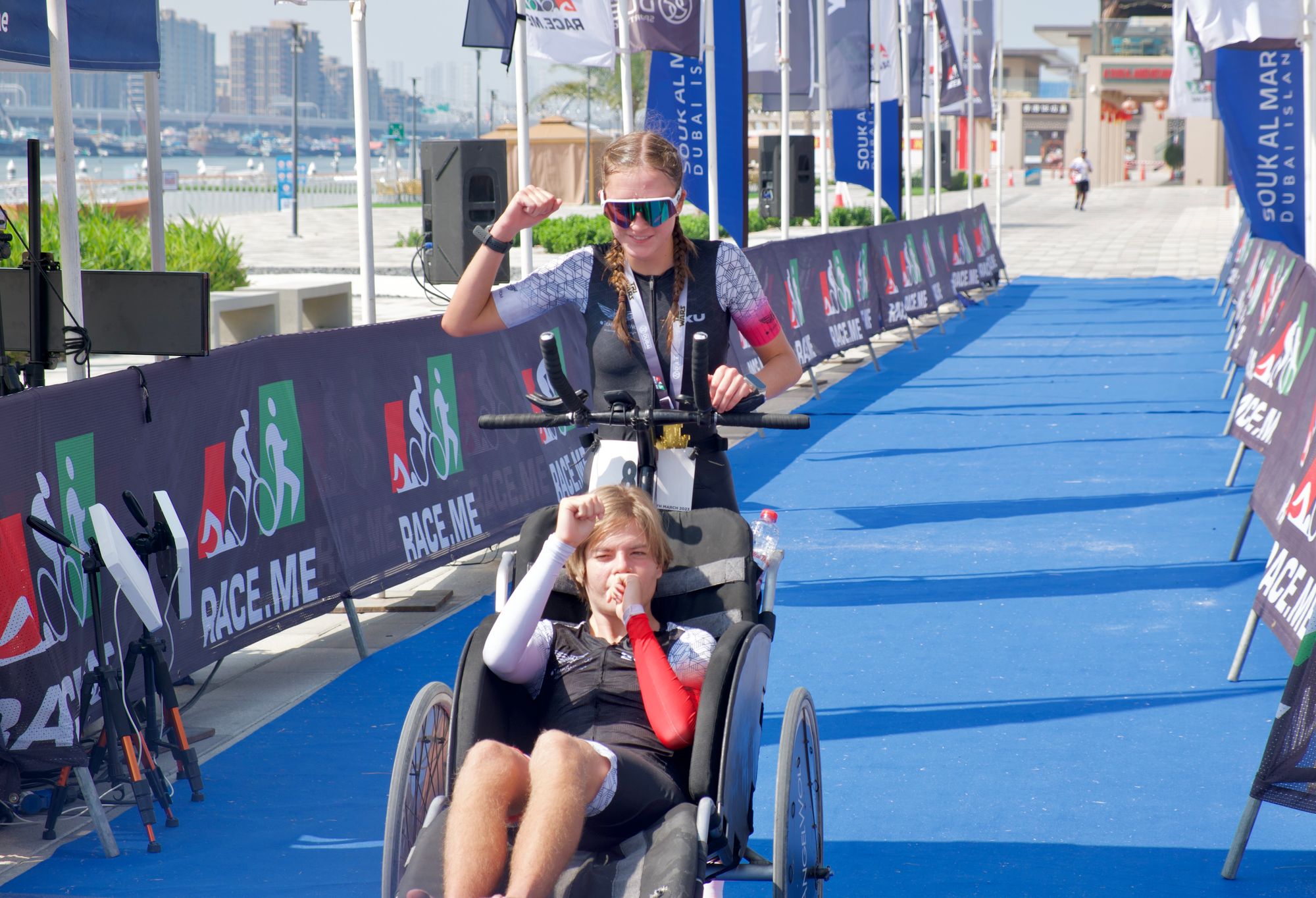 Now, Delphine says, they share an unmatched wit of humor and sarcasm. It's not uncommon, she says, to hear them singing and dancing to '90s music before bed.
In return, Rio has taught Tia how to stay calm, live in the moment, and not care what others think.
"Rio has no filters," Delphine says. "He does and says as he feels and thinks. We always joke, 'What would Zen Master Rio say in a situation where we don't know what to do.'"
Little Wolf is proud
Three hours and thirty-nine minutes after their world-record attempt began, Tia and Rio cross the finish line — Rio with his arms raised high — beating the cutoff time by six minutes.
For the 16-year-old, it's a surreal moment as she has dreamed of setting a world record with her brother since she was 11 years old. The Guinness World Record rules stipulate that those attempting a record must be at least 16.
"It was a very surreal feeling thinking I could be in the book, and I've just accomplished something massive with Rio," Tia recalls. "I'm hoping our attempt inspires other kids or adults to get out, be active, and also be inclusive."
Since the Watson Wolfpack started racing with Rio, they founded Team AngelWolf, a non-profit foundation named after Tia and Rio that promotes inclusivity for people with disabilities within sports. They host monthly events within the community that allow those with disabilities to swim, run, or be active. But most importantly, to feel included.
"Everybody wants inclusion, but there's a fear that people are frightened to say the wrong thing. What terminology do we use? Are we going to offend someone? And I think there's so much fear that actually puts people off doing anything inclusive," Delphine says.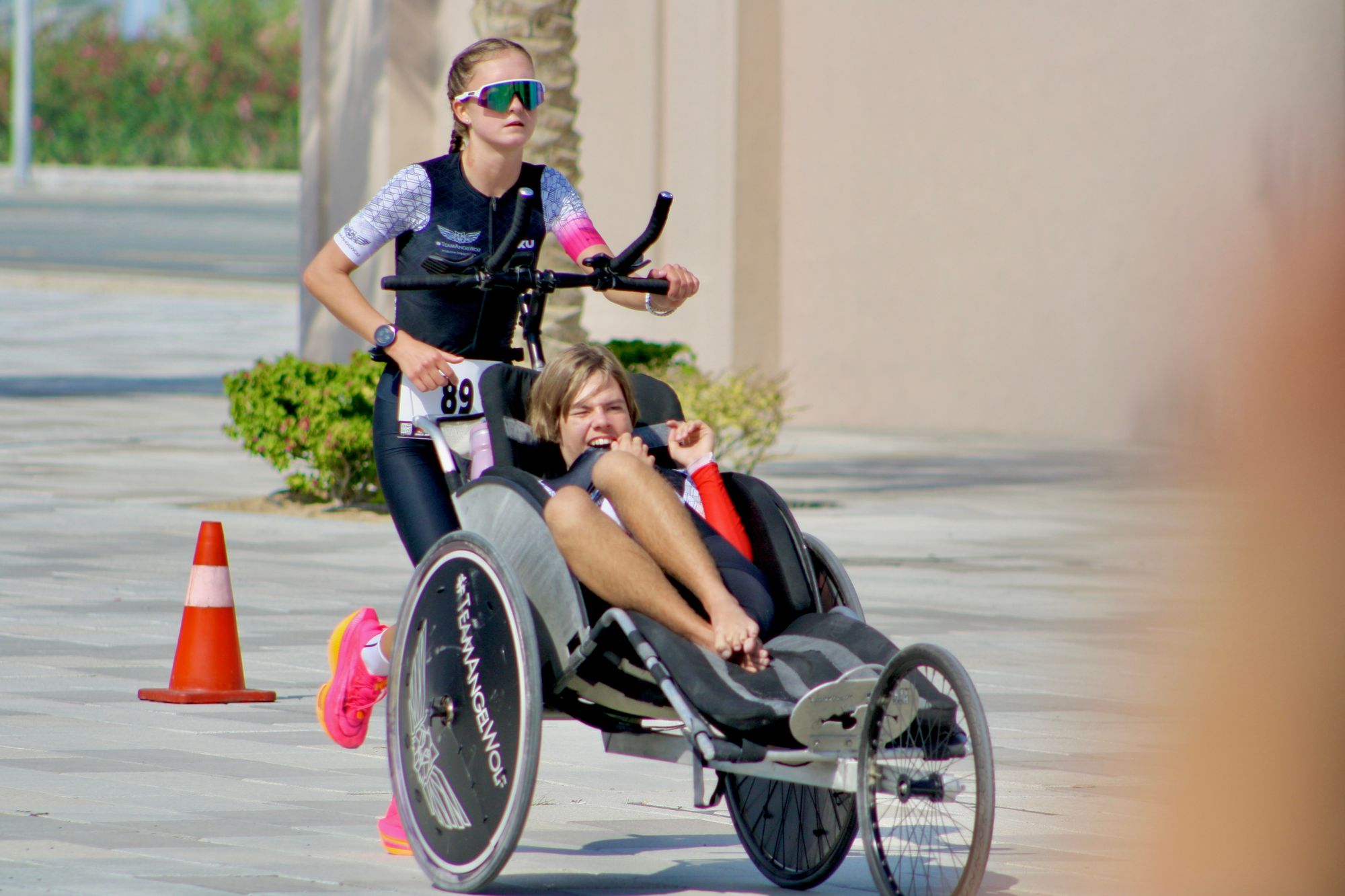 Tia and Rio's record attempt is currently being validated by Guinness World Records. It requires a lengthy process that included surveyors measuring the distance of the course, witnesses throughout the course, computers monitoring the timing, and enough paperwork that will make your head spin. They're expecting the results any time.
Meanwhile, Tia's dreams don't stop with the Guinness World Record attempt. She plans to keep on racing as long as Rio is happy. She wants to compete in the Ironman World Championships in Kailua-Kona, Hawaii—both as a solo athlete and with Rio. The 140.6-mile competition is said to be one of the most difficult races in all of sports because of the terrain and weather conditions. She plans to race in all six major global marathons with Rio in Tokyo, Boston, London, Berlin, Chicago, and New York City. Wherever she goes — whatever she does — she'll have Rio by her side, building further on their unbreakable bond.
After crossing the finish line of their Guinness World Records attempt, Tia wrote a message to Rio: "You have always inspired me to keep pushing and live in the moment. Your smile and laughter always puts smiles on other people's faces. Especially on the bike on race day when I was thinking I might not make it, yet you made silly little jokes making me smile and just reminded me that no matter if we get this record or not, this is still such a big accomplishment for the both of us.
"I couldn't be more honored to have done the attempt with you."
Update, Sept. 5, 2023: On Sept. 3, 2023, Tia & Rio Watson were awarded a record in the Guinness Book of World Records for "the fastest time carrying a person while competing in an Olympic triathlon."
"What they did was remarkable. We don't think Tia really grasps how extraordinary it is what she achieved, as it's her ordinary," said Nick Watson, their father. "Inclusion should always be the norm, but Tia's strength, determination and commitment in that race was incredible. … Together they showed the possibilities, impact and strength of inclusion, by community and family, including people with disabilities in sport (who cannot compete independently. This is what we call inclusive impactivity. We are so proud of both of them."