Jordan Gray isn't like most track and field athletes you've ever met. Heck, she's probably not quite like anyone you've ever met.
Sure, she's gritty and hard-working. The Georgia native-turned-Wisconsin resident even uses "grit_goddess" as her handle on Instagram and other social media. That was sparked by her father, Jeff, who prizes digging deep but also uses "GRIT" as an acronym for life: Grateful, Respectful, Integrity, Tenacity.
Yes, she has the sport in her genes. Her mother, Jackie, ran the 100-meter dash in 12.3 seconds and did the high jump while growing up.
Gray has had various injuries and health issues and setbacks along the way, too, the sort that make a compelling story of determination. Most notably, she dealt with a mysterious skin condition that struck while she was in college — one doctors have struggled even to name. "Severe atopic dermatitis" is the best they could venture. An intense rash over most of her body led to her literally sweating blood as scabs tore and broke. A Dupixent prescription eventually brought it under control, but she says she still has to receive an injection about every eight months, or she'll "spiral right back into crazy breakouts."
Add to all that an interesting and eclectic resumé, with a black belt in taekwondo, a side gig as a professional photographer, a passion for sharing her Christian faith, and even some ukelele-playing skills in her repertoire.
But there's so much more.
---
Gray, 27, grew up in Ball Ground, Georgia — a quaint and unusually named community of about 2,500 people located an hour north of Atlanta. The oldest of four siblings, she was homeschooled and dove into just about any activity you could think of in her early years. Of those, basketball occupied the space nearest her heart, and she dreamed of making that her focus in college.
In her senior year of high school, though, her mother convinced her to try out for a nearby community-based track and field club. Called "The Heat," it was (and is) run by Blane Williams, father of Olympian Kendell Williams.
Gray said the grueling tryout was "miserable," but she made the team. Then, shortly before the track season, a basketball mishap severely injured her ankle, leaving her in a boot and brace. Hobbled, she started out learning to throw shotput and javelin with some success. But when the boot finally came off, her coaches soon saw she had some jumping and running ability, too.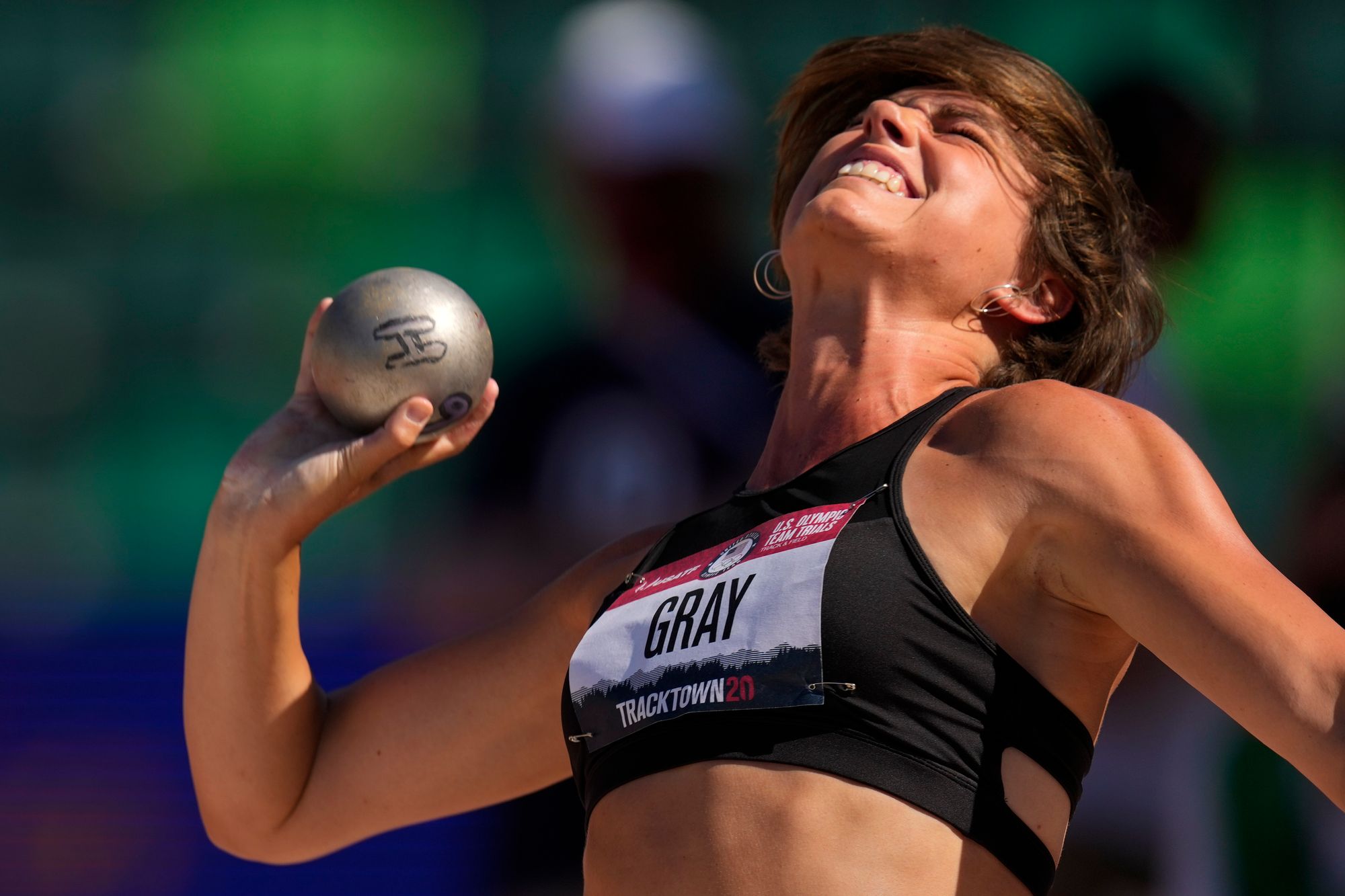 "We're going to make you a heptathlete," her coaches said.
"A what?" And so began Gray's journey into the sport that would shape her career, one that requires a seven-event balance of skills in running, hurdling, jumps, and throws.
In Gray's first hurdle race, she looked more like a snowplow than a runner — tripping over the first hurdle, rolling into the next one, and eventually scampering over the finish line just in time to salvage a couple of points in the event. "For whatever reason, hurdles are just not my jam," Gray said.
It was not a glorious start, but it was a start, and she kept pushing to get better.
---
Her parents convinced her that track and field offered more opportunities at the college level, so she set off for Kennesaw State University in the Atlanta suburbs.
Kennesaw track and field director Andy Eggerth saw a lot of promise. A talk with her and her family convinced him, "She was going to have the right character, personality, work ethic, all those kinds of things. And with those physical tools, I knew she was going to be a winner."
Once again, though, the beginning was rough. Even with Gray's trademark grit, the training and lifting regimen left her feeling worn out, throwing up, and barely able to walk. A couple of months in, she called home and said she wasn't sure she could do it.
Her mom, though, wasn't having any of it. "Think of it as a job," her mom said, "one that keeps you in really good shape."
Gray took the pep talk to heart and pressed on. "As soon as I started competing, I really found my stride," she said. "I've never had a moment since where I've said, 'I'm done, I quit.' It's good I have my mom."
An unfortunate fall on some stairs while wearing her spikes—"I fell down like a cartoon character," Gray said — derailed her freshman-year outdoor season and resulted in her redshirting. While recovering, she cheered on her teammates and took notice of the pole vault. She wanted to learn.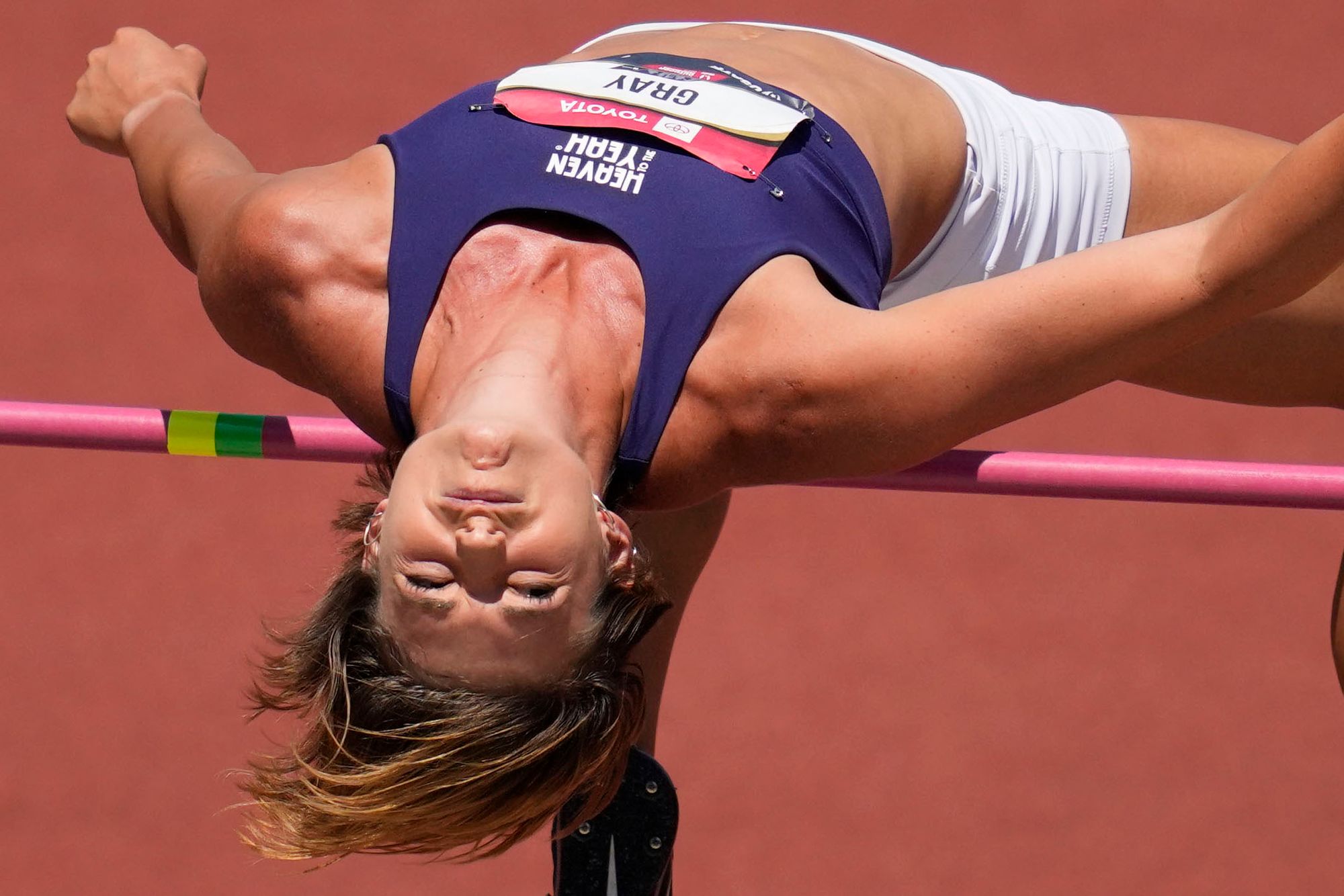 Despite some ribbing from male teammates and hesitation by her coaches, she persisted — "whining and begging," in her words. Eventually, the next spring, they told her, "If you want to learn, today is your day." She seized the opportunity and practiced only twice before competing in the event for the first time.
The next year, Gray learned to throw discus. And she realized: "At that point, I was basically doing the decathlon." Take the heptathlon, add in the pole vault and discus, and it just takes the 100-meter dash to complete the 10-event test of skill and endurance, sometimes called the competition for "the world's greatest athlete."
There was one problem, though: The NCAA didn't offer a women's decathlon, and few competitions were offered anywhere. The next chapter began.
---
So why, exactly, didn't many women compete in the decathlon?
"I started doing research, and it was pretty sexist," Gray said. "We basically got told we couldn't because we weren't capable."
Fresh off 16 school track and field records and extensive NCAA pentathlon and heptathlon success, she went to Eggerth and said she wanted to take on the decathlon in her post-college career. He looked around and found the National Women's Decathlon Championships in San Francisco.
Gray went, and she conquered. She claimed the US record in the event, not so much setting it as obliterating it. Her 7,921 points topped the nearly two-decade-old previous American record by nearly 350 (a record she later increased). Her long jump result matched a world record.
She has competed in the US and internationally in the heptathlon since then, representing Team USA in the Thorpe Cup, but the decathlon remains front and center. Gray has set her sights on the Olympics, where first the pentathlon and then the heptathlon has long been a women's competition, but the decathlon has always been a men-only event.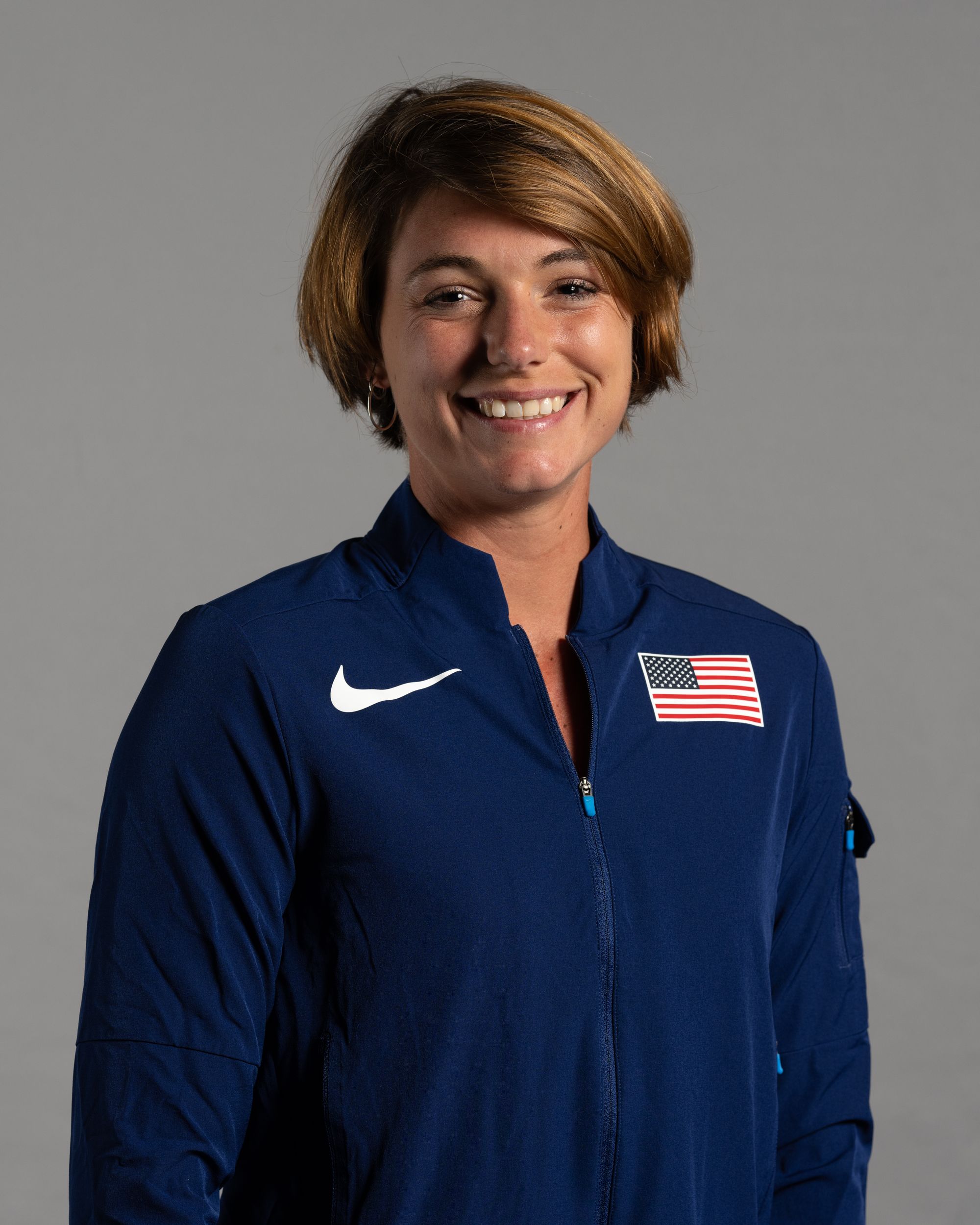 In response, she launched a campaign called "Let Women Decathlon," including a worldwide petition with signatures now well into five figures. She's made presentations, done national and international interviews, fueled awareness on social media, and had meetings with officials at World Athletics — the international governing body for track and field and other running events. Gray isn't the first to push for women's inclusion in the decathlon by any means, but she hopes to be the last.
"I revitalized a movement I didn't even know was happening," Gray said. "Women have been doing the decathlon since the 1970s on their own. All these women really tried to make something happen, but nothing ever would. Now, all of a sudden women are reaching out to me from all over the world. I ended up inadvertently taking on this movement even though it was never my goal. I never realized there were so many women who wanted this to come true."
---
These days, Gray makes her home in Wisconsin, where in 2021 she followed Eggerth — her ongoing coach and key mentor — to serve on the University of Wisconsin-River Falls track and field coaching staff. Her physical training continues there, with long hours of running and jumping between protein-laden meals and solid nights of sleep. Tryouts and other competitions lie ahead.

In the midst of all that, her constant efforts for gender equality in the sport also continue unabated.
Movement on the decathlon did not come for the 2020 Games in Tokyo, and time has run out for change at the 2024 Summer Games in Paris, but the 2028 Games in Los Angeles remain a target. It's complicated since the heptathlon has a long history and many women now train for that event, so phasing it out presents a challenge. But Gray is confident there's a way forward for everyone. "The petition is still running because so are the decathletes," as one of her posts declares.
Admittedly, the decathlon also matches Gray's skill set better, as the wider range of events lends itself to those who excel at a balance of skills, with more throws and less emphasis on speed — never Gray's strongest suit. For all her gifts, she's no jackrabbit.
"I still tease her to this day that she's slow," Eggerth said. "Speed was an area where she always needed improvement. She's gotten drastically better, but you always have to continue getting better." She compensates for that, however, with what he calls "maybe the best work ethic in the world. … She'll push herself and run through walls to accomplish things. That personality, that drive, is impressive."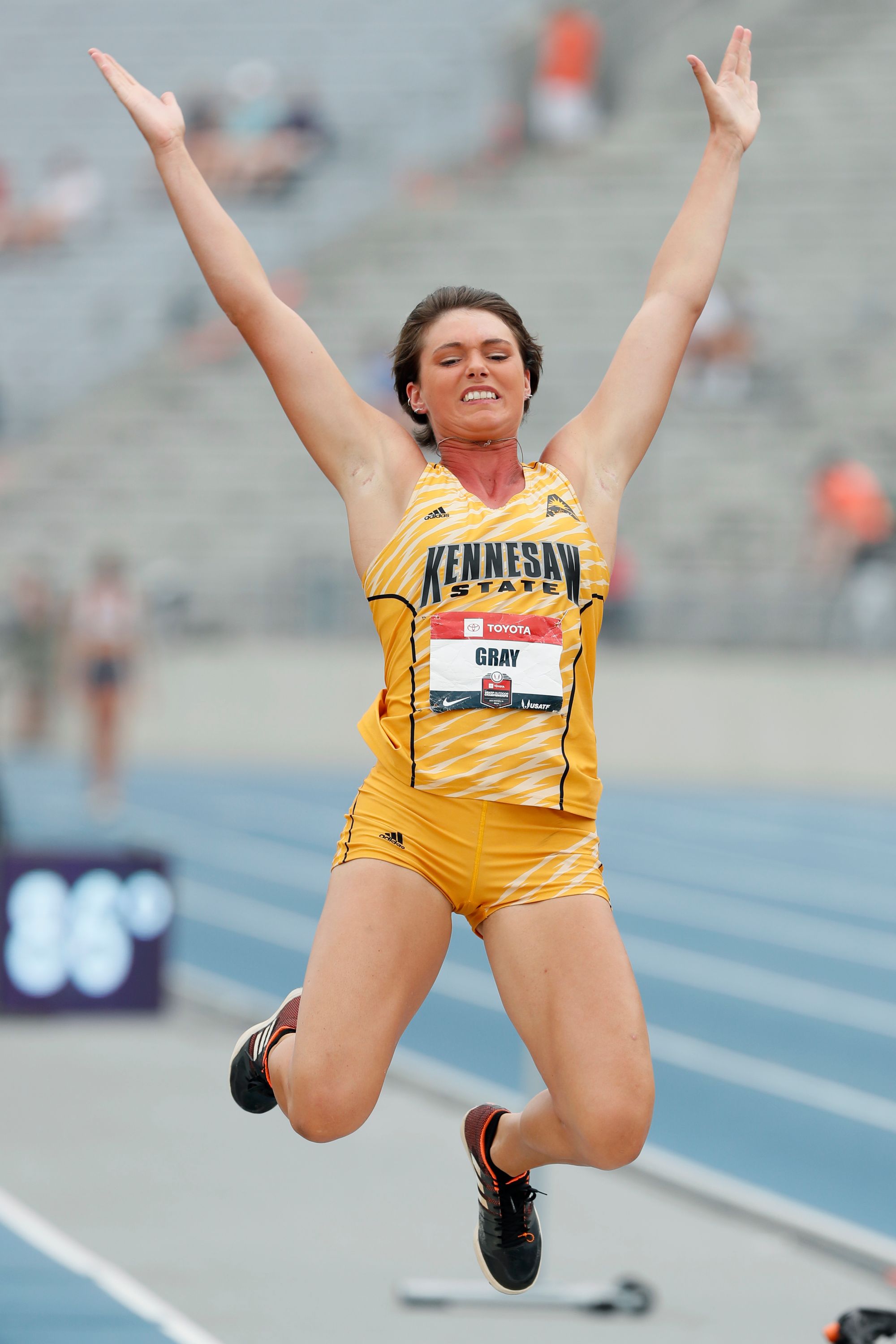 And thanks to that drive and her unrelenting faith, her push for the women's decathlon is "starting to get a lot of traction," Eggerth said, despite the vested interests of various parties in maintaining the status quo.
As she continues her quest, Gray says she doesn't really have many specific role models beyond Eggerth and her parents. "And Wonder Woman," she adds with a laugh. "I want to be like that."
Gray might not wield a magic lasso, but for many girls, women, and others in the track and field world, she has likely earned some degree of superhero status. Gray, however, quickly shares that power.
"A lot of women underestimate themselves," she said. "They're capable of more than they realize."