It's spring of 2022, and the weather in Lawrence, Kansas, is nothing short of a big tease. The sun is shining, and the trees are beginning to bloom. But more importantly, Jalen Wilson needs new tires.
Fresh off winning the national championship with his fellow University of Kansas teammates, a weekend trip home to Texas is looming. The need for some fresh rubber means he pushes back his scheduled photo shoot until noon. He apologizes for this. The thing is, he's stuck at the local tire shop, where he's been waiting for more than an hour.
As time bleeds from the day, Wilson takes charge and decides he'll try again tomorrow. With a simple text message, he announces his departure with a destination of McCarthy Hall. Those new tires will have to wait, because the film crew is waiting on him.
These days, it's hard to guess what an elite college athlete will be driving. If you play at Kentucky, it's an NIL-deal Porsche for the whole team. For Wilson, it's refreshing to see him pull up in a nondescript Honda. Getting out of it requires some contortionist skill, but as he straightens his lean 6-8 frame, a smile emerges and an out-stretched hand offers a friendly greeting.
As we head for a quick tour of McCarthy Hall — the $12 million dormitory opened in 2015 to house 16 male basketball players and 17 other students — Wilson is quiet, and moves with the grace of a swan. He's smooth and efficient. He is calm. He is at peace. There's no doubt he's a star, at home in Lawrence with the ghosts of James Naismith and Phog Allen.
---
Fast forward 10 months. Wilson is in a familiar position. He's still behind the wheel, but this time he's driving himself — and his teammates — toward another run at the big prize. After all the success last season, and all the uncertainty about which Jayhawks would return to campus for another shot, Wilson is the pilot, the general. He is the leader.
But that wasn't always a certainty. Last spring, he dipped his toes into the frigid waters of the NBA draft for the second year in a row. Essentially, he let himself get evaluated, keeping one foot in Lawrence, in case he was deemed not ready.
That was the case. The consensus was Wilson needed to work on his perimeter game. His value was late pick, maybe a two-way contract. It wasn't time. Not then, anyway. With a mature outlook and excellent guidance from his parents and coaches, returning to Lawrence for another season was a no-brainer.
"Ever since he made the decision to come back, he's not thinking about the NBA at all," Kansas head coach Bill Self says. "He's thinking strictly about us winning and because he's thinking strictly about us winning the NBA opportunities will be there because he hasn't packed his bags. He's not one foot in, one foot out. This guy is all locked in on Kansas and the other stuff will wait because he's smart enough to know the other stuff is determined by what he does here and his focus is strictly here."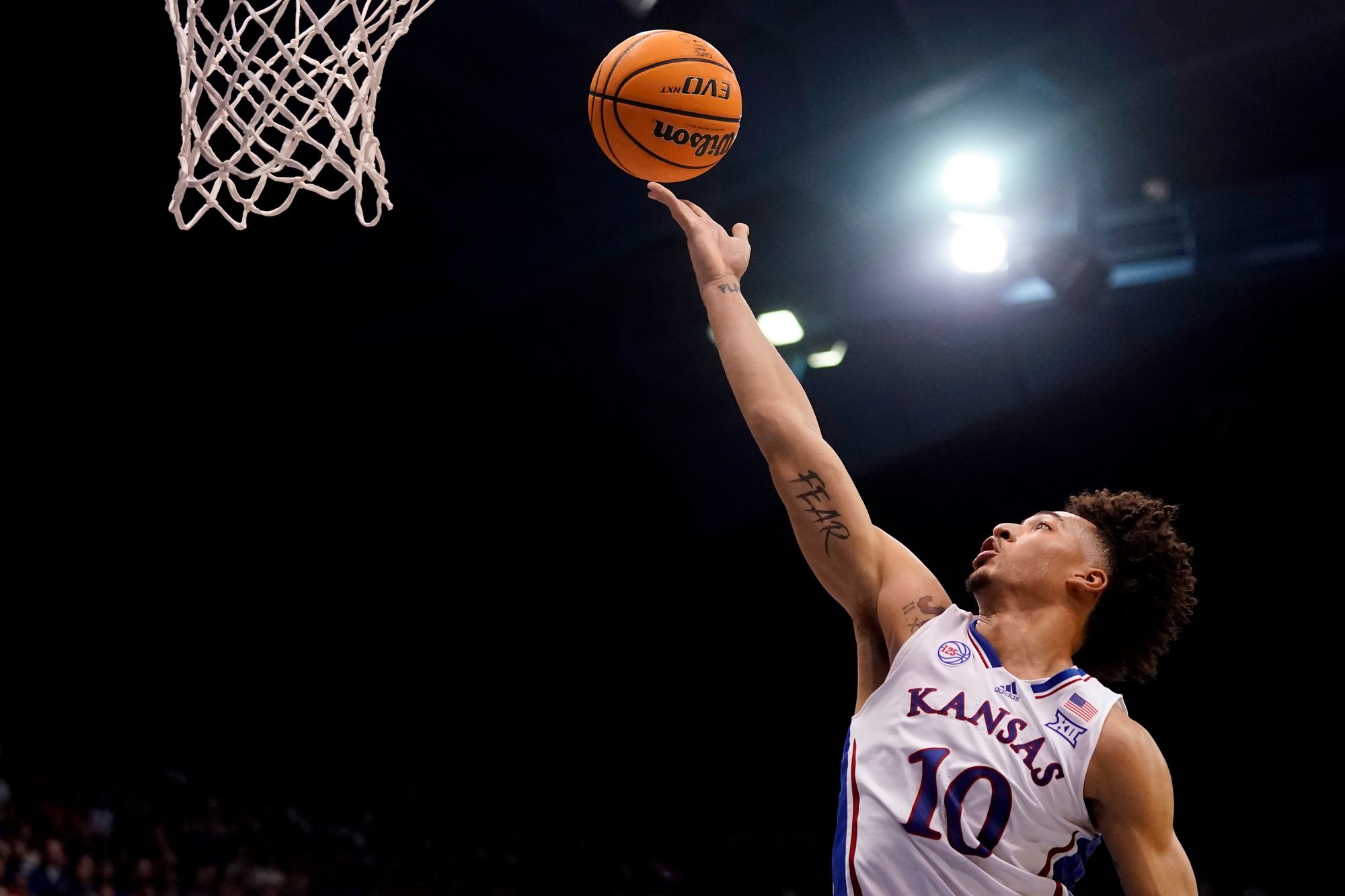 Being present isn't always easy. But this is who Wilson is — a thinker, a doer, a planner of dreams and a maker of maps that lead to those dreams. His map has required revisions. And that's okay. Because he's still driving. The team, and himself.
"I thought he was extremely hungry last year," Self says. "But this year is different because the roles have changed. He was one of several last year and now he's the leading actor — he's got the leading role. And so I think with that he understands comes more responsibility."
---
Developing the version of Jalen Wilson we see today wasn't a linear path. He is most definitely not one of those athletes where everything came easy. Thankfully for him, his parents provided a firm guiding hand for their oldest son.
Derale and Lisa Wilson both played college basketball. Derale at Texas Christian University (TCU), and Lisa finished at Oklahoma City University after initially committing to Oklahoma State. Jalen's brother Jace just completed his freshman season as a wide receiver at the University of Texas-San Antonio. Younger brother Jevin is a sixth grader, with a wide window into the world of college sports.
"We have a really competitive family, and we're all trying to do different things but we're all about success through sports. That's just how we were brought up," Wilson says.
Wilson acknowledges his path to the top has been riddled with potholes. In AAU ball he wasn't getting the minutes he thought he earned, often finding himself behind more selfish teammates. Coaches sometimes underestimated the strength of his contributions, pushing him further down the depth chart. Injuries stalked him like a Reaper drone, first in high school, then freshman year at KU.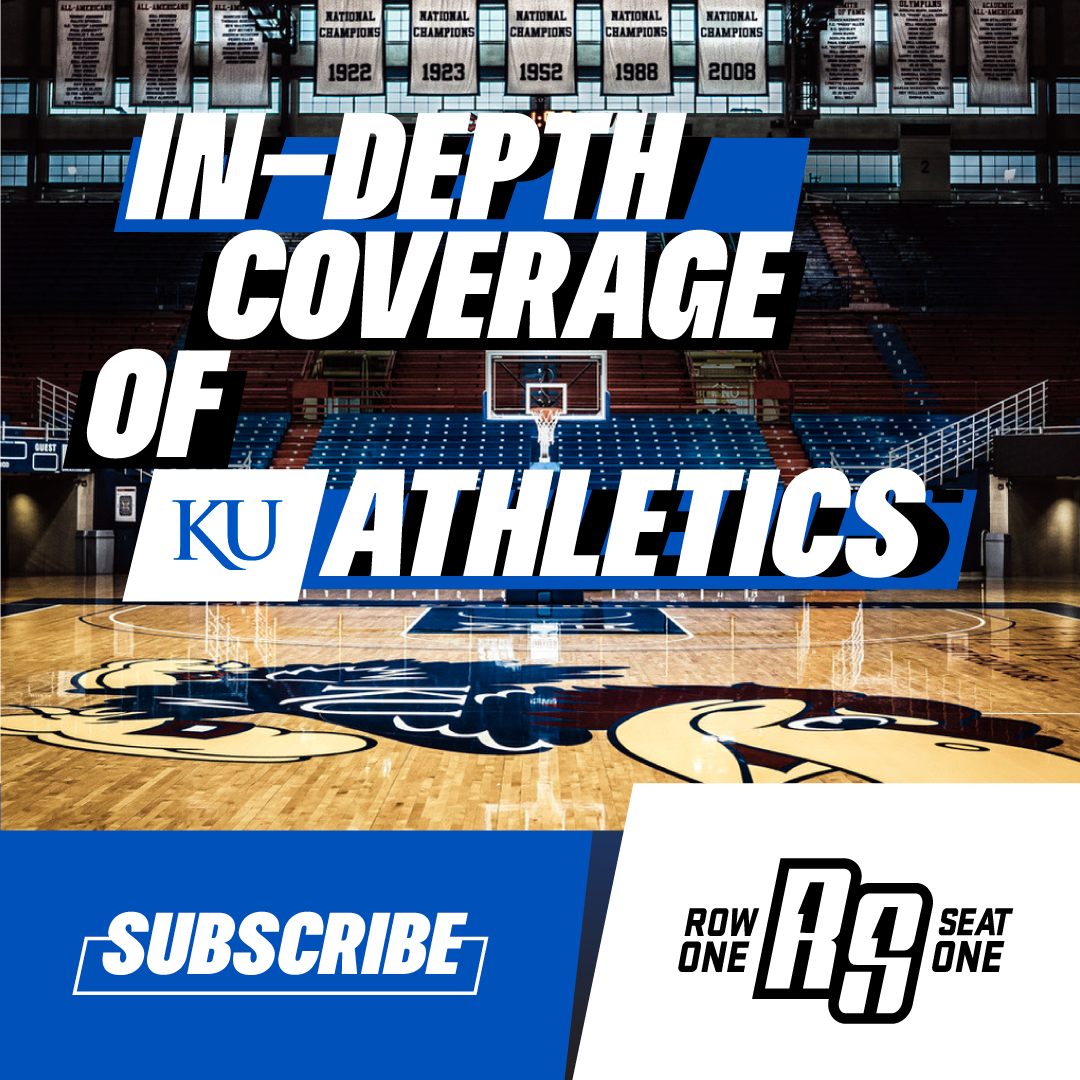 In 2020, Covid-19 dropped the mic on the world. And then there was the DUI last season, four days shy of his 21st birthday and right before the Jayhawks' season-opener at Madison Square Garden in New York.
In the face of it all, Wilson stared down the adversity. He didn't run. Nor did he play the blame game. At 22, he is mature with a seasoned outlook on life. This virtue comes from his family.
"My parents, my family, is the best support system I have," Wilson says. "They're so helpful, and they've been through a lot themselves. Most of the things as a basketball player they've gone through. I'm not going to go away from who I am. Any mistake I make in life is a mistake I made. I made the decision to do whatever it was — it's nobody's fault but mine and I want to own it. I don't like it when people shy away or blame for something they controlled or they did."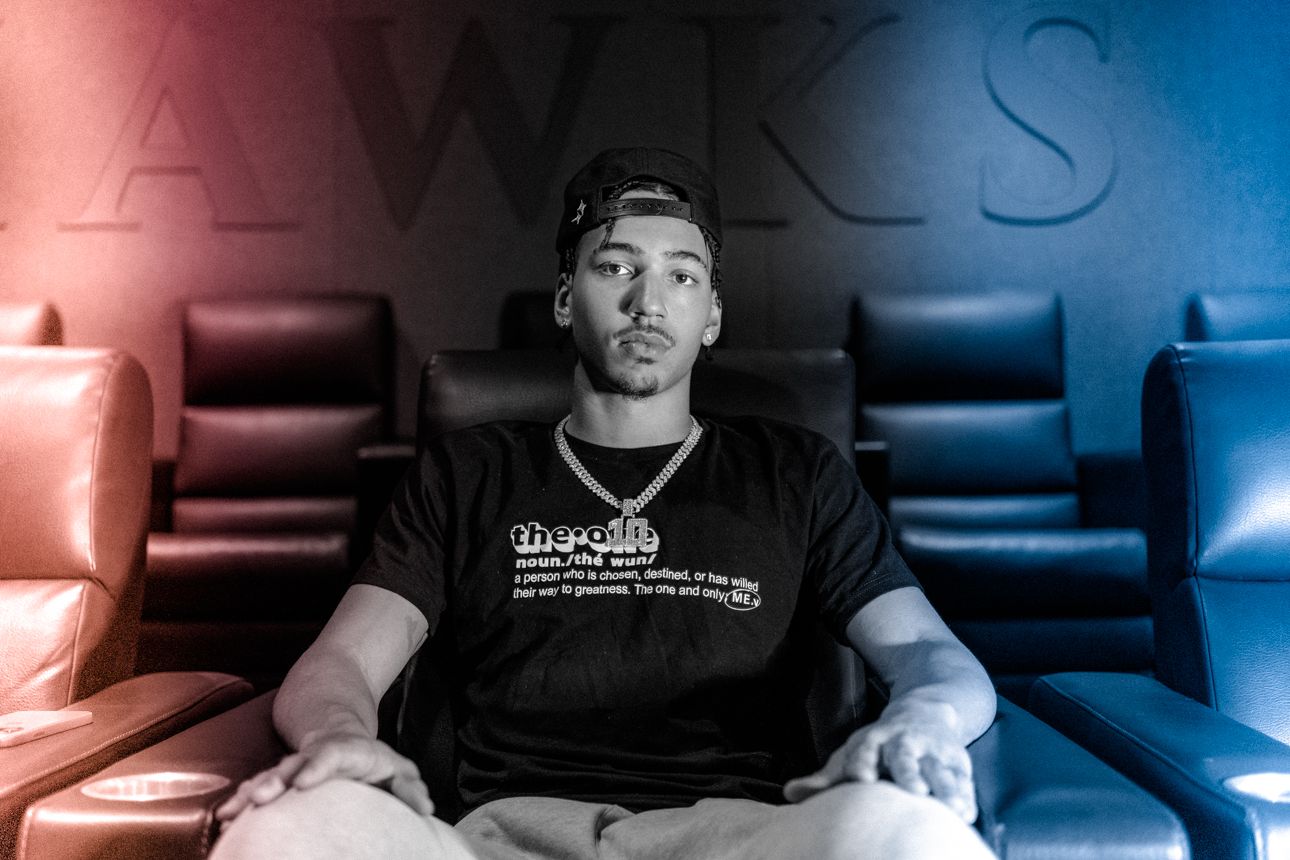 His coach saw it the same way.
"He was humble last year when he got his DUI and he handled that as well as I've ever seen an individual handle. At first, he owned it. He wanted to try to make something positive out of it. He accepted any type of discipline," Self says.
"And then when he came back, he struggled because he tried too hard and basically kind of had to rebuild himself as a contributor to our team. And then after he did that, you know, he became the best teammate, definitely as unselfish as anybody."
Wilson also has extended family he can lean on. He's particularly close with his cousin, Terrale Johnson, who played football at Kansas State. Wilson broke his ankle seven seconds into his first game as a Jayhawk. His cousin was there for him.
"Going through this process, beginning in my freshman year when I broke my ankle and it seemed like my world was over, he was there for me, bringing me what I needed, helping me around the place because I couldn't walk. I just really appreciated him for that because he was there for me when not a lot of people were," Wilson says of his cousin. "It just showed how real the love was before I had played any games, you know, I hadn't even played one game at that point. I always looked up to him. We all learn from each other, but he's been a special person in my life."
Johnson was also there for other pivotal moments in Wilson's life, including the aftermath of the DUI. They each can appreciate the highs and lows of being a student-athlete under the microscope. They talk of monsters that lurk in the shadows and finding the courage to rise above all.
"When we say 'we've seen monsters before' it's just saying that no matter what approaches you in life, no matter how scary it may seem, no matter how intimidating it may seem, just take it head on and realize it's one little bump, one little step you have to get through to learn and grow from. That's why when anything happens, I just remember I've been down before and I know how to get back up."
Self credits the solid foundation the Wilson family has built. The support for each other makes the hard times easier. And it's not just Jalen who benefits.
"The thing about it is both his parents were athletes and they both understand and they don't coddle him to the point where there is a non-objectivity toward his side. They are about as objective about their child as a parent can be in a time where very few are and I think that they've been great," Self says.
"I mean they see it through the same eyes as the way a coach would see it. Yeah he's doing this he's doing that, but he's not doing that. He's being soft here and good God, we got to get him going. And Jalen needs to take less shots because, you know, somebody else needs to get more.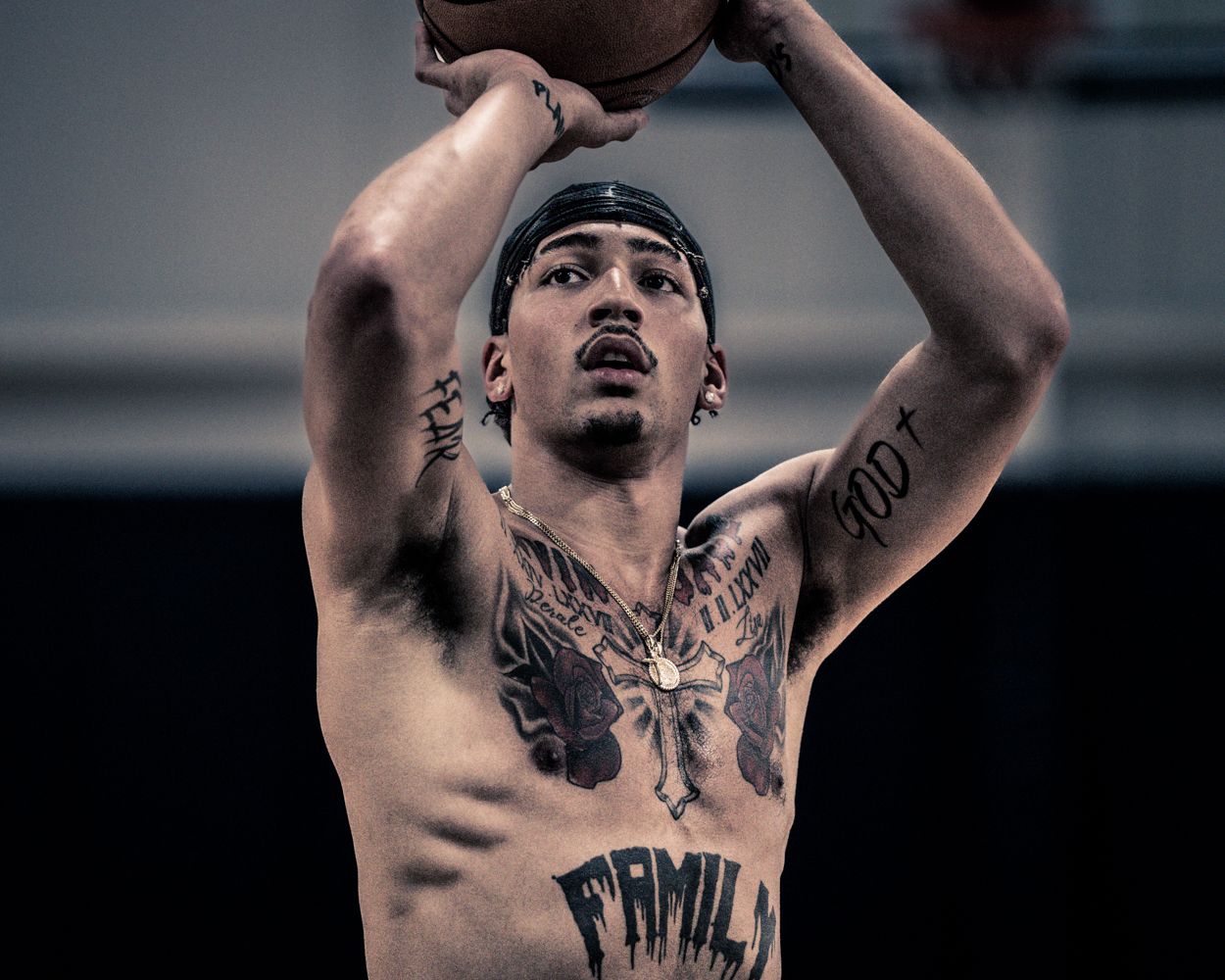 "They get that because they're strictly about winning. And that's one thing that I think has really been good for Jalen is that his approach is right. It doesn't mean he doesn't always play well, but his approach is right. And it's a thought process that wins over time. And I think that's a tribute to his parents."
That family foundation has paid dividends off the court, as well. The Name, Image and Likeness legislation has given college sports something to talk about. Athletes like Wilson are sought after because of their profile and celebrity status. But in his case, Wilson is finding ways to take a divisive issue — paying college athletes — and turn it into something positive.
"You know he's made NIL money this year and he's given the entire money back to charity."
"You know he's made NIL money this year and he's given the entire money back to charity," Self says. "He's been paid by charities to come promote a program and they pay him. He just turns around and gives it right back to them. He's been a great example for so many on how to conduct your business."
---
Back on campus last spring, Wilson is hungry. He slinks into the rental car passenger seat, and delivers directions in his calming monotone to Jefferson's on Massachusetts Ave. Known for its burgers and wings, Jefferson's has become a go-to place for Wilson and many of his KU brethren.
Inside, the walls are covered in dollar bills. Messages are scribbled everywhere. A picture of coach Self is hung above the bar, but below the TVs — actually just above the beer taps. As we stroll toward a high-top table, customers are turning their heads to get a look at the lanky swingman, who is dressed in sweatpants, a t-shirt and a backward ball cap covering his newly braided locks.
In less than two minutes, Wilson is being asked for autographs and pictures. He hasn't had time to look at the menu, although being a regular makes ordering efficient.
An older woman approaches and asks him to record a message into her phone for her mother. He takes it all in stride, showing little emotion other than a slight smile. He remains calm, like the swan in the lake.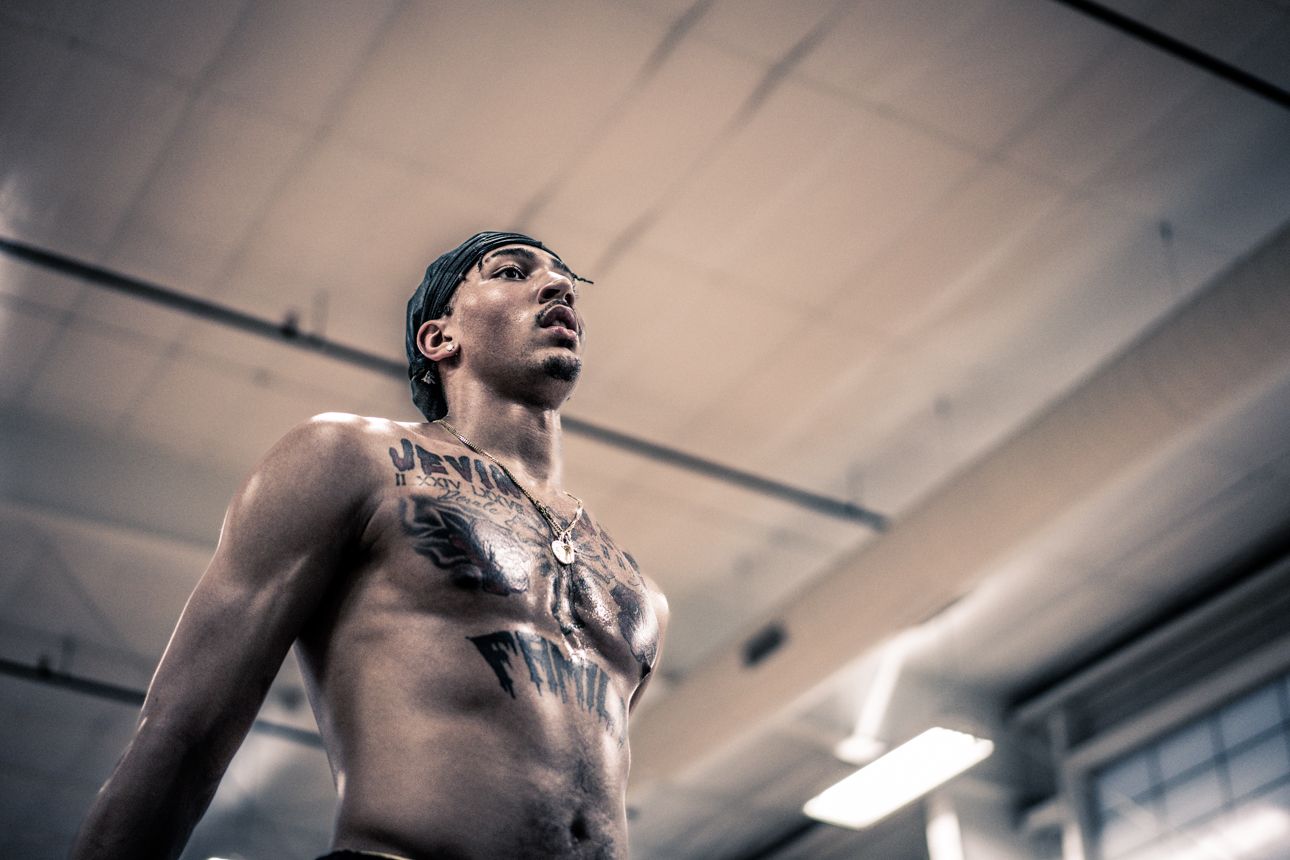 After ordering wings, talk turns to the 2022 national championship game played in New Orleans, and the massive party that followed in Lawrence. His eyes get wider as he's recounting the journey from two weeks earlier. He shakes his head in disbelief at the memories, still fresh, and the emotions, still raw.
"Playing in front of 70,000 is different than playing in front of 16,000 here, especially with all that goes into that game. It's one of the most-watched games of all time, and being a part of that is already enough. Just that experience, it was crazy. Being able to have my family there, playing for high stakes like that … you know winning a championship means everything. I think it was just a one-of-a-kind experience," Wilson says.
Wilson says KU has the best campus in the world. You believe him when he expresses gratitude for his professors being helpful by accommodating the team's schedule in the tournament. He's a communications major, and hopes to become a broadcaster when his playing days are finished.
"It just showed me the difference between us and other schools."
---
Wilson is literally and figuratively a big man on campus. He wants to show us the James Naismith statue near Allen Fieldhouse. Naismith is known as the inventor of basketball and later became athletic director and coach at KU.
As we walk in front of the storied arena, random students — male and female — shout "Hi Jalen!" Nonplussed, he gives a wave or a nod.
At one point, he thinks the statue has been moved. "Awe man, I'm trippin'!" he says to no one, before realizing it's still ahead of us by 50 yards.
He stops to talk with a friend, as students going to and from class buzz about, aware of his presence but not entering his space. This is life at a blue-chip basketball school. You are the man. And with a championship? You're kind of a big deal.
"He's brought I think a calmness, a confidence level that is very attractive. That's not to the point where it's cocky — it's a confidence that he has and how he carries himself that I think draws people to him," Self says. "I think this with our entire team but primarily he has the generosity, the willingness to give time."
But all the attention really doesn't seem to affect him. He's still Jalen from Denton. He still has his quirks. Like his sense of time.
Time doesn't fit into Jalen's orbit. His strength coach chides him for being late, and his meeting times with us were almost always pushed back. He's apologetic, and his good nature makes up for his tardiness. His universe is small — it's basketball, class, and chilling in his dorm. One might say he's a little bit boring. But he's okay with that.
---
It's now February, and March Madness is just around the corner. Wilson is still the driver. The Jayhawks have been flirting with some inconsistencies of late, but the strength of the Big 12 has played a role in that. They have moved up and down the rankings, but consistently find themselves in the top 10 teams nationally.
Wilson is averaging nearly 21 points and nine rebounds per game while logging 35 minutes on average. He's been a force, and is in the Player of Year conversation. As a redshirt junior, he's using the tools and experience he's accumulated each season in Lawrence to become a better version of himself.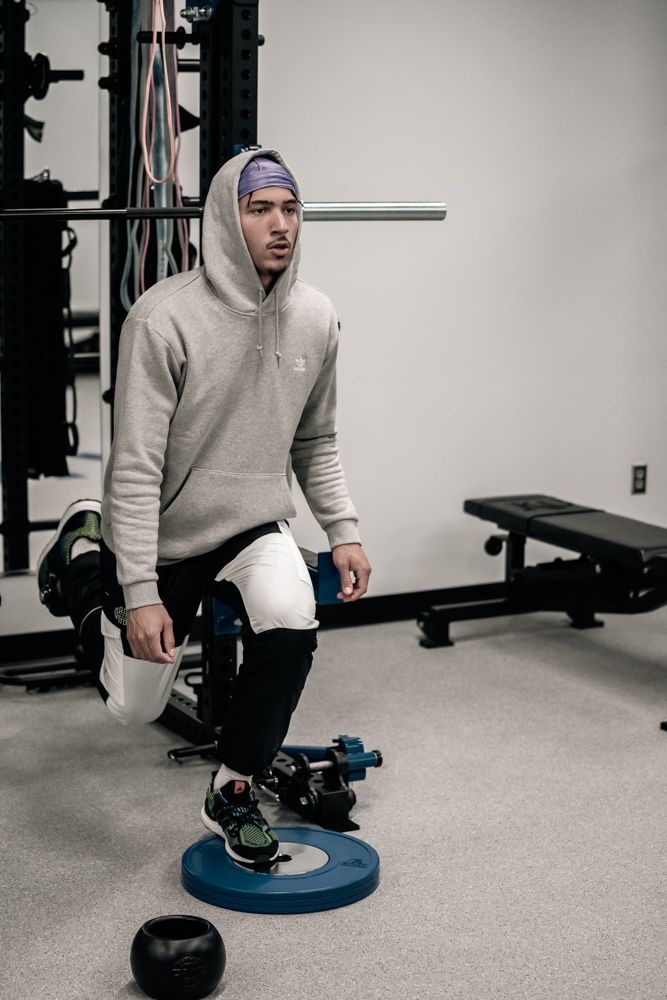 "His confidence level is supreme. He doesn't remember misses, he only remembers makes. He's ultra-competitive. You know, he is a guy that has for us scored on all three levels and, of course, been our best rebounder as well," Self says. "He has just been a guy that can create his own shot, improved his range better off the catch and certainly he still has that competitive spirit where he can play through contact and certainly finish around the rim.
"When Jalen has scored the most points is when our team has been the worst. If we don't have anything going he just keeps us in games. But when our team has been at its best, we've had balance and we're much harder to guard and Jalen understands that and he wants that."
Again, there's that maturity. The wisdom that comes with experience and growth. With more time on campus. With the right external voices who have his best interests in mind.
"I'm real proud of him and I'm amazed by him and the coolness that he handles pressure," Self says.
---
It's been quite a ride over the past 10 months. He's not done driving, though. Wilson is enjoying his moment in the spotlight. Much like the swan in the lake, taking in the sun, floating in the relaxing, familiar water it calls home.
There's another national title to be won. There are more decisions to be made. But his drive isn't across town. It's across the country, taking in the sites, absorbing the lessons while staying focused on the immediate future. The time for decisions will come. But it's not today.
"I'm just soaking it in, enjoying everything that comes with winning and being a champion," Wilson says.