It was fall 2021, the start of her junior year at Livonia Stevenson High School, and McKenzie Siroky had done it.
All the tournaments, the travel, the year-round grind of USA Hockey development and AAA club hockey had paid off with a full scholarship to the University of Minnesota-Duluth, a Division I program that made the Frozen Four tournament earlier that year.
McKenzie announced her commitment on social media with a photo of herself beaming in sunshine and UMD maroon and gold, thumbs up and squatting in the grass, at her mother's grave. Sharing it.
She was set. With college sorted, she could finish high school and play her sports without the pressure of scouts or stats or decisions.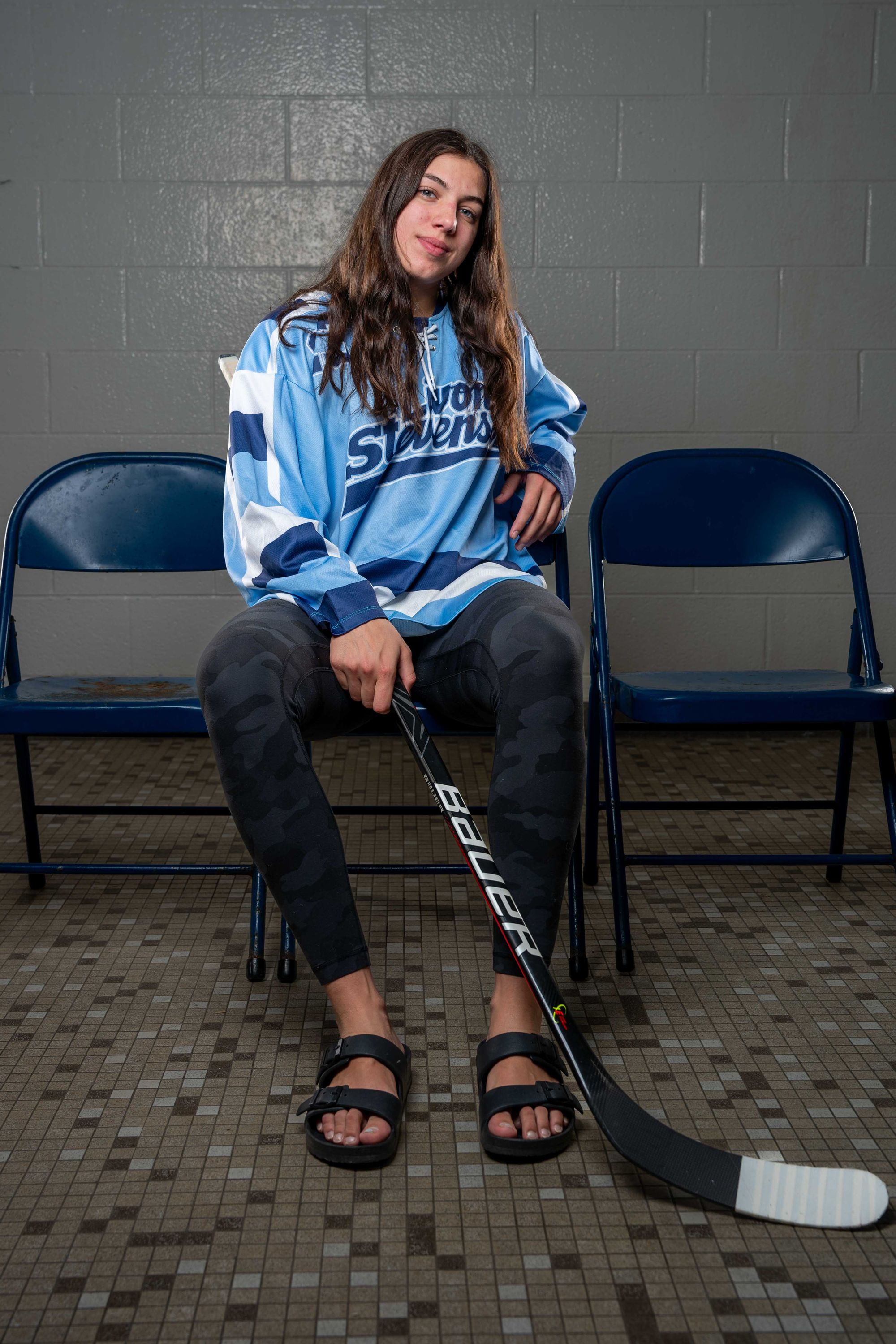 Then a couple of months later at Michigan's high school swimming championships, she broke the state high school girls' record for the 100-yard breaststroke, previously held by a swimmer who'd gone on to be an NCAA All-American. And McKenzie did it with a time that opened up an amusing if not interesting dimension: she was in Olympic Trials territory.
A year later, in the last event of her high school swimming career, she broke her own record by almost a half-second. (What??) Cool, yes, but she fell short of her goal to be the first high school girl to break a minute.
"I looked up, and it was 1:00.07. At first, it was so draining—you didn't do it. But then it was, what if it means I'm not done? That I didn't hit my goals yet?"
What if?
---
McKenzie was raised at both the pool and the rink.
Her mom, Michele Ann Siroky (maiden name McKenzie), also won state titles and broke team records while swimming for Livonia Stevenson High School. She went on to swim at Michigan State University and coach at local clubs, where she got all five of her kids into the pool early.
McKenzie started when she was just 3 years old, about the same time that her mom's best friend and high school teammate was wrapping up her Olympic career.

In 2008, Sheila Taormina competed in the Summer Games' modern pentathlon. She won Olympic gold as part of the women's 4x200-meter freestyle relay team in 1996 and competed in the triathlon during the 2000 and 2004 Games. She was the first woman to qualify for the Olympics in three different sports.
Even at such a young age, McKenzie knew what Taormina was doing was significant.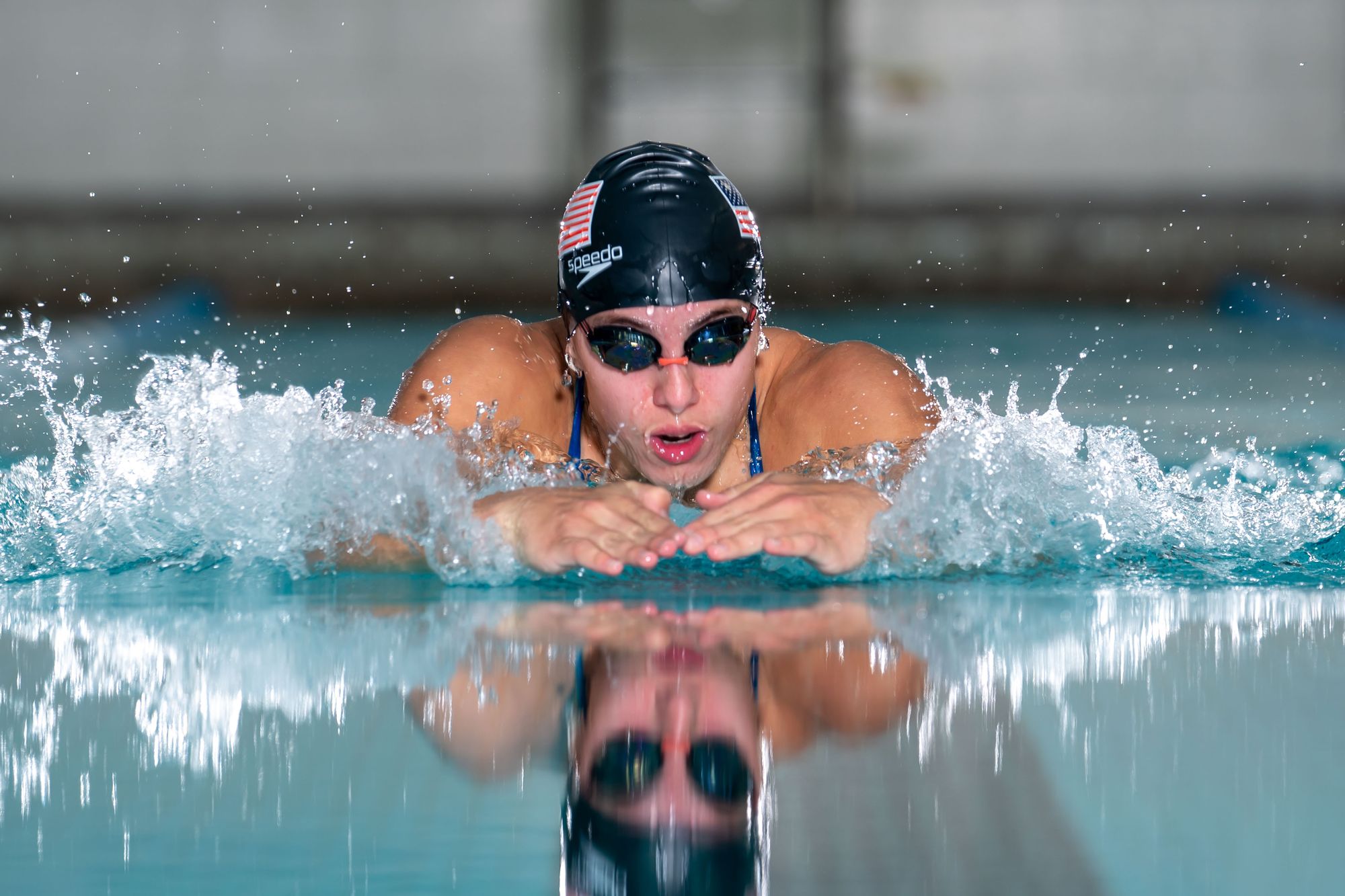 "I remember when I was little, my family would always be supporting her and following along with her journey. I always looked up to her. She passed down all her suits and stuff to me, which I thought was really cool."
McKenzie started competing in a summer league for Burton Hollow Swim Club and soon wanted to learn to skate, too. Her three older brothers played hockey, so naturally, she had to follow. She'd lean up against the glass as she watched their games: I want to do it! I want to do it!
At age 6, she signed up for a learn-to-skate program. Everyone else showed up in skates and a helmet, but not McKenzie.
"I showed up in full hockey gear and was like, I'm ready to play!"
And for years, that's how it went: swim meets in the summer, hockey in the fall and winter, and extra work when she needed it.
---
McKenzie was 7 years old when her mom got sick. It started with a brain tumor diagnosis in 2012. Chemo. Radiation.
Then, during a checkup in 2015, they found breast cancer. Surgery.
In 2016 and into 2017, Michele got sicker as the brain tumor continued to grow. More surgery. This time, a delicate eight-hour procedure that, as McKenzie remembers it, got some but not all of the tumor because of how deep it was.
"She came home with like a headband of staples on her head. And the crazy part is, she was just a warrior through all of it. She had her head stapled together and still came home and gave us hugs and was so happy to see us, just so grateful. For her to keep wanting to get better and keep pushing and doing her PT, to see her going through all of that and strive to get better …"
But god was it brutal.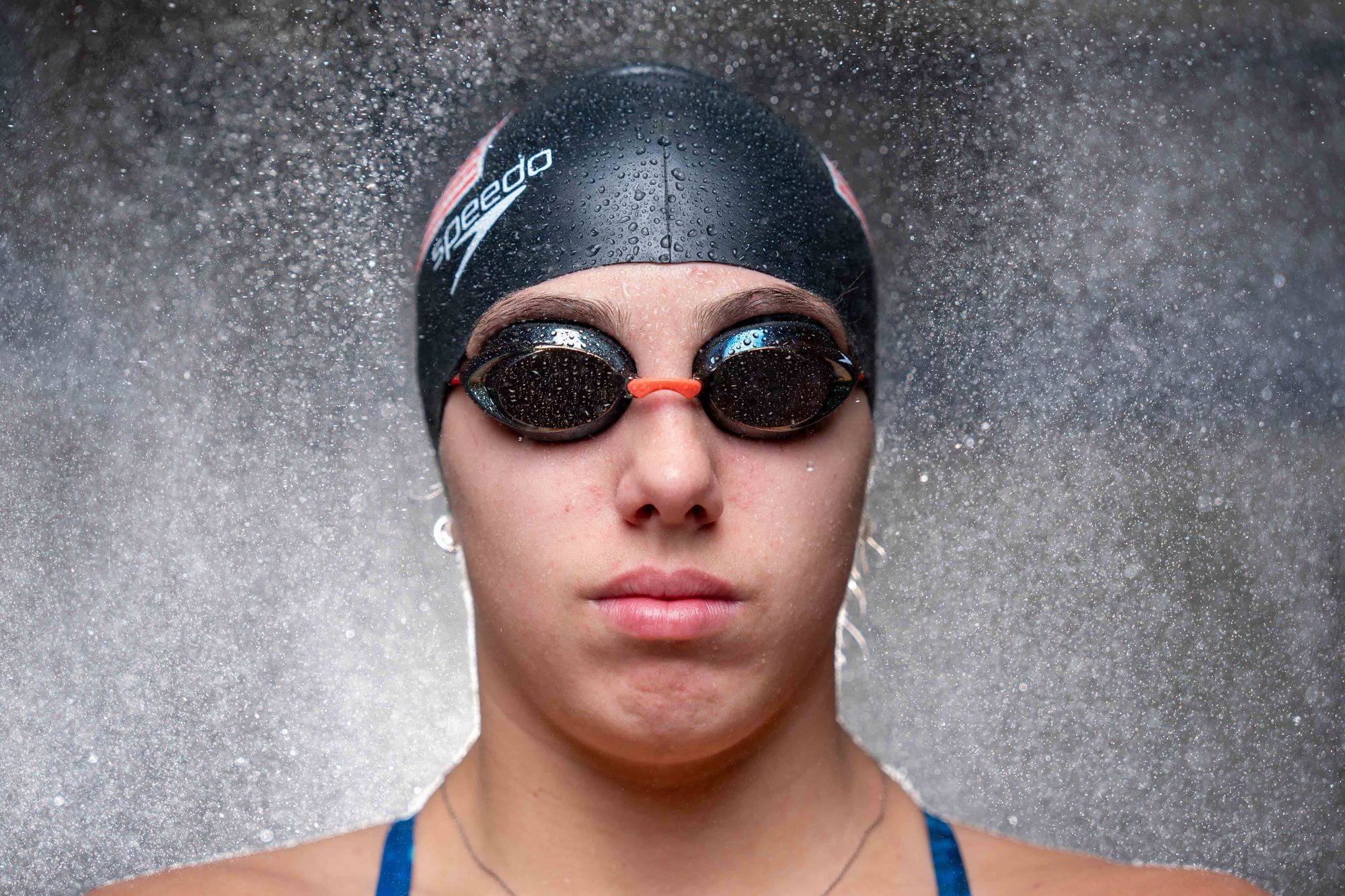 "It's a brain tumor, so it's messing with thinking, moving, talking, with everything. Her speech slowly became … you couldn't understand her. The frustrating part a lot of times, you could tell how bad she was trying to say what she wanted to say. She'd take a deep breath, and it would come out not close to what she wanted to say."
It was during those tough moments that hockey and training became an escape for McKenzie.
"It was like a 'get-out' for me. I was just filled with so much anger a lot of the time. When I'd get frustrated, my mom or dad would say, 'Go shoot pucks.' That's where my shot got harder. I'd put all my anger into that slapshot. Shoot the puck as hard as I could."
She'd run. Do pushups. Work out in the basement. Lift. Anything to escape for a bit to let her frustrations detonate, mind relax.
Michele was 47 when she died in July 2017. McKenzie was 12. For a few months, she lived with the families of teammates who'd offered support. It was "weird" to live with other families, but she couldn't be more grateful. It allowed her to continue going to swim practice, be at her hometown pool, race—all normalcies that helped provide an anchor during an impossible time.
---
So she kept at it, swimming in the summers and playing hockey pretty much year-round. She was old enough to begin participating in USA Hockey's summer development camps—the pipeline program to identify girls with national team potential—and she had big goals.
In addition to playing in college, she wanted to advance from USA Hockey's regional camp to national camp each summer and, when she was old enough, make the U18 national team to compete at the IIHF Women's U18 World Championships.
Plus, hockey just lit her up.
"You get to be creative, the training is hard, practice is fun. You can shoot pucks, go work on stickhandling. There are so many skills you can practice on your own. Whatever skills you put in on the side will eventually pay off. The games are long, they're hard, they're fun, and they can turn around just like that."
Swimming had its appeal, too. It has a blunt truth that hockey doesn't. In hockey, coaches get cranky about it, but it's not uncommon for players to half-ass it on shifts here and there and still win the game. Swimming affords no such margin.
"The times don't lie," McKenzie says. "Your time is your time."
---
She didn't know what to expect when the college recruiting window opened up the summer after her sophomore year in 2021. On the first day that coaches were allowed to make contact, her phone blew up—with texts from swim colleges. She'd won her first state championship in the 100-yard breaststroke and still had two years of high school left.
Though gratified by the swimming attention, McKenzie just thought it would be fun to look back on those texts one day.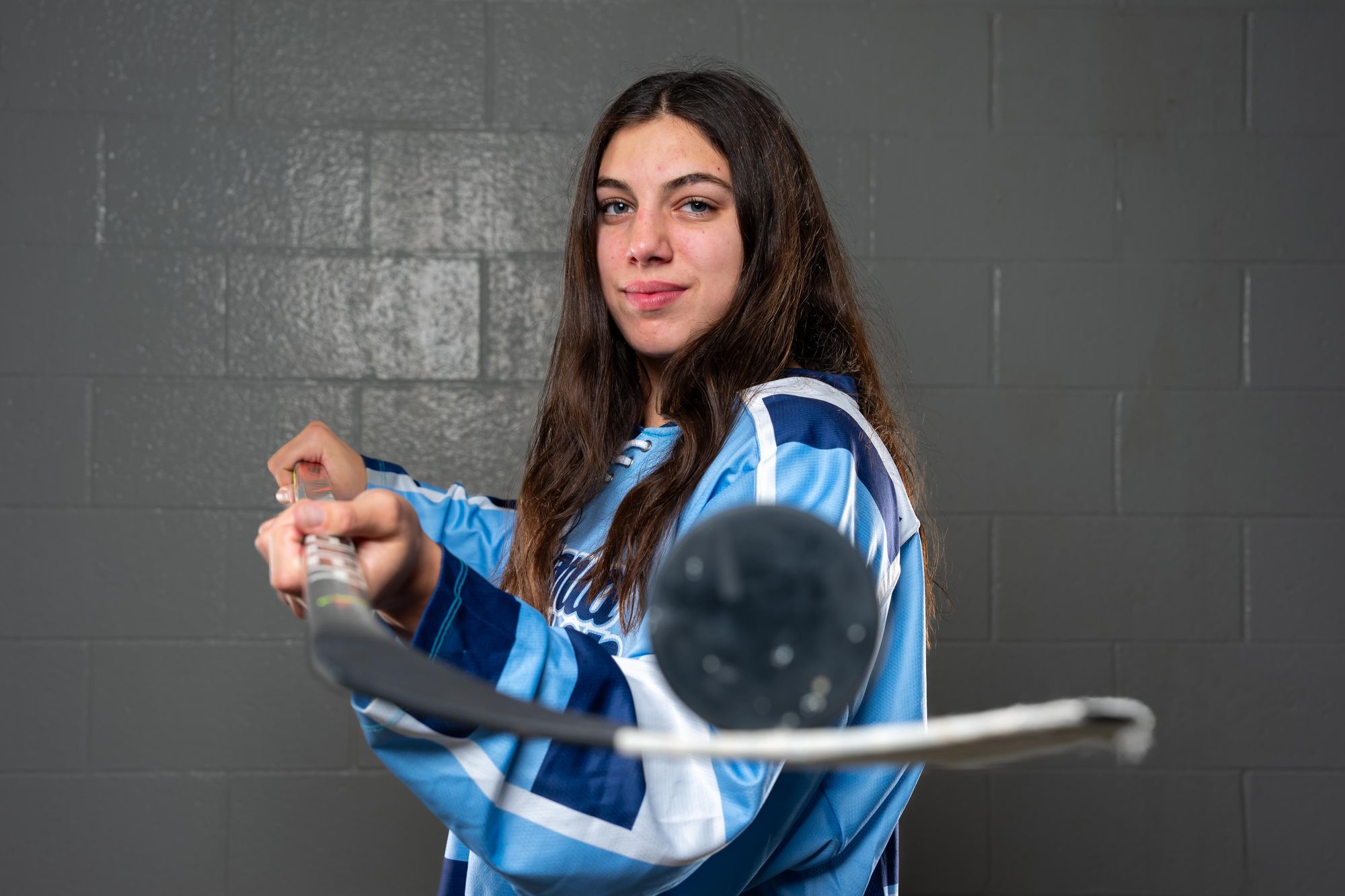 "I was like, I'm focusing on hockey. Swimming in college was not a thought in my mind."
She took time to explore her options, talking to Minnesota State University, Colgate, Penn State and others and making official visits to Providence and UMD. Between the coaches, the environment and the Midwest, UMD gave her the best vibe.
During this time, she'd participated in USA Hockey camps, too, and everything was going according to plan. She was among the 28 players selected to advance to the Women's National Festival–just one more cut to make the U18 national team and compete at Worlds.
"I was in art class at school, and I remember sitting down and I opened Instagram and saw all the names. My heart just sank. I remember that feeling. It hurt in a different way."
---
McKenzie's not one to wallow or surrender.
This is a girl who, during a 12U team outing at the local bowling alley, issued a pushup challenge to a 20-something man who'd been chirping at her and her teammates from the next lane. Darn right she smoked him.
So USA Hockey camp aside, she still had a swimming championship to defend and a record to chase her junior year.
With UMD squared away, she decided to play on the boys' varsity hockey team rather than rejoin a AAA club team—hockey and swim season overlapped, and no travel hockey meant no travel. She could devote real time to swimming while still looking ahead to her final USA Hockey camps.
"I'm in the middle of my swim season trying to break the state record but also trying to train in hockey so that when summer comes around, I can redeem myself."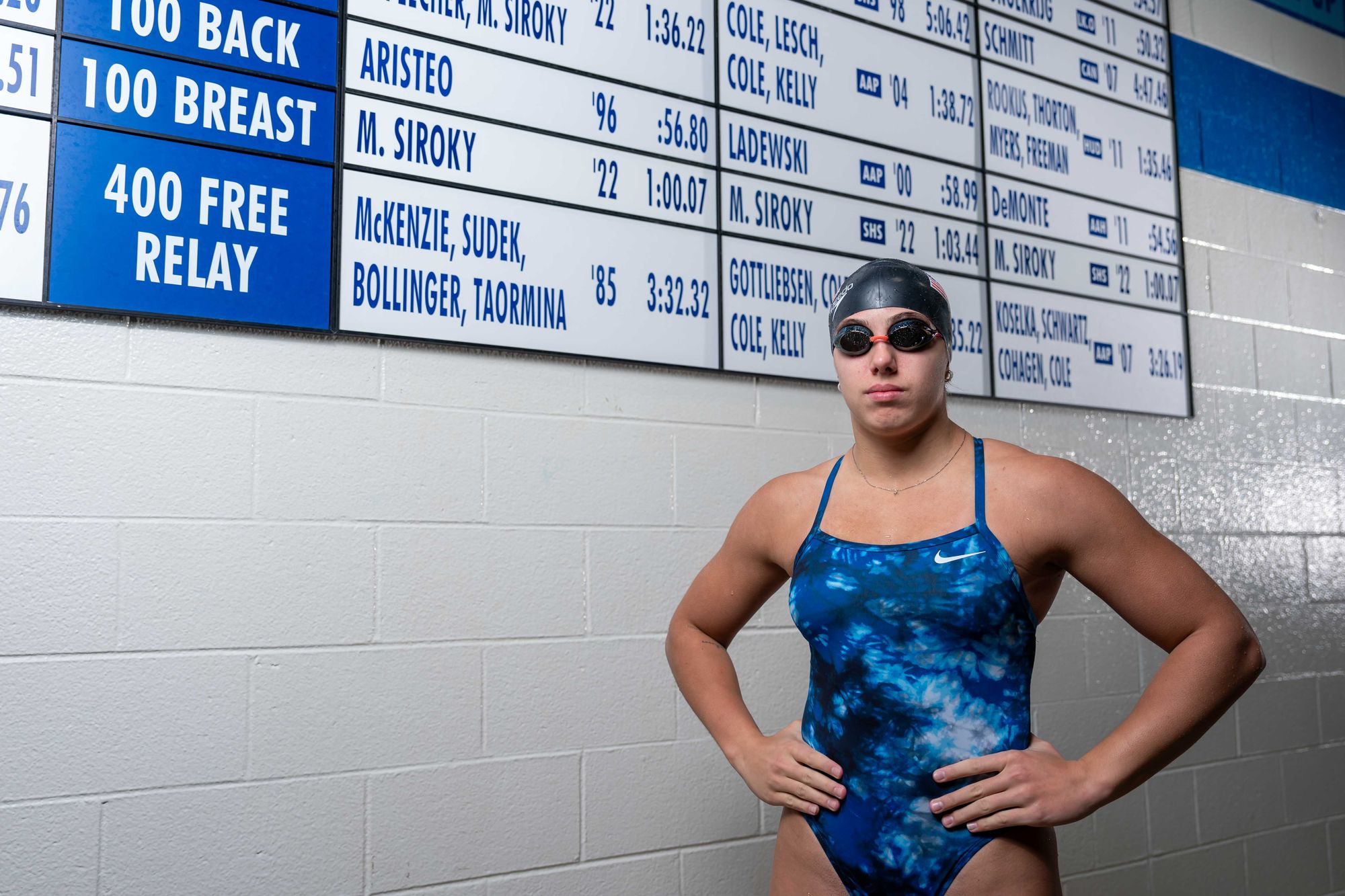 Not only did she win her second championship in the 100-yard breast, but she set a new state record of 1:00.48. Her uncle put her time into a time-conversion calculator to see how she'd fare in a 50-meter Olympic pool: 1:09.13. Respectable.
Months later, USA Swimming released time standards to qualify for 2024 Olympic Team Trials in Indianapolis June 15–23, 2024. And for the 100-meter breaststroke, a time of 1:10.29 earns you a trip.
A revelation.
"Ever since then, junior year going into senior year, it was on my mind 24/7. I'm like, this is a once-in-a-lifetime thing."
---
The summer after her junior year, she again competed in USA Hockey camps and again didn't make the final cut. She had taken that path as far as she could.
But she was still committed to UMD and needed to stay in hockey shape, so senior year, she again played as the only girl on the boys' varsity team.
And again, she set big swimming goals: three-peat as state champion, break her previous year's record, break a minute in her signature event.
At states that November, she came in first with a time of 1:00.27, a staggering 4.48 seconds ahead of the second-place finisher. Her 1:00.07 finish in prelims broke her 2021 record and was that close to breaking the minute.
That's when she allowed herself to consider the possibilities.
She asked her high school swim coach directly: Do you believe I could go to Trials? Yes, he said. I'll help you with whatever you need. If you truly want to do it, I'll support you.
Then came the juiciest question of all: How much faster can I get?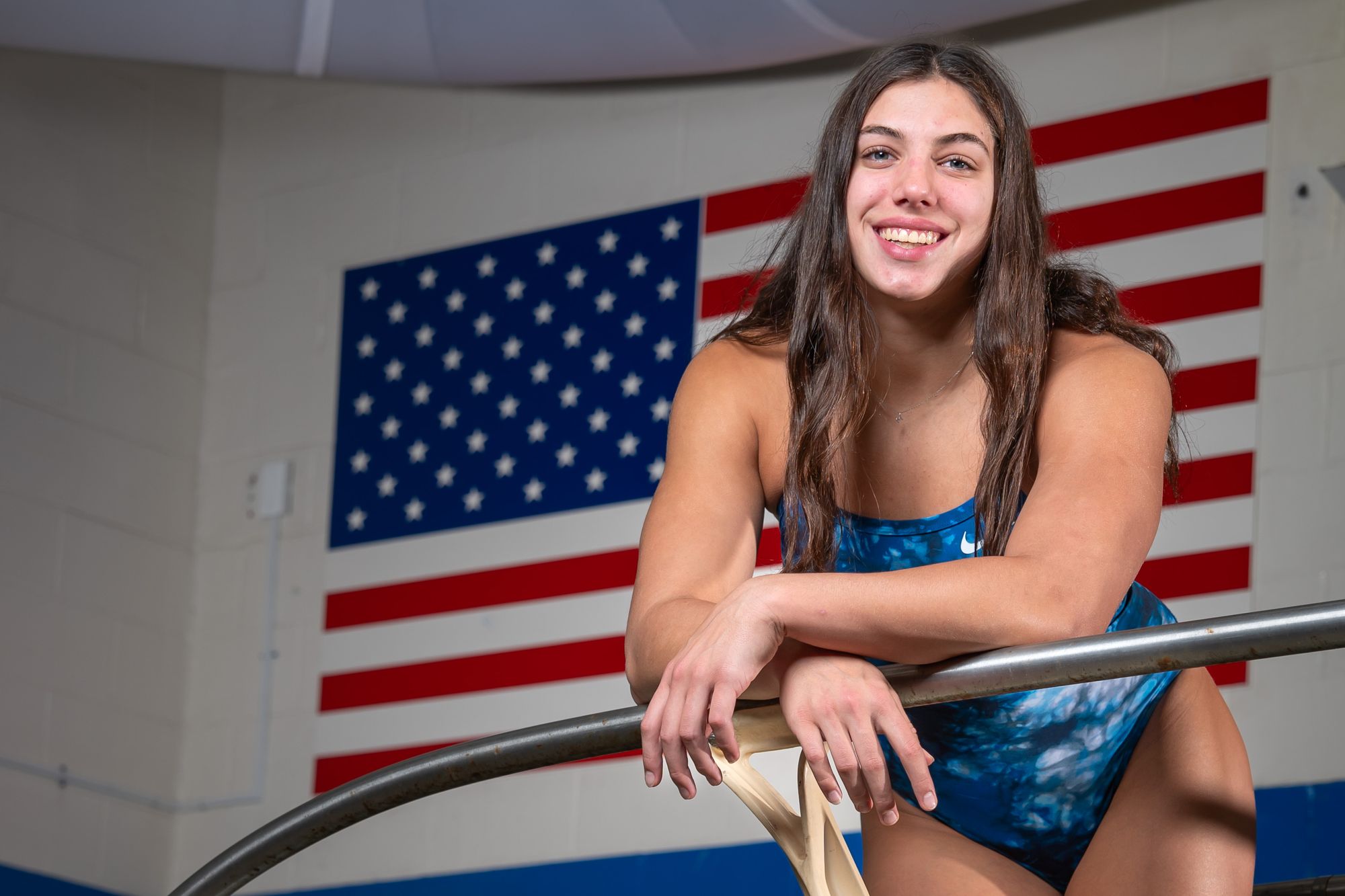 "That was exciting to me. I've barely tapped into my potential of how much I can pick up training and endurance and this and that—how much speed I can get?"
She'd never been able to commit to a full training schedule for swimming, and now she could if she chose to. Suddenly, all kinds of options hurtled through her head. Do I stick with the plan and play hockey at Duluth? Do I take a gap year for Trials and then go back to Duluth? But then how would I train for hockey? Do I take a gap year and then swim in college and call it quits with hockey after this year?
Knowing that she'd be putting UMD in a difficult position, she let the coaches know that she was rethinking her college plans so that they could come up with a Plan B if she decommitted. Then, she called coaches at swim schools—some of the same ones who'd texted and called that first day of recruiting.
"It was the most overthinking I've ever done. For three weeks, it was all I could think about."
---
She kept coming back to those two compelling points. Trials are a once-in-a-lifetime opportunity. I've barely tapped into my potential.
She'd made her decision: take a gap year to train full-time for Trials, and then swim at the University of Tennessee starting in 2024–25.
It wasn't easy to tell the UMD coaches, but they were understanding, McKenzie says.

"They said, 'keep us updated,' and 'we'll support you.' I know I put them in such a hard spot, and I'm so grateful for how they went through the whole process. It says so much about them—great coaches, great people."
Now, she could really, truly pour herself into swimming for the first time.
For her official signing day, she made a cake that literally rose to the occasion:
Bottom tier: vanilla bean cake with lemon curd and raspberry puree
Middle tier: chocolate fudge cake with chocolate ganache and a vanilla buttercream filling
Top tier: vanilla bean cake with salty caramel and crushed pretzels
All made from scratch and iced in an Italian meringue buttercream. She plans to study business and minor in culinary arts.
"I could find myself doing this in the future."
---
Her training schedule is for real. She swims six days a week—including two-a-days on Mondays, Wednesdays and Fridays—and lifts with a personal trainer four days a week.
"I feel like when my senior year ended, my swim career began. Now my full attention is there, where before I gave it as much as I could."
As strong as she is, some days are harder than others. But her goals are still out there to grab, and that keeps her going.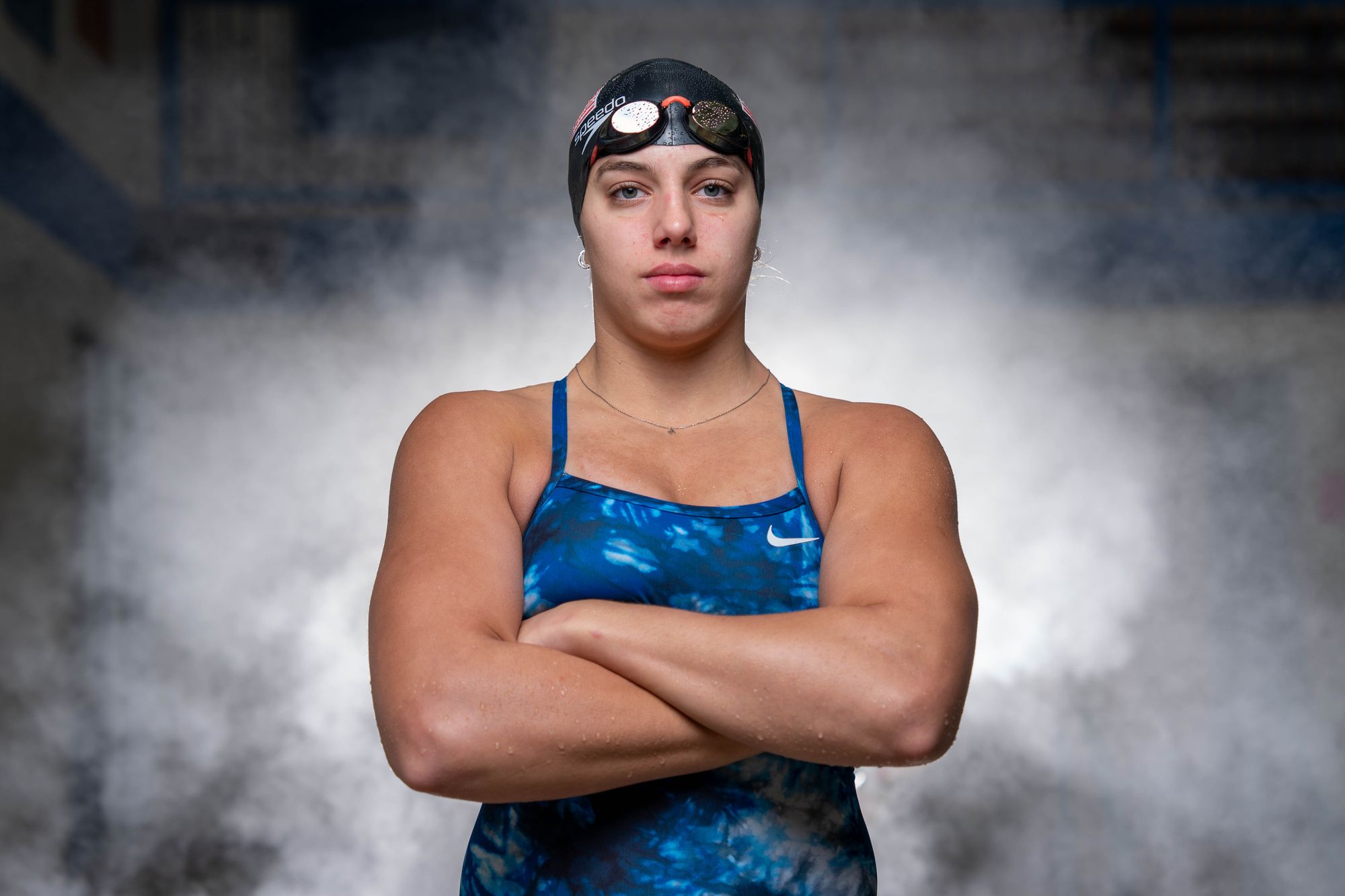 That and the voice that's always with her.
"Sometimes my mind will get tired or I'm training and have a hard day, and then I think of her joy. Thinking about my mom having a smile on her face can help me get through. You know, I gotta step back and be in the moment and be grateful.
"She used to tell me every single day, one thing at a time. One day at a time. If you're getting overwhelmed, be present, take it by the now. Feel the moment. Be where your feet are."