It began with an act of rebellion. It began with a father telling his teenage daughter no, over and over again, and the girl refusing to take no for an answer. It goes back roughly a decade, to the resort town of Hood River, Oregon, an hour east of Portland. That's when Hannah Bergemann began to hear about her father Tim's mountain-biking trips with his male friends and wondered, Why can't I ride with you?
Hannah Bergemann was already accomplished in one outdoor sport: She'd hop the after-school bus up the hill to the world-class resorts atop Mount Hood and fell in with a group of freestyle skiers who viewed the sport as more of a creative art than a competition. They'd hit jumps and catch big air and teach each other tricks. But even as she embraced skiing, she kept hearing about her father's biking trips and had this insatiable itch to try it herself.
Tim Bergemann had been into biking since around the time he was his daughter's age. This was his hobby; this was his escape. And for that reason, he was reluctant to let her in. "But I begged him and I begged him," Hannah says. "It was almost like, the more he resisted, the more I wanted to do it."
So finally, when she was a junior in high school, Bergemann's father caved. He got her a hand-me-down bike and took her out riding. And she loved it. More than skiing. More than pretty much anything she'd tried before. So much so that father and daughter began riding together on a regular basis. So much so that they began racing together, in Enduro competitions that stretched Bergemann's stamina and ability, and made both Bergemann and her father realize that she could ride with pretty much anyone.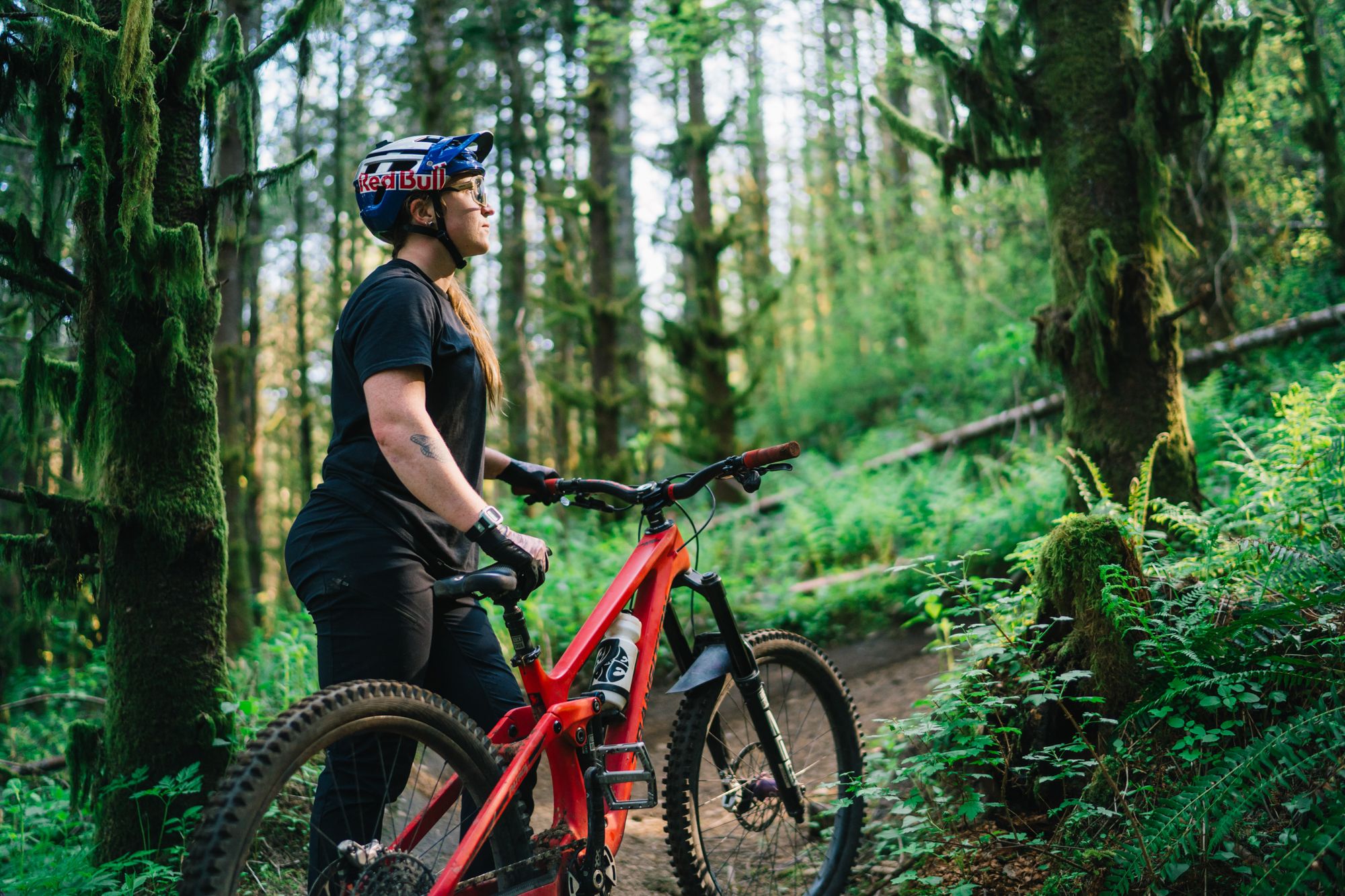 "He fully changed his mind," Bergemann says, "and he realized how awesome it was that we could have an activity to do together. Then he was the one bragging to his friends about how I was the only girl at a race. He was super-stoked."
That persistence came to define Bergemann's path over the next decade, as she blazed a path toward becoming a female pioneer in freestyle mountain biking, a sport similar to freestyle skiing that's still sloughing off the sexism that's plagued extreme sports for decades.
You'd never sense that defiance when you speak to Bergemann. She's quiet. Laid-back. Chill. But below the surface?
"She's just so soft-spoken, but there's that underlying confidence you don't see right away," says fellow rider Casey Brown. "Then you watch her ride, and you're like, 'Oh, there it is.'"
As we talk over Zoom from her day job at a mountain bike company in Bellingham, Washington, Bergemann admits that she still hears her father's No's in her head. And as much as she knows he's changed his attitude–as much as she counts her father as perhaps her biggest supporter of all these days–it still spurs her, at the age of 26, to keep pushing both her boundaries as an athlete, and to keep pushing the boundaries of the sport itself.
---
Those early years in Hood River, there were no videos of female riders for Bergemann to watch on YouTube. There weren't even other girls to ride with. She moved to Bellingham for college and rode mostly with the guys. She was the only woman working at the local bike shop. Sometimes, the guys who didn't know her well would warn her about the hazards of riding a certain course or conquering a certain jump. "That trail's gonna be gnarly for you, Hannah," they'd say, and then, once they saw her ride, they'd take it back.
Slowly, she found a few other women who shared her passion in and around Bellingham: Those who were almost instinctively drawn to the sport and raced in the Enduro events that had gotten Bergemann her start. But Bergemann was one of the few women drawn to free-riding, which was more about creativity than competition. Free-riding traces its origins to the North Shore of Vancouver, Canada, just a short drive from Bellingham, where people began creating man-made obstacles on downhill mountain-biking trails, often using the landscape's natural features, like logs or rocks, to create the course.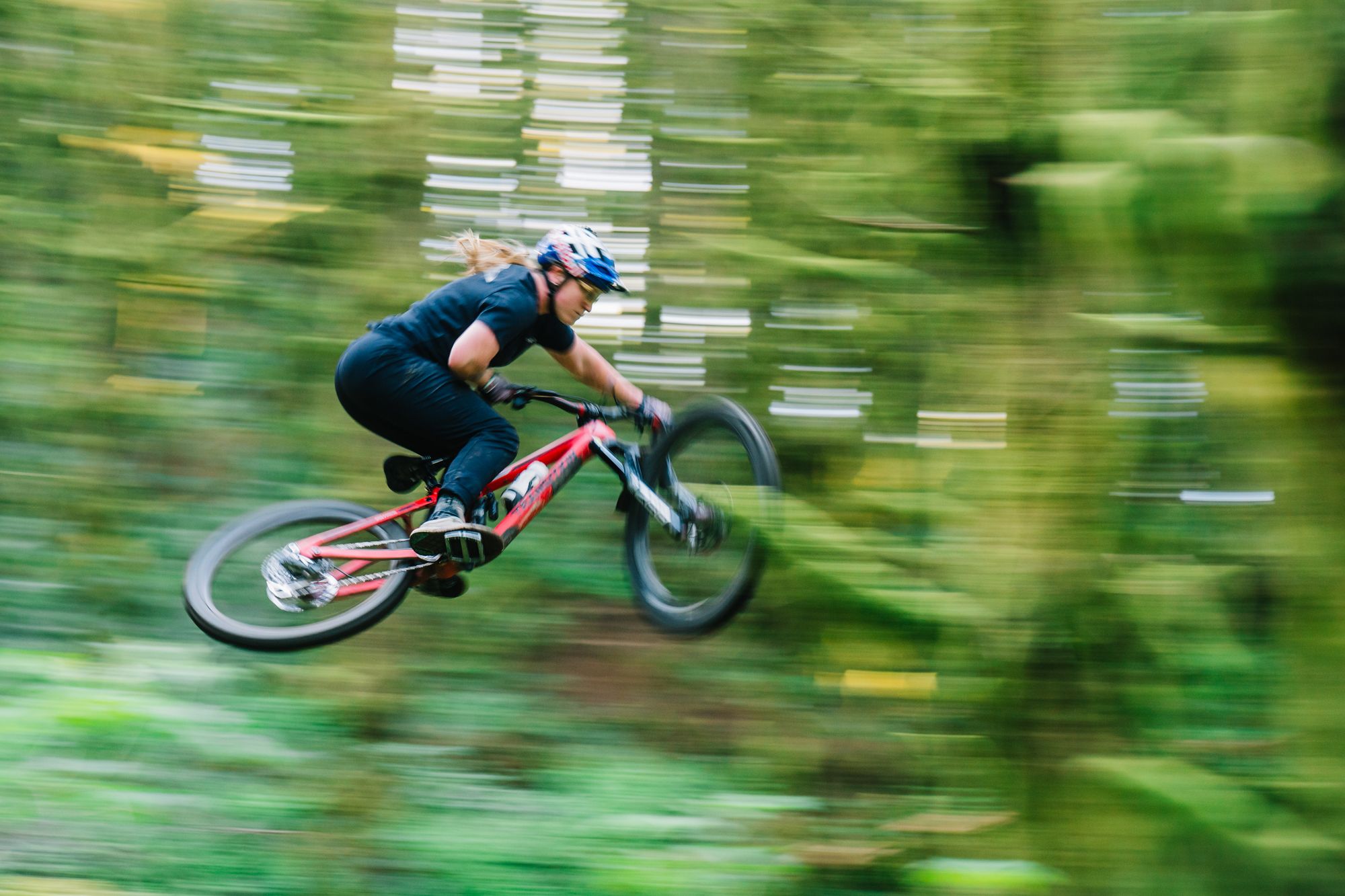 As the sport spread south, people began building rogue trails out in the woods near Bellingham. Bergemann loved being out in the woods, exploring new areas and eventually started building her own trails with custom jumps and tricks. The trail-building became her forte: She loved expressing herself through her sport. "There's so much creative freedom," she says. "There's so much opportunity to progress as an athlete and as a human. There's so many different directions you can take it."
It also forced Bergemann to push her own limits. To think. And to plan. Building a specific jump or other feature on a trail requires calculation of speed and trajectory. It requires you to visualize success in your mind and to push away the doubt and the fear. "It really helps you tune in and refine your eye from how this is going to look like when you're on your feet, and how it feels when you're on the bike," she says.
Bergemann kept progressing in free-riding, even without any female role models or colleagues to turn to. In 2018, she messaged a woman named Chelsea Kimball. They'd met at a few Enduro races, and Bergemann saw videos of her on social media free-riding in Utah; it was one of the first times she'd found a woman online who shared her passion for free-riding. "She was kind of in the same situation where she was like doing these races because that was like her outlet for riding," Bergemann says, "but really she just wanted to, like, do back flips and hit jumps and ride gnarly stuff."
Bergemann started seeing more videos from riders like Veronique Sandler and Casey Brown, who were trying to transition from racing to free-riding but were struggling to find support. And then, in 2019, a few women finally decided to organize: A rider named Katie Holden invited five other riders to an event called Formation in the Utah desert, at the same site where Red Bull had formerly held its high-profile Rampage free-ride event for men. Holden secured some funding from Red Bull, though Bergemann says the company was hesitant to put its name on the event at that point.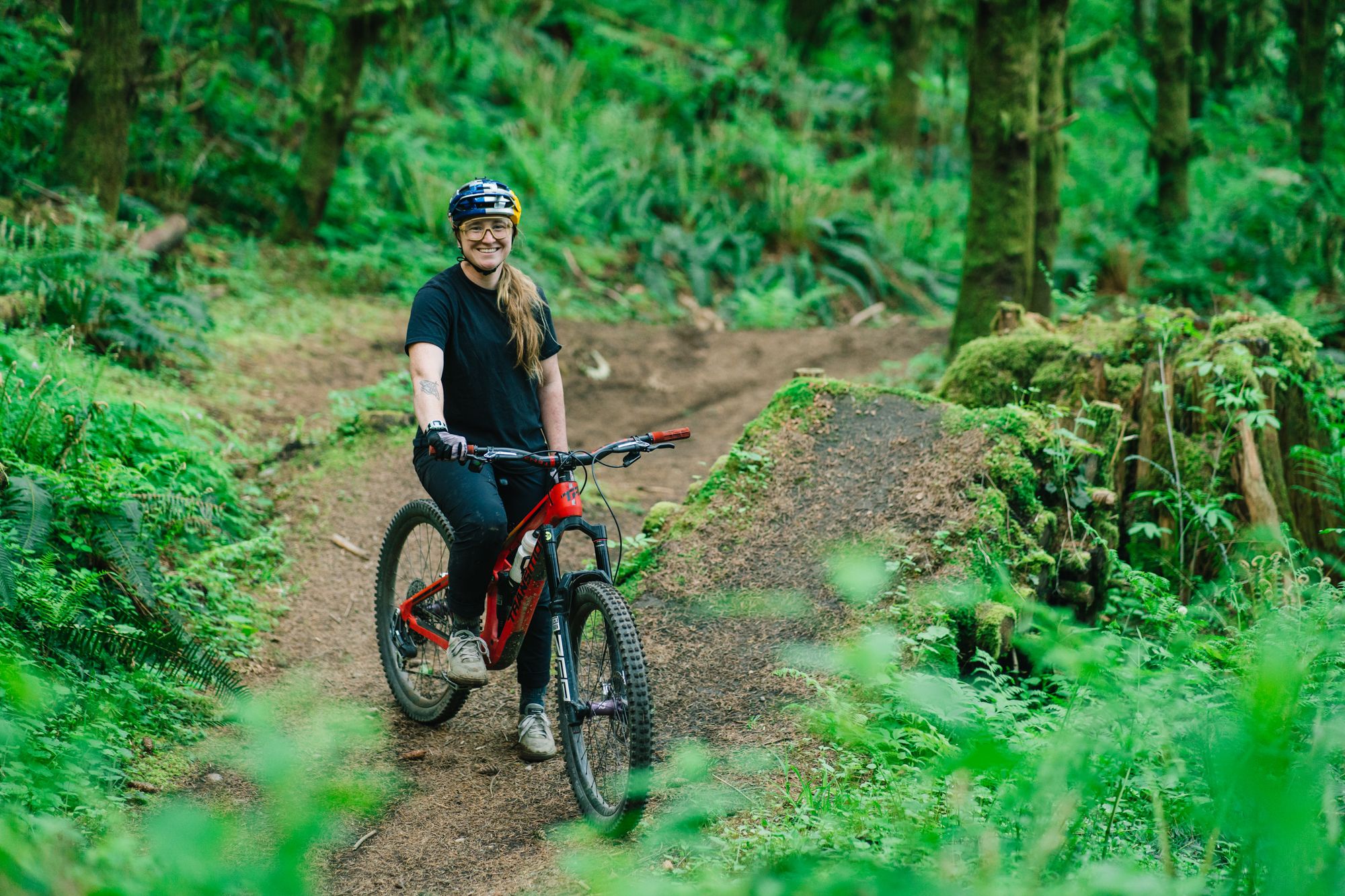 Bergemann had generated enough buzz to score an invite. She spent five days in the desert, carving out and creating new trails out of the harsh desert sand and riding them together. There was no real format or theme, except, Ride what you want to ride.
The mere act of gathering together helped alter their perspective on what was possible for women's free-riding. They talked. They planned. They schemed. They confessed their hopes and fears to each other. So much of building trails in free-riding is a collaborative process: You need additional perspectives in order to understand what's possible. And when Bergemann built a feature that involved a couple of treacherous drops in the middle of a course – and then managed to conquer it, with encouragement from the other riders – she felt as if she'd reached a turning point in her career.
And the sport had hit a turning point, as well.
"That was, like, a really huge moment for all of us," Bergemann says. "Just having that opportunity to realize we all wanted to do the same thing. And we realized that we had the skillset to do it, and we just needed that confidence boost and that community support to really pursue it full-time."
---
Not long after that first Formation event, Bergemann got invited to India, to film a video for action-sports media company Teton Gravity Research. These opportunities in themselves were novel: Before 2019, Bergemann says, a woman had never been featured in a free-ride video. Shoots like this are an obvious way for female athletes to open the door to more exposure; and in turn, to inspire a generation of younger female riders who find the videos online and discover the sport.
Those videos are how Casey Brown, a friend of Bergemann's who attended that first Formation event in 2019 (but didn't ride due to injury), carved her own path in free-riding.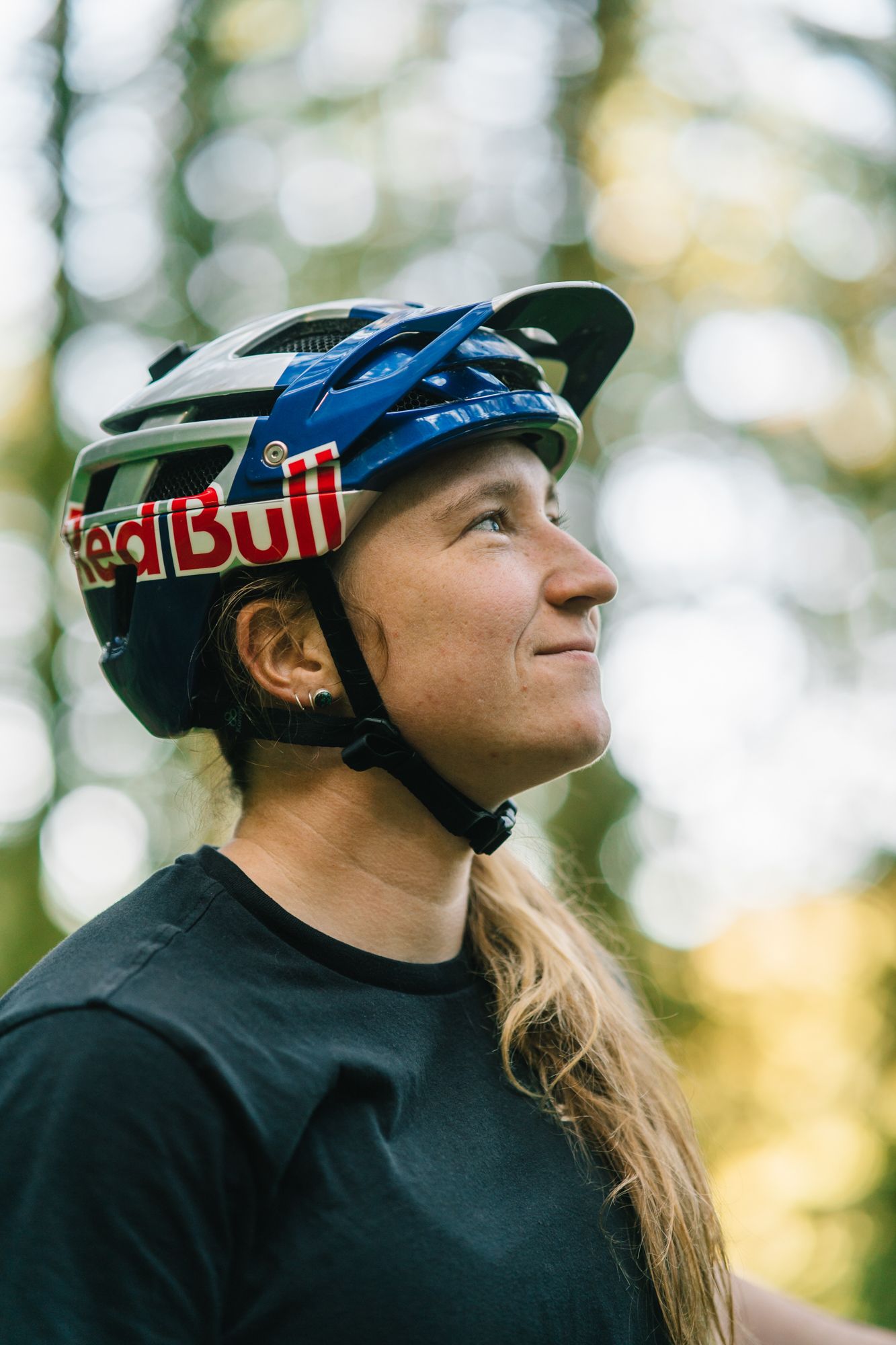 "I would do these side projects and you know, I had opportunities with film companies to do really cool adventure riding and cool projects all over the world," Brown says. "So that sort of opened it up for me, and I think it opened it up for a lot of other girls that are just coming up now."
As Bergemann's profile rose, she got a sponsorship deal with Red Bull – in part due to what she'd accomplished at Formation – and, as she drew additional sponsors, she landed a job on the marketing team at Transition, a Bellingham bike company that also sponsors her as an athlete. It's the perfect situation for Bergemann, allowing her to travel and ride whenever she needs in order to further her career. As far as Transition is concerned, Bergemann's riding career is an essential part of her job. "Being on the marketing team and being an athlete really meshes well together," she says. "I can connect with other brands and know what it's like being on both sides of the partnership."
Those partnership opportunities, for women like Bergemann and Brown, are beginning to grow. And much of it, Brown believes, has to do with simply convincing people that women can sell the sport, too.
"I think eventually the industry realized that they were missing half of their market because they weren't marketing towards women – they were marketing towards it being a bro sport," Brown says. "I think after watching other sports develop in that area, mountain biking caught on and now there's a lot more opportunities for women in mountain biking, especially in free-ride."
By 2022, Formation had officially become Red Bull Formation, and a dozen riders participated, including Bergemann. The courses they built for each other had become that much more ambitious: After Bergemann and Brown both conquered a course that started with a blind drop and only got more harrowing from there, Bergemann cried when she reached the bottom. "And I'm not a very emotional person," she joked.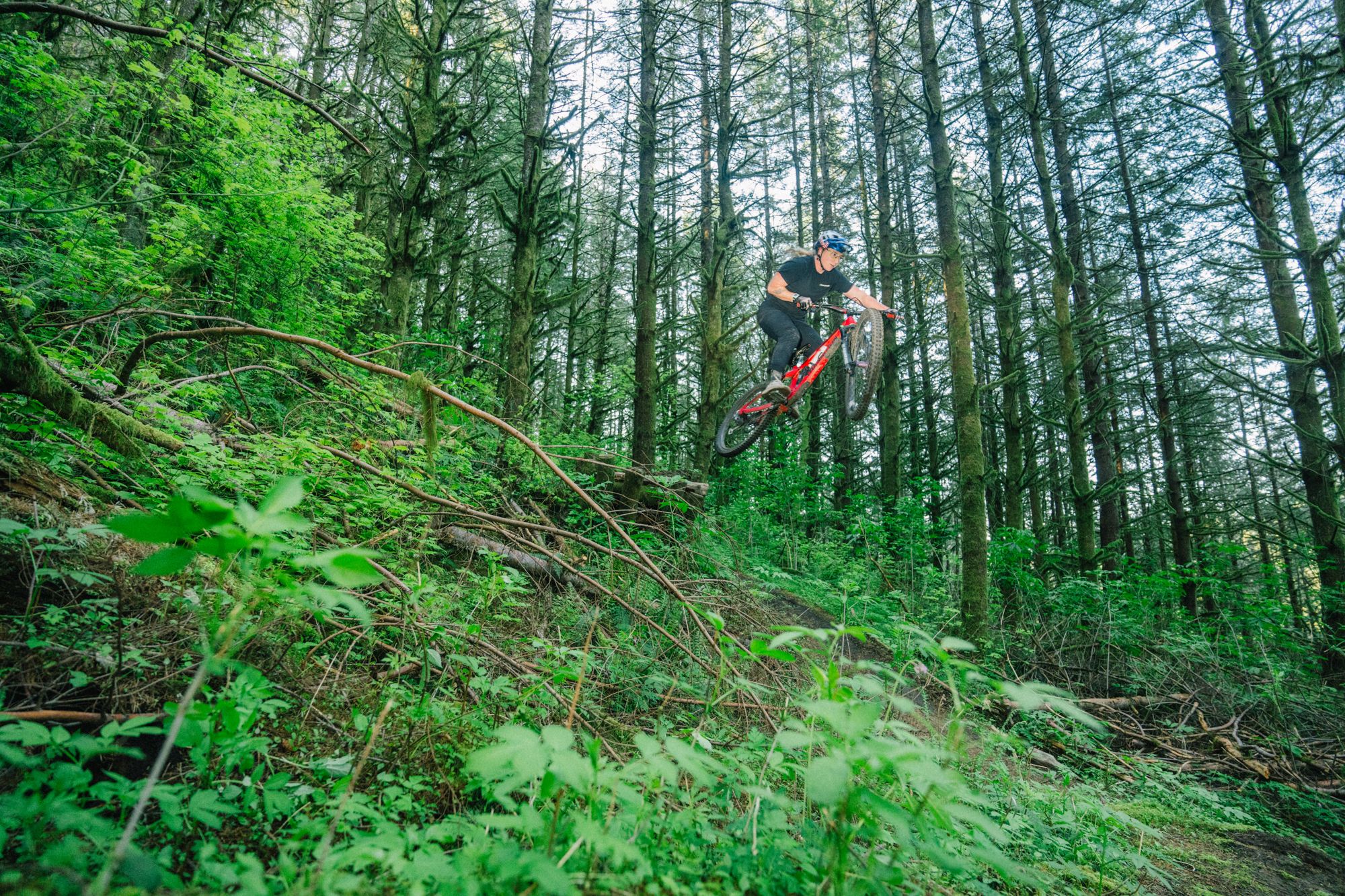 Yet even as the sport continued to grow opportunities for women, something was missing. Bergemann saw it, and Brown did, too. For the next generation of young girls who were now embracing free-riding in their wake, there were big events like Formation to shoot for. But what were they supposed to do in the meantime, while they built their skills? Where were the events for the up-and-comers?
"There was a major gap between these young girls coming up and the big events," Brown says. "These young girls were absolutely shredding it and killing it in the industry, but not really getting any place to showcase their riding skills, and showcase who they were as a person."
So Brown and Bergemann took things into their own hands.
---
In 2021, with help from a small grant from Red Bull, Bergemann started her own event in Bellingham, at a new jump line called Blue Steel. She called the event Hang Time, and she invited a handful of riders she'd come across on social media, pulling together a field as young as 13 and as old as 30.
"There just wasn't a whole lot of space for those up-and-coming riders to get into the community, or to decide if it was something they wanted to pursue," Bergemann says. "There were plenty of riders that had the skills to do it–or at least wanted to try it."
That same year, Brown started her own event in her hometown of Revelstoke, British Columbia, called Dark Horse. That two of the highest-profile female riders in this burgeoning sport are both spending their time opening up the sport to young female talent sends a powerful message. In 2022, Bergemann was able to grow the field for Hang Time and open it up to more video and photo opportunities that could then be showcased by sponsors. And she's hoping to build on that success with another event in 2023.
And yet this feels like just the beginning, both for riders like Bergemann and for women as a whole. "I think the field is really strong right now," Brown says. "But I think some companies still don't believe."
As an example, Bergemann points out the fact that most major productions of free-ride videos are almost overwhelmingly male. And Brown notes that Red Bull's Rampage event, the highest profile event in free-riding, still doesn't have a category for women. Brown says Red Bull wants to establish an entirely separate event for women – but that would mean less media, less coverage, and ultimately, less money, for the women to take the same risks as the men. And for Brown, that's just not good enough anymore.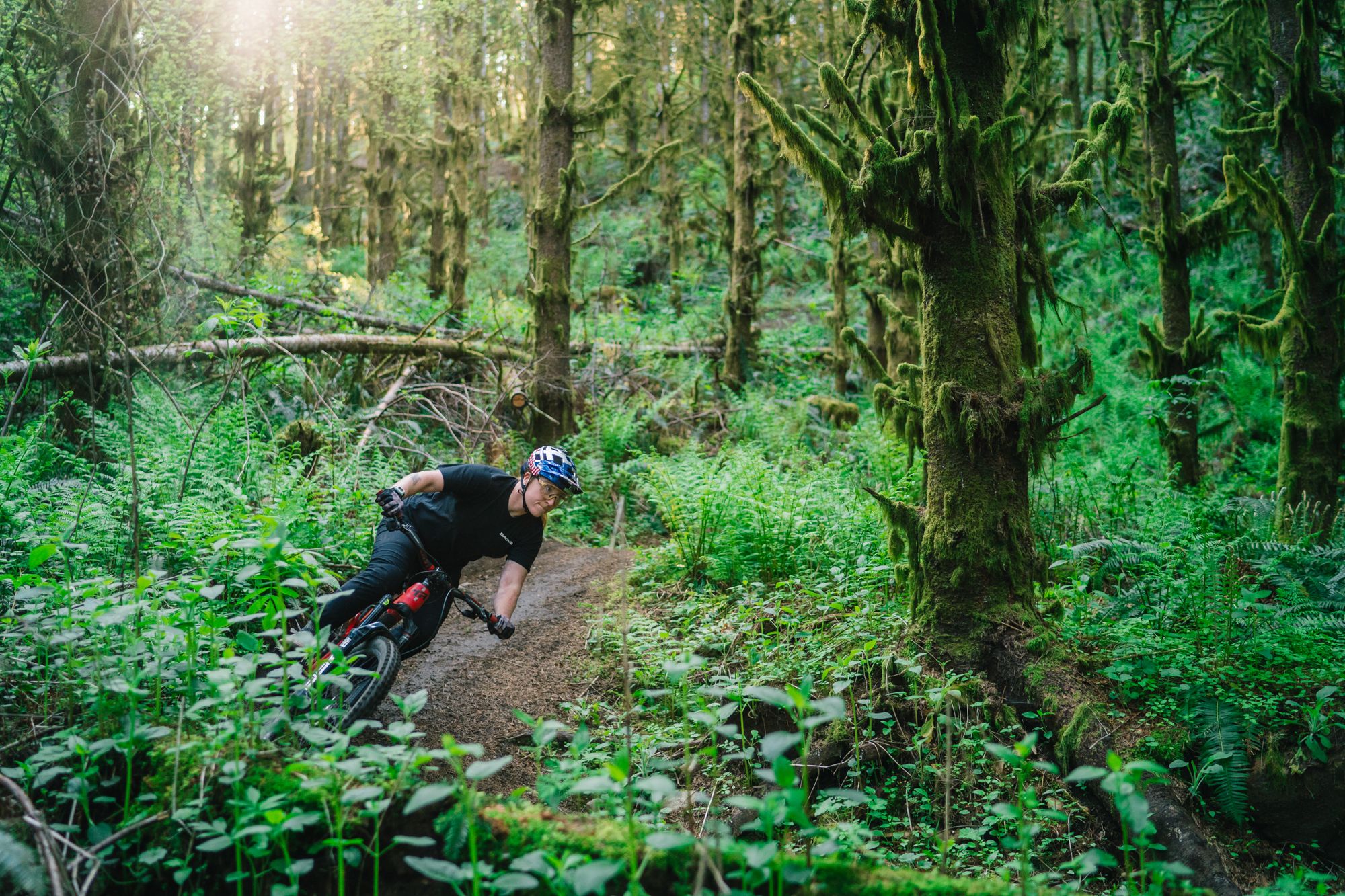 "I hate to throw (Red Bull) under the bus, but I think they need to step up and let these girls into Rampage, cause they want it and they can do it," Brown says. "And I think that they're missing forty or fifty percent of their viewership because there's not a women's category. And I hope that they can see that soon."
Says Bergemann: "That's, unfortunately, a common theme for a lot of women in action sports. You have to jump through a lot more hoops to prove your value. There are brands and people in the industry recognizing us, but there are also roadblocks, and some people not fully supporting or believing."
Of course, that sense of determination and defiance was what led Bergemann to free-riding in the first place. And she has no plans of stopping now. The more resistance she gets, and the more people doubt her or tell her no, the harder she pushes. "I feel like even going back to my dad telling me that mountain biking probably isn't for me – that fueled me even more than someone being supportive," she says. "Like, sometimes, having that no, it's like, 'Well, I'm gonna do it anyway.' So it's pretty satisfying when you're actually able to do it."