Esta história está disponível em português do Brasil.
Esta historia está disponible en español.
---
It's the moment every surfer fears the most.
One mistake and you're at the mercy of the ocean. A wave pummels you under the surface and holds you there. You're tumbling, losing your sense of place, your sense of balance. You must hold your breath as long as necessary, even if you didn't get a full intake of air before being shoved under.
You're fighting the body's urge to panic.
Remaining calm is essential to survival.
Big wave surfers train for this. This is DEFCON 1. In order to survive, your training recall must be automatic. The hours in the gym that give you the strength to fight. The endless, weighted walks at the bottom of a pool, holding your breath for minutes — if you can. And then there's the mental fitness. Fighting the urge to panic. The sudden, gripping need to escape to the surface. Learning to relax at the very moment you realize you don't know which is the route to safety or the route to the ocean floor.
This is life or death.
And once you figure it all out, the next wave arrives, pinning you under again. It's like being inside a washing machine with the ocean as agitator. You're taking a beating over and over. Spinning. Tumbling. Hoping. Eyes open, searching desperately for light through a murky haze of sea foam and darkness.
For where there is light, there is hope.
Don't panic.
Relax.
Orient yourself.
Fight.
Survive.
For most, this nightmare is survivable. It may scar you physically. It may wreck you mentally.
But you can come through the other side.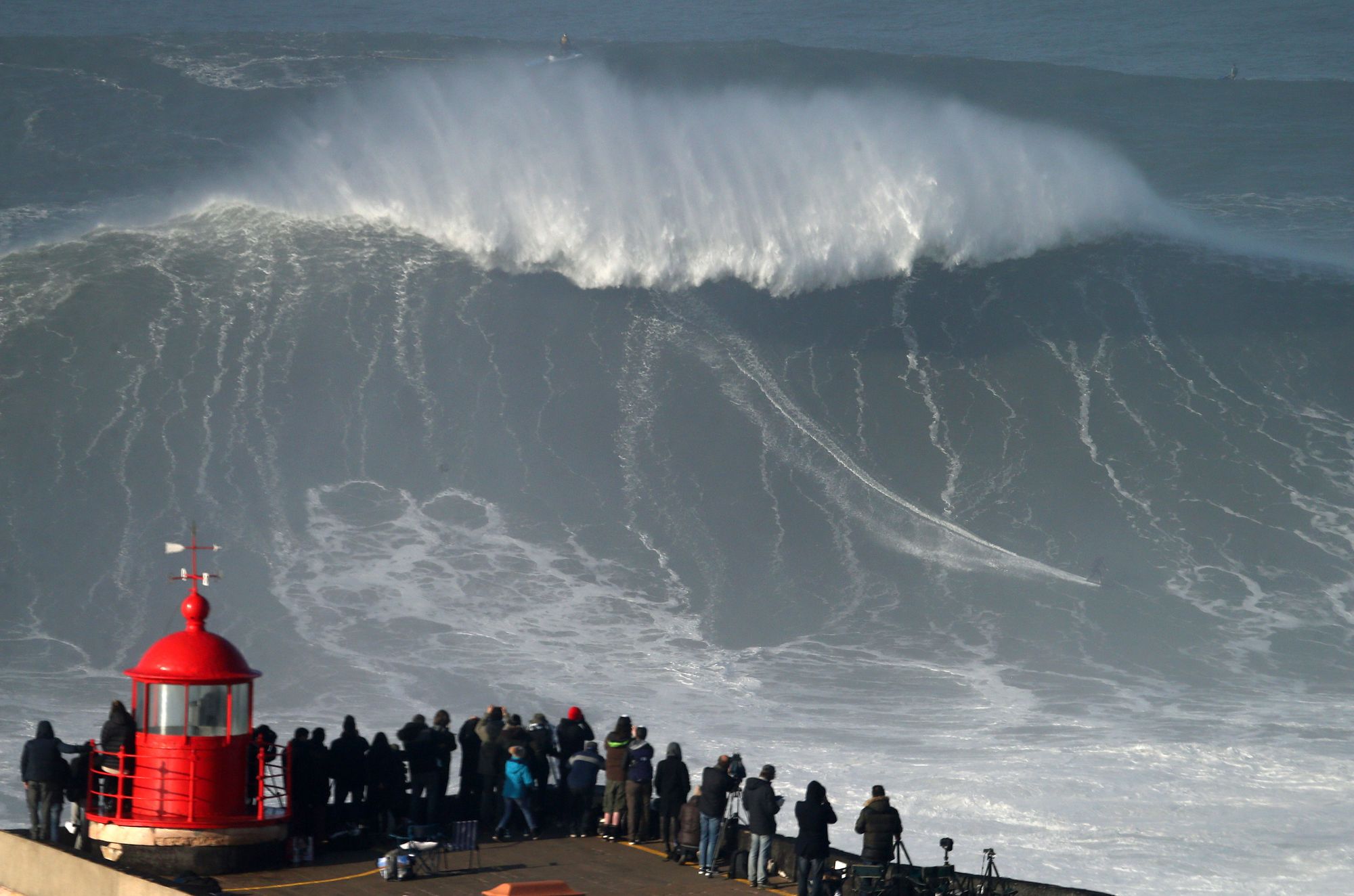 On January 5, big wave surfer Lucas "Chumbo" Chianca was part of a team surfing the beast — the ocean's largest known wave off the coast of Nazaré, Portugal. During the best and largest swells, the ocean's mass is pushed for days toward the coast, where it runs into a three-mile-deep underwater canyon, which funnels the water until its energy bursts to the surface, creating a liquid wall that during winter can be more than 10 stories high.
It's awe-inspiring. It's dangerous. It's been tamed time and again by the best big-wave surfers — the first in 2011 by American Garrett McNamara.
Except on this day, the ocean had other plans.
Lucas, considered the best big wave surfer in the world, was using a jet-ski to tow his friend, fellow Brazilian and surfing legend Marcio Freire, onto the wave. Officials in Nazaré described conditions that day as "not difficult" and estimated the wave at 35–40 feet. Still massive. Still dangerous.
For every attempt, a rescue team is on standby. And to be sure, there's a backup team nearby.
"I towed him on the wave. He went too deep and he couldn't pass the wave. He got pounded.
"I couldn't find him."
Rescue teams raced through the frothy white foam, hoping Marcio would surface. Before the next monster roared overheard, they had to retreat or risk the same fate as their friend. Once the next wave passed, rescuers hit full throttle again. Time was on no one's side.
"Me and my team, we couldn't find him for four waves," Lucas says, staring at the gray ocean waters off Windansea Beach near La Jolla, California.
As we sit on a flagstone ledge under gloomy skies, Lucas tells me this was the scariest moment of his life. And the most tragic.
"And when we found him, he was dead."
Marcio Freire was 47 years old. He was the first known surfer death at Nazaré.
Just three days before this tragedy, Lucas and his wife, Monise Alves, learned they were having a second child, a son.
The inherent danger of his profession was never in clearer focus.
---
Born in 1995 to Gustavo and Michele Chianca, Lucas was raised near Rio de Janeiro. By the time he was three years old, his father had him in the water, working on a little surfboard while wearing floaties.
"My dad is the one that pushed us into surfing," Lucas says, referencing himself and his younger brother, Joáo. "When I was three, I started surfing with him and when my brother was three, I was eight and we all went surfing together."
As the boys grew older, they became obsessed with riding waves and spent their weeks dreaming of weekends at the beach.
"It was super funny because we were waiting for the whole week to go and we can surf with dad and all this stuff. And that's how we started our life and surfing. That's how surfing became our lifestyle, our work, and the way we like to live."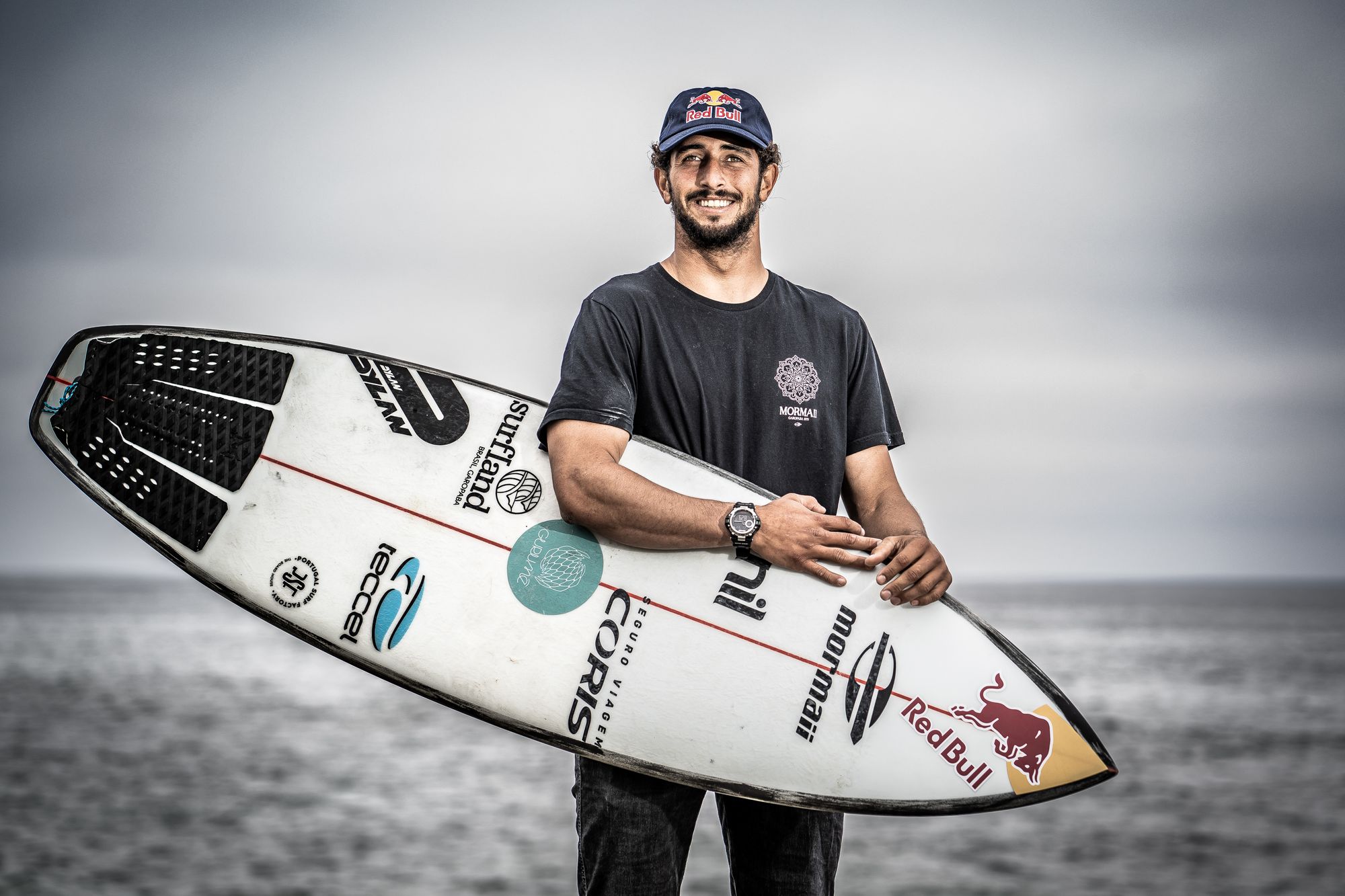 By the age of five, Lucas was entering surfing contests for kids. This was all part of not only his progression, but also the lifestyle in Brazil.
One of his favorite early memories involves a jet ski, his dad's car, and his brother, who was seven at the time.
"This is the funniest part," he says of the memory, adding that he hasn't told this story before. "It was always me and my brother first (on the water) because I knew how to drive, but I didn't drive then. I didn't know how to drive a car, but I could drive this jet ski out with my brother."
His dad would back the jet ski trailer into the water, and Lucas would jump on and back it off the trailer. While his dad was parking the car, Lucas and Joáo were getting the early waves.
"First thing in the morning, every swell was me and my brother. I'm driving this kid. My brother was seven years old, taking the tow rope and getting a bomb and I'm going to rescue him. You remember those moments. It's such a perfect moment in my life.
"In that moment, it was super scary. Adrenaline going huge, but I just wanted to show my dad, like, we know how to do it and let's keep doing it together."
These moments were a silent prologue for his future. Until then, he was on the path his father thought was best.
"I did so many years of regular surfing competition because my dad, he was super keen to push us to go on the small wave surfing. You know, he likes the big waves, but he was thinking about big waves in Brazil, 12-footer waves, 10-foot waves, 15-footers max."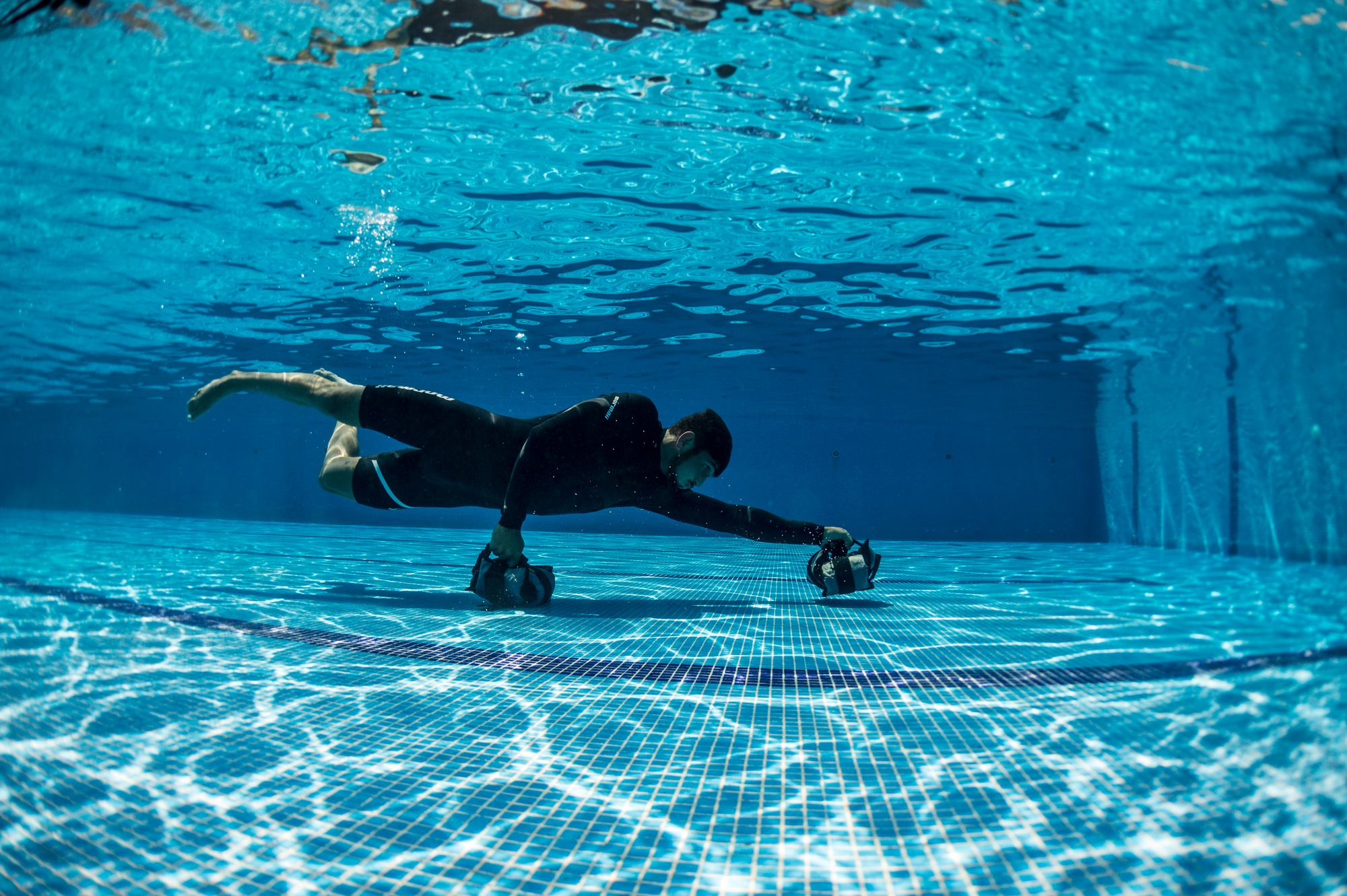 While his father was focused on Lucas potentially having a career in something similar to the World Surf League, Lucas didn't feel the same way. He saw something more — from himself and from the ocean.
He told his dad he wanted something more significant. Gustavo was not interested.
"I said I didn't want to do it anymore. Like in one year, I almost stopped surfing. I didn't want to do small wave contests anymore because I was getting super frustrated, super sad."
Understandably, Gustavo was worried for his son.
"When I jumped on the big wave surfing around the world, he was like, 'Eh, I don't want to lose my son. I don't want my son to die. So I'm not going to help you to do that.'"
Enter Carlos Burle. He is perhaps the gnarliest, raddest Brazilian big wave surfer. Way back in 2001, when Lucas was just six and hating those kiddy competitions, Carlos rode a 68-foot wave at Mavericks off the coast of Northern California. At the time, it was considered the biggest wave ever ridden.
Twelve years later, Carlos surfed arguably the largest wave in history, estimated at more than 100 feet. This was at Nazaré.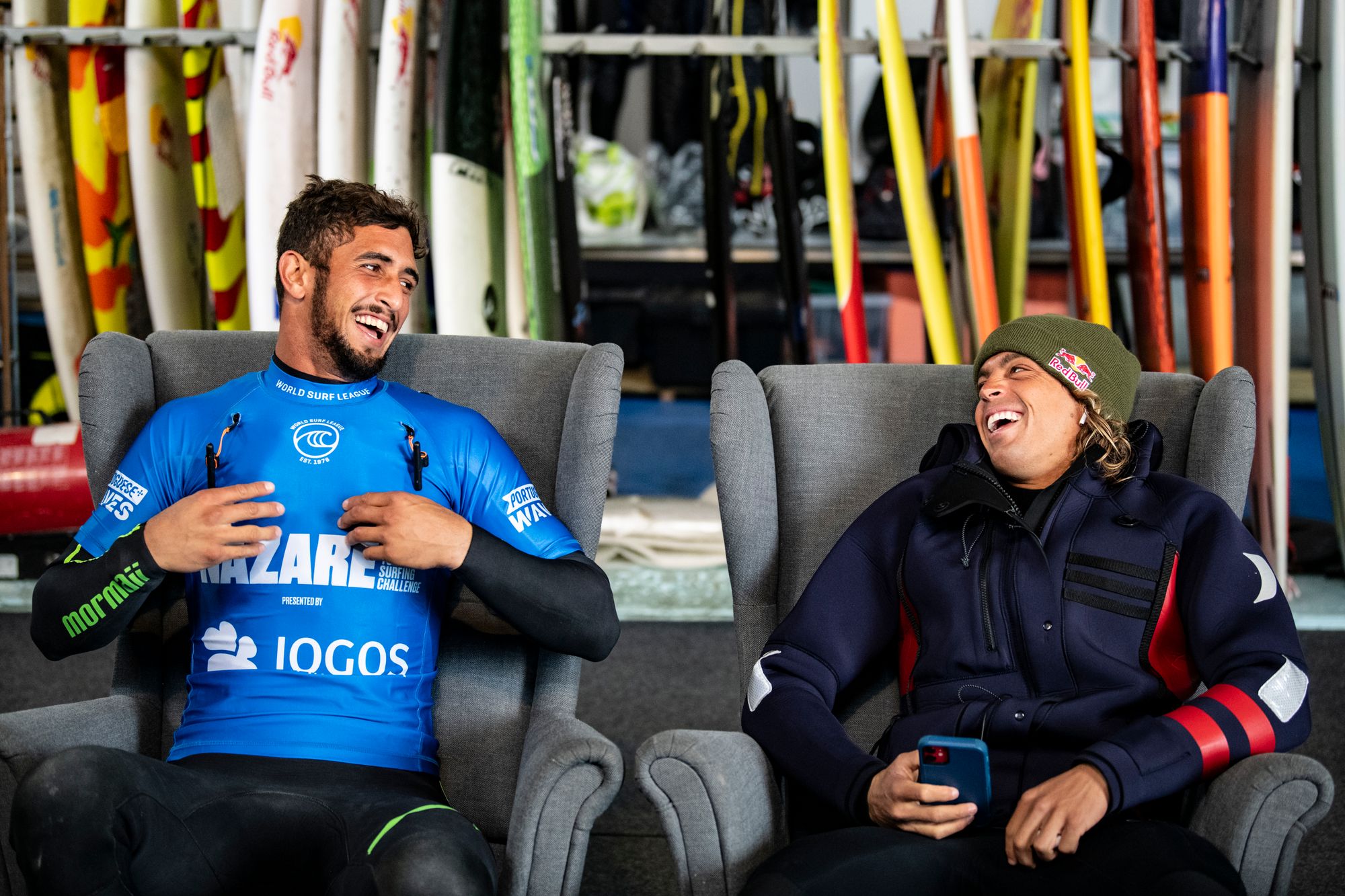 Seven years ago, Carlos and Lucas began working together. The Brazilian legend sharing wisdom with Brazil's future surf king.
As Lucas sees it, Carlos changed the trajectory of his career.
"I love to say me and Carlos are the yin and yang. He's like a Buddha guy. He's like meditation, yoga, super calm. But he has that energy inside him and I'm the opposite. I'm always energetic, always hyped, always like super fast, and I always need someone to push me down. Come down, let's focus," Lucas says.
"Let's put all this energy in one way and make it happen. It was insane to see how it worked really well for us. And if it wasn't for Carlos, I'm not going to be here doing all this stuff and getting all the titles, what I did."
When Lucas speaks of Carlos, there's a wistful smile that emerges. His eyes get a little bigger. Maybe that's respect for what Carlos has accomplished. Maybe it's respect for what they've done together. But there's no denying the impact.
"The thing [of] it is, I had too much energy, so I was getting like a thousand waves on a big day and not focused on the quality. You know, not focusing on the biggest ones, on the most perfect ones, on the most dangerous ones.

"So Carlos was the perfect person to put me on the perfect wave. In one year he was my mentor that whole year. And then after that whole year, I said to him, 'Carlos, I need you for forever. Maybe, I don't know. I need you on my side because the teamwork — what we did worked, it's so good and worked so well for us. So I just want to keep doing that, you know?' I just want to keep moving forward. And I feel like when we have a team, we are always more strong, more ready for any situation.
"So to be colleagues is a pleasure. It's a dream and for sure here, one of the biggest idols I ever had in my whole life, and now with him on my side, I just feel like I'm untouchable."
---
By the age of 12, Lucas was surfing 10-foot waves. In the context of what he's doing now, this seems small. But it's not. In Southern California, with its huge surf culture, a 10-foot wave might be more than many amateurs can handle. And for the rest, it would be a lifetime highlight.
Big wave surfers — and those aspiring to such fame — learn to ride a little bit more each time. It's a progression that takes years.
"Between age 12 to 20, I had a couple good trips in my life with my dad helping to go to Hawaii, Mexico. But it was step by step between 12 to 20. It was like 10-footers. Then 12-footers. And then we went to Hawaii and it was 20 footers. And then after that was Jaws, which was a big jump," Lucas says.
In 2015, at the age of 20, Lucas took the next big step in his big wave journey. Officially known as Pe'ahi, the famous surf break is located off Maui's north shore. Swells hit an underwater ridge, creating large but unpredictable conditions. Waves at Jaws can be as high as 60 feet but consistently hit the 30-foot mark.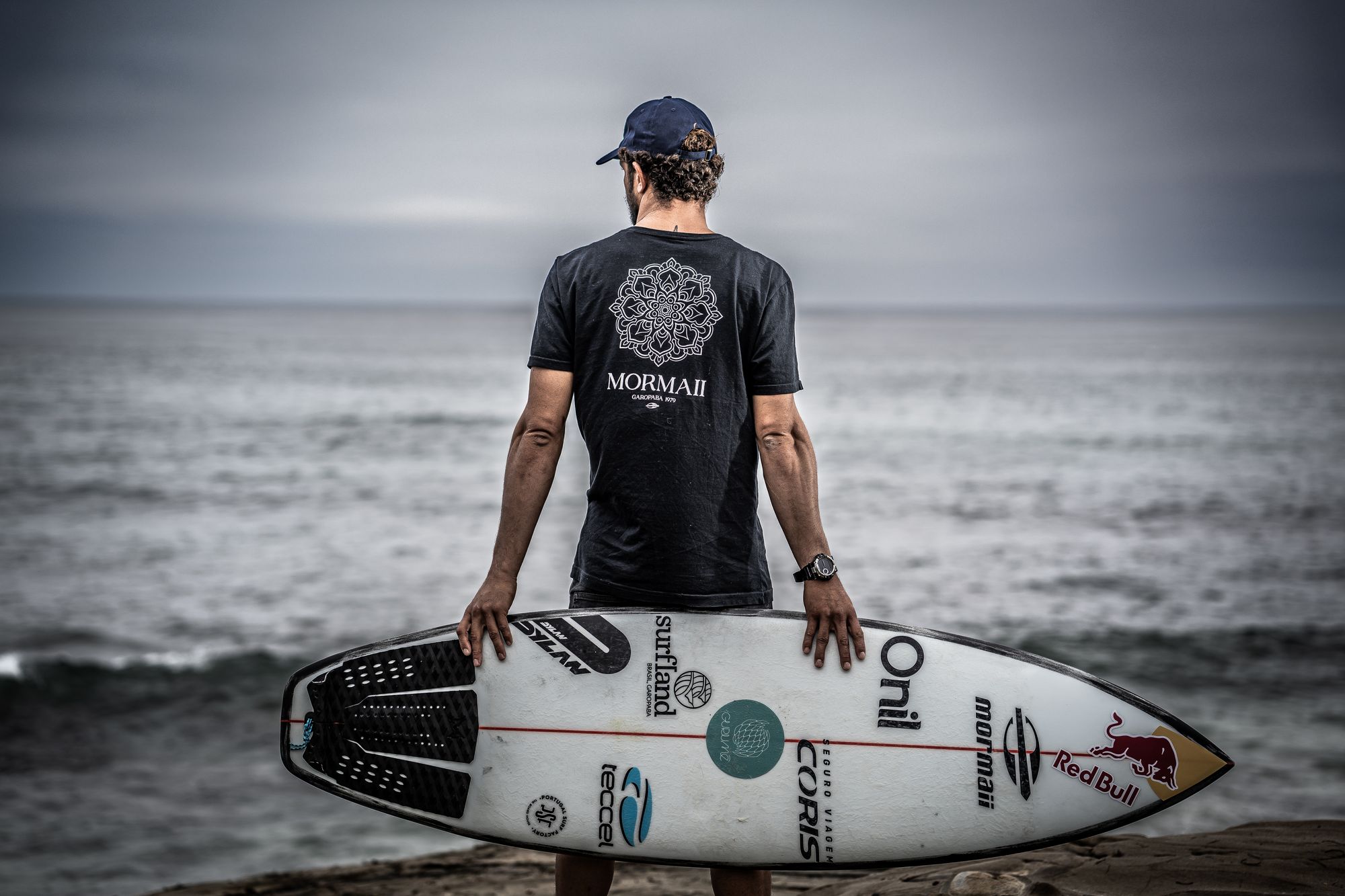 This was his next step.
"Jaws is the sweet spot for every big wave," Lucas says. "Jaws was the switch, the turning point for everybody big wave surfing.
"It was scary so much. But I just want to do that for myself, you know? Like, I want to prove to myself, 'I can. I can do this.' I know my dad said I'm not ready. But I say to me, 'I'm ready for that.' So that thing changed my life. And when I had that session at Jaws, getting waves and surfing with the biggest names in the world in that lineup.
"So I felt like, okay, I found the place, what I want to do for the rest of my life. This is the type of surfing I want to do. I found the place where I was comfortable, in love, and it was the happiest feeling in my life."
Two years after conquering Jaws, he competed in the 2017 Nazaré Challenge. The following year, he won the event, beginning a string of titles that propelled him to the top of the sport.
In 2020, he teamed with close friend Kai Lenny to win the Nazaré tow-in challenge. In 2022, he won again, this time with Nic von Rupp.
Lucas believes he's just getting warmed up. He was featured prominently in Season 2 of HBO's 100 Foot Wave. Last year, he completed a 360-degree aerial at Nazaré, an artist's move considered highly dangerous on that wave. The consequence of failure in that moment was possible death.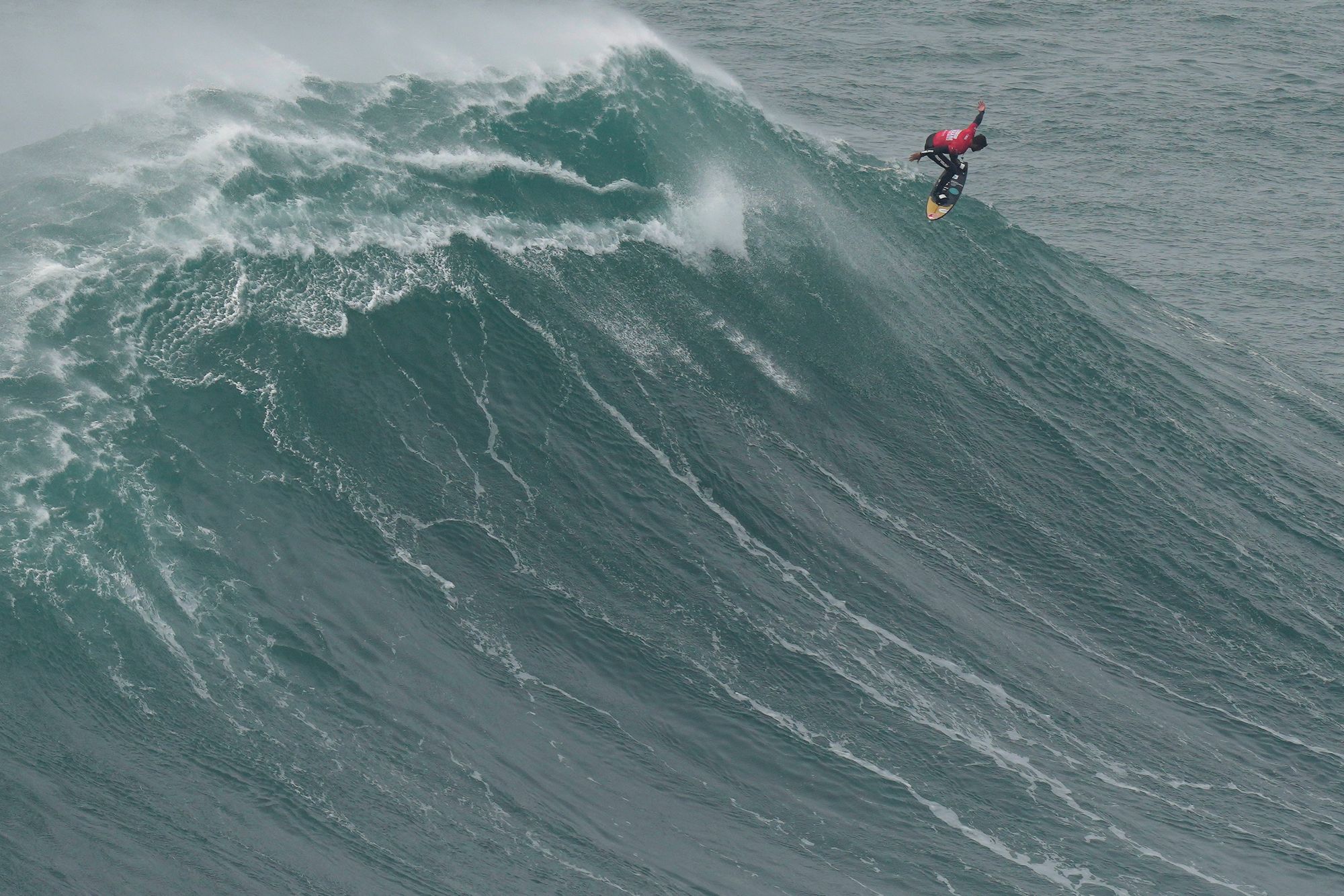 Lucas believes his time is now. His final act is far from complete.
---
It's late July and Lucas and his young family are in California, awaiting the birth of their son. His wife, Monise, is nine months pregnant and due any time. They will name him Zion. In early 2022, daughter Maite was born.
"My wife is my love. She changed my life and made everything way easier for myself. And now we have a baby, which is Maite. She is a pretty girl. So she's our baby, our cuteness and we just are in love with these moments, you know, like it's so much love.
"The main word in my mind is love now. And we live in the best moment. I'm super stoked and proud."
With the impending birth weighing on his mind, he checks his phone regularly to make sure he hasn't missed a call or message. On this Friday morning, just one surfer is in the water at Windansea. It's a spot Lucas typically enjoys when in California.
With nothing to surf on this day and a life-changing addition to his family pending, his mood is upbeat. He is friendly, with a quick smile. He's eager for conversation, especially surfing.
On the same flagstone ledge overlooking the Pacific — the one where he shared the tragic story of his friend's death — I ask him what's next. What's left for you to conquer?
"The next goal now is to keep searching for all the titles, keep trying to reach all the titles and trying to always go on the biggest waves on the biggest days. Keep doing what I'm doing, though. Like surfing around the world, surfing the biggest waves around the world and doing the best performance ever.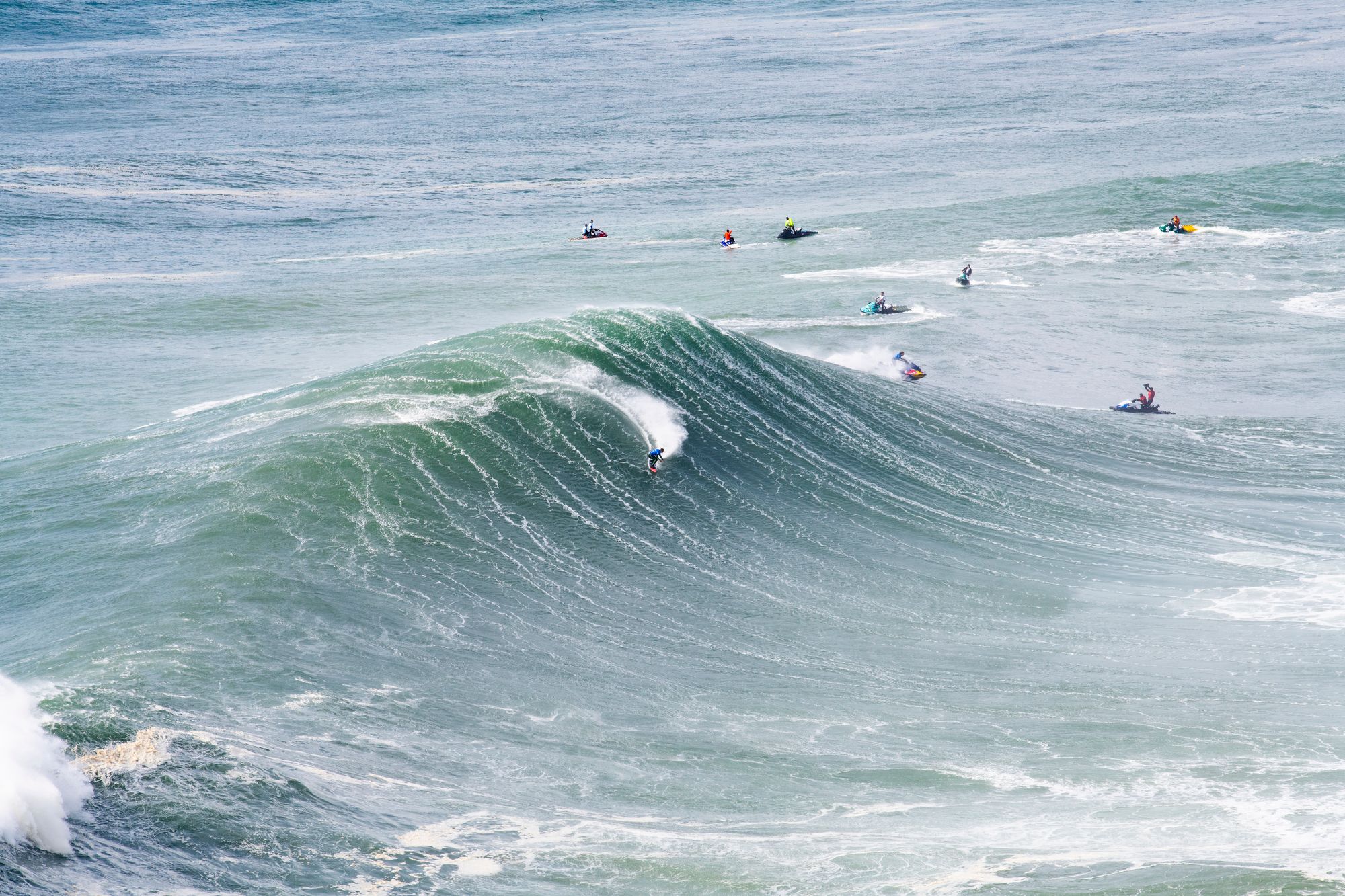 "That's the way I want to live."
It sounds glamorous. Fame bestows a heavy weight. His lust for the next big wave isn't met with the soul of a careless person. With a young family to look after and potentially many more titles and sponsorship dollars in his future, there's a three-way conversation that happens when he's in the water.
He refers to this as The Angel and The Devil. They are sitting on opposite shoulders, talking to him. Lucas is the third party in this conversation.
"When we're surfing on the big day, it's always like that. And you are talking with yourself all the time and you feel like, 'Okay, I'm ready. I want to do that. I want to do this. I want to do that.' But when you are driving to the wave and you look down and you say, 'Hey, now it is time.'
"What do you want to hear?" he asks himself.
"You want to talk with The Angel? Keep going. Get out. Are you wanting to talk with The Devil on the other side? Go, go, go straight and do it. Turn. So that's our little game, what I do with myself.
"But at the same time, we need to talk with ourself and with our mindset and say, 'Hey, why do you want this right now?' Do you want to make the best performance ever in this wave, which is the biggest wave ever? Or do you just want to make that wave, make everything happen in a good way and be safe?
"So you need to choose. Sometimes we push a little harder."
He pauses. A smile emerges as he gazes at the Pacific. He seems lost in a moment, like he's watching film of himself projected onto that 100-foot wave. He sees his future.
"That's the way I love to live."