Bella Mir won her first professional mixed martial arts fight by unanimous decision in 2020 at age 17. Seven weeks later came her second win, this time by technical submission (rear-naked choke), and last summer her third, by submission (armbar).
At 19, she was three-for-three as a pro in a full-contact combat sport where wins typically come by exploiting any weakness in your opponent and forcing them to submit willingly, or, if they're injured or unconscious, not so willingly (see: technical submission).
Bella is a force and has been from the literal start. Back to that in a bit.
Get her back home to her animals in Las Vegas, and she melts like a marshmallow.
"This is Pocahontas," she says as she gingerly scoops her hedgehog from its cage.
Pocahontas joins the Mir family's four dogs (including Gus and Meg), 11 bunnies (Thumper, Chip, Belle, Scar, Brave, Rapunzel, Genie, Tiger, Floppy, Dusty and one more), 11 chickens (including Jessi and Maleficent) and Kyle the lizard, who actually belongs to Kage the brother.
"Bella is very much an animal lover to the point where, you know, we can have a grasshopper that flew into the back yard and one of our dogs would go after it, and Bella had to pull the dog back," says her dad, Frank Mir. "It's like, you know, 'Bella, it's a grasshopper,' but she is very much 'all life is sacred.'"
---
Yes, that Frank Mir. The 262-pound two-time UFC Heavyweight Champion and UFC Heavyweight record-holder for most finishes and most submission victories.
As you might guess, both nature and nurture carved Bella's present path.
Let's start with nature. When Jennifer Mir found out she was pregnant, the doctor told her she was having twins. An ultrasound later revealed nope, just one baby.
"They thought I was having twins because my hormones were so high, like double the count. So now the running joke is that no, it was just a Bella. Since birth, she has defied the odds and she's just had this extra boost."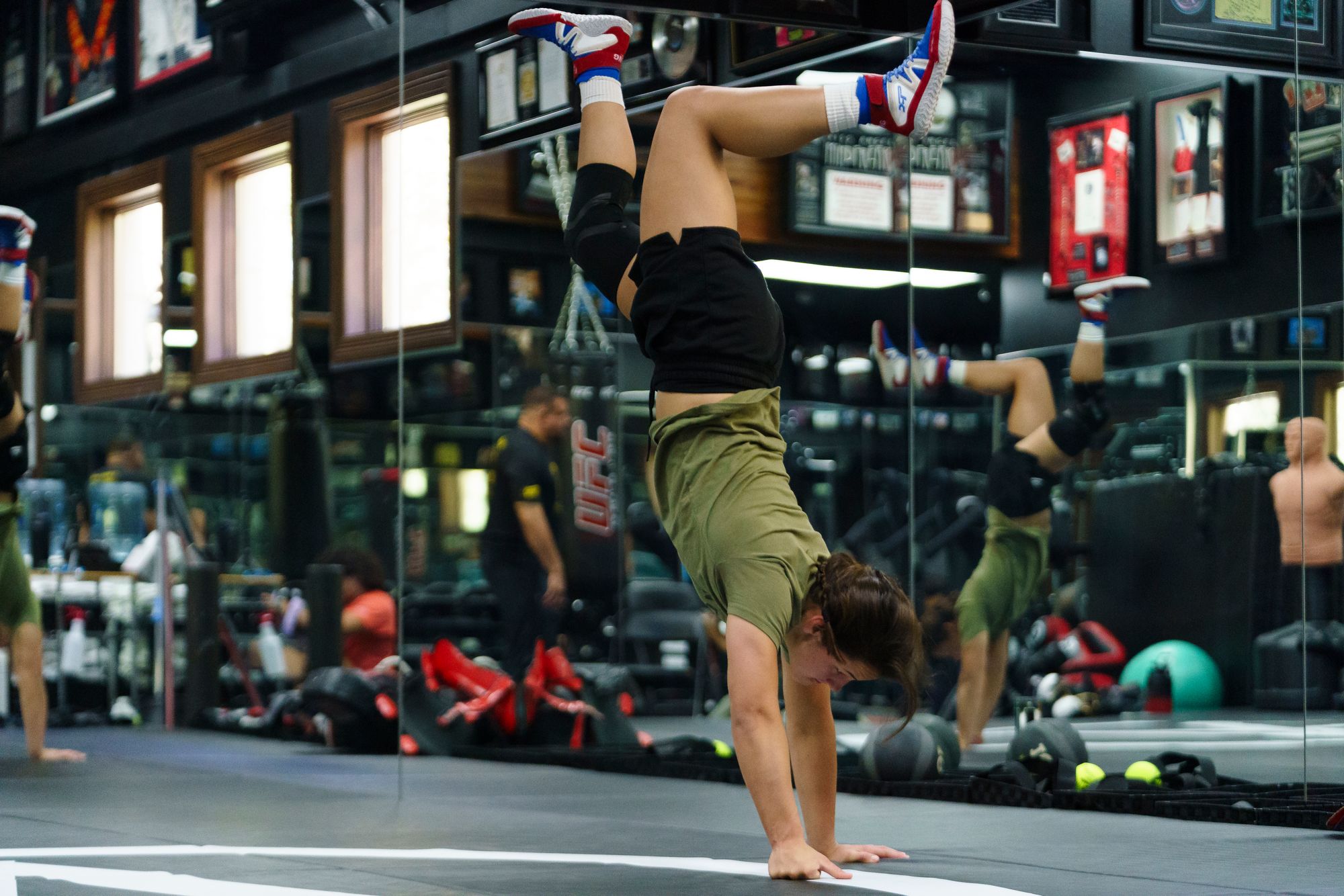 An extra-determined mindset, too. Have you met any toddlers that reached for Muscle Milk when they outgrew formula? Or six-year-olds who built their own workout apparatus?
"I'm looking in the cul-de-sac, and Bella's all by herself," Frank recalls. "She has these bags, loaded-up duffle bags, and she's picking them up and sprinting in a circle. No one made her. She had just asked to go outside and play. And her version of playing at six years old was to do farmer walks in the cul-de-sac."
---
Bella and her brothers grew up at the gym, watching their dad train, watching him fight, absorbing the commitment and the craft. At one point, Frank built a bench on top of the cage so the kids could crawl up and watch safely as he trained below.
It wasn't long before the kids started competing too, with each other, at home. Things were broken. With older brother Marcus and younger brothers Kage and Ronin, indoor dodgeball could get dicey, for example, even with pillows.
"We would chuck them at each other so hard, our faces would be red afterwards," Bella says. "One time my youngest brother was on the couch, and … I swing the pillow all the way up, break the glass (on the ceiling fan lights), and smack Ronin in the face. He had blood all over his face from the glass."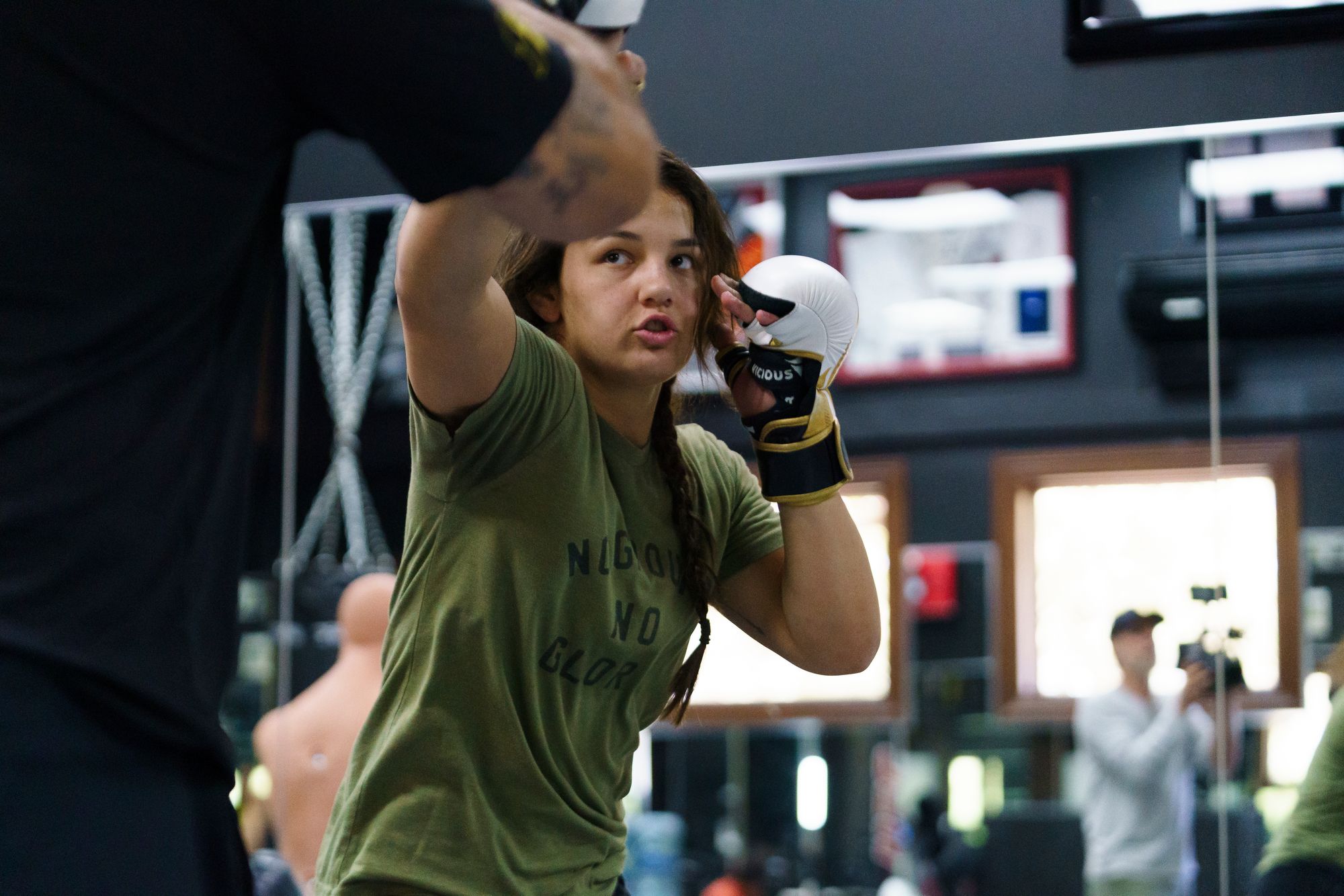 They've broken plates, TVs, teeth and one of their mom's treasured Hummel figurines, a casualty Jennifer won't let them forget.
There have been broken body parts, too.
"My first broken bone was because of her," Kage says. "I broke my collarbone playing football. So it's always, you know, there's always something. It never comes clean."
---
Bella's no-mercy nature brought success on the softball field, and early. At 13 and 14 years old, she got offers from the University of Washington, University of Hawaii, UCLA and others. UCLA was her "dream college" because it was both close to home and close to the beach.
But she had even bigger dreams: "I want to be one of the best combat sports athletes of all time. I want to be an Olympian. I want to be a world champion at wrestling."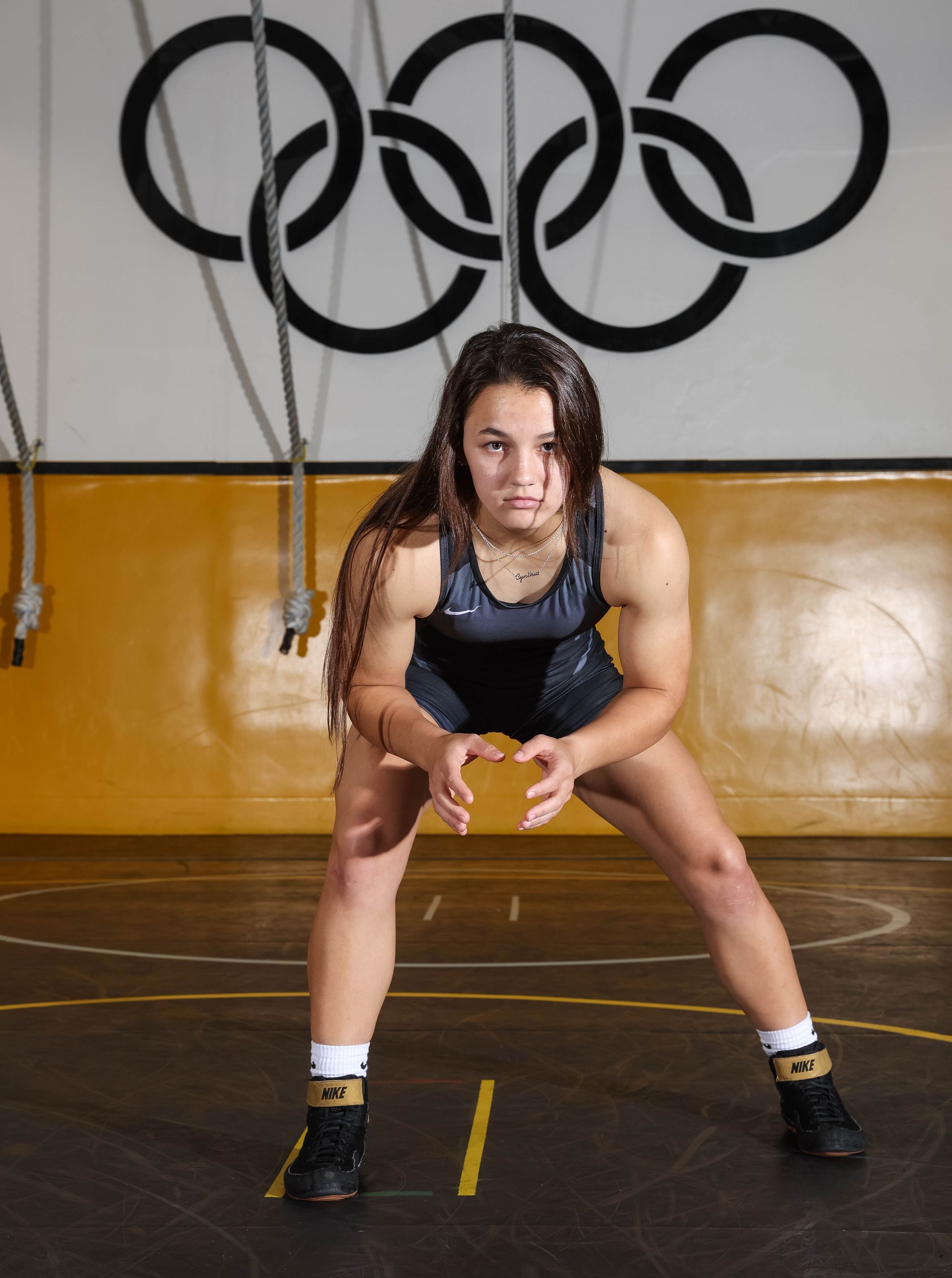 In high school, she left softball behind to focus on jiu-jitsu and wrestling, in which she became a four-time state champ. The plan was to still go to college but for wrestling, make Team USA, and eventually fight for a living. College was non-negotiable. When Bella promises to buy her parents a beach house or Kage vows to buy them dream cars, Jennifer redirects.
"I tell them, 'If you love us, if you respect us, if you really want to repay us, we want you to get a degree.' Neither of us went to college. Our thing was, you get a degree. You break the cycle."
---
Bella is breaking the cycle. She just finished her freshman year at the University of Iowa, where she is part of the first class of the first-ever women's wrestling team at a Division I school in a Power Five conference. Befitting such a landmark moment for women's wrestling, the university named a real-deal head coach: Clarissa Chun, a bronze medalist in women's freestyle at the 2012 Summer Olympics and former USA Wrestling assistant coach for the women's national team.

Chun and her first recruits were exactly the kind of company Bella wanted to keep.
"When I saw her, I'm like, I want to be coached by the best, and I saw these … literally number one nationally-ranked girls go to Iowa, so I'm like, hey, all the best people are coming here. I need to come here. I want to be surrounded by these kinds of people."
Even though the team had "emerging sport" status during the 2022–23 school year, Bella and her teammates competed unattached in a handful of tournaments and became tight as a group. She even introduced them to the speed bag and the basics of fighting — strikes and jabs that showed another dimension of herself and deepened her connection with her teammates.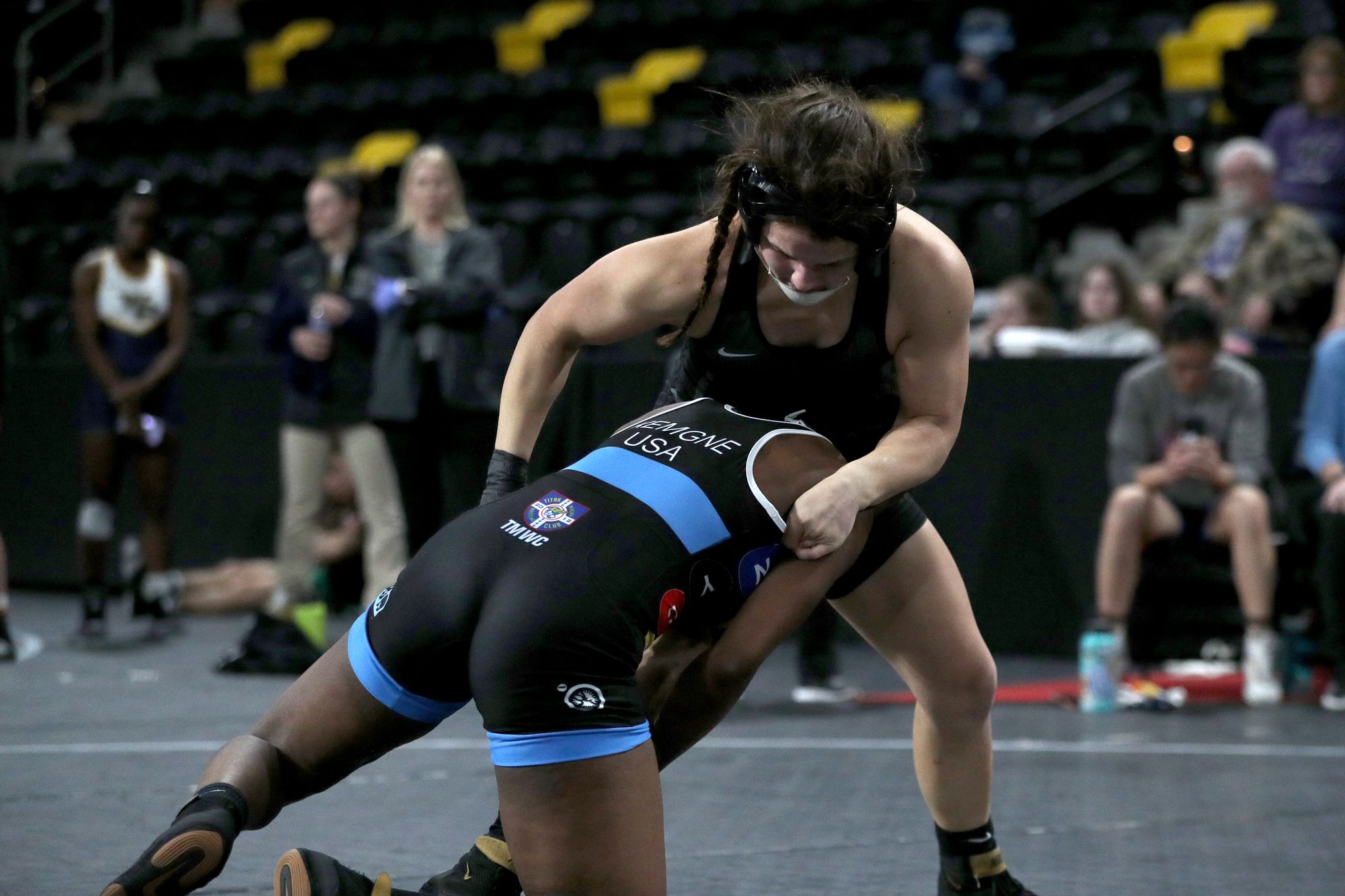 "You feel like it's camaraderie and, I guess like a sisterhood between everybody. And it's just like I built my own family out there, and I have two homes right now. Honestly, I think going to college was one of the best decisions I've ever made."
It's not just the friendships but the absolute commitment to practice as hard as possible against each other on their home mat so they can dominate anyone else, anywhere else. When Bella made USA Wrestling's U20 World Team this spring, she credited her teammates and coaches for getting her there.
Of course, she still trains with her dad when she's home — she seamlessly shifts from wrestling to jiu-jitsu to MMA and has no doubt all three disciplines make her a better all-around athlete.
---
The Hawkeye program officially starts this fall. In the meantime, Bella has been busy racking up podiums, prestige, and name, image and likeness (NIL) deals.
She is UFC's first NIL ambassador, she won the 2023 USMC U20 Women's National Championship (68kg), and she just won her first international wrestling tournament, the Grand Prix Spain. That's on top of her 2021 USA Wrestling Junior Folkstyle championship, her 2022
American National Jiu-Jitsu Championship, and her 2021 International Jiu-Jitsu Con Championship.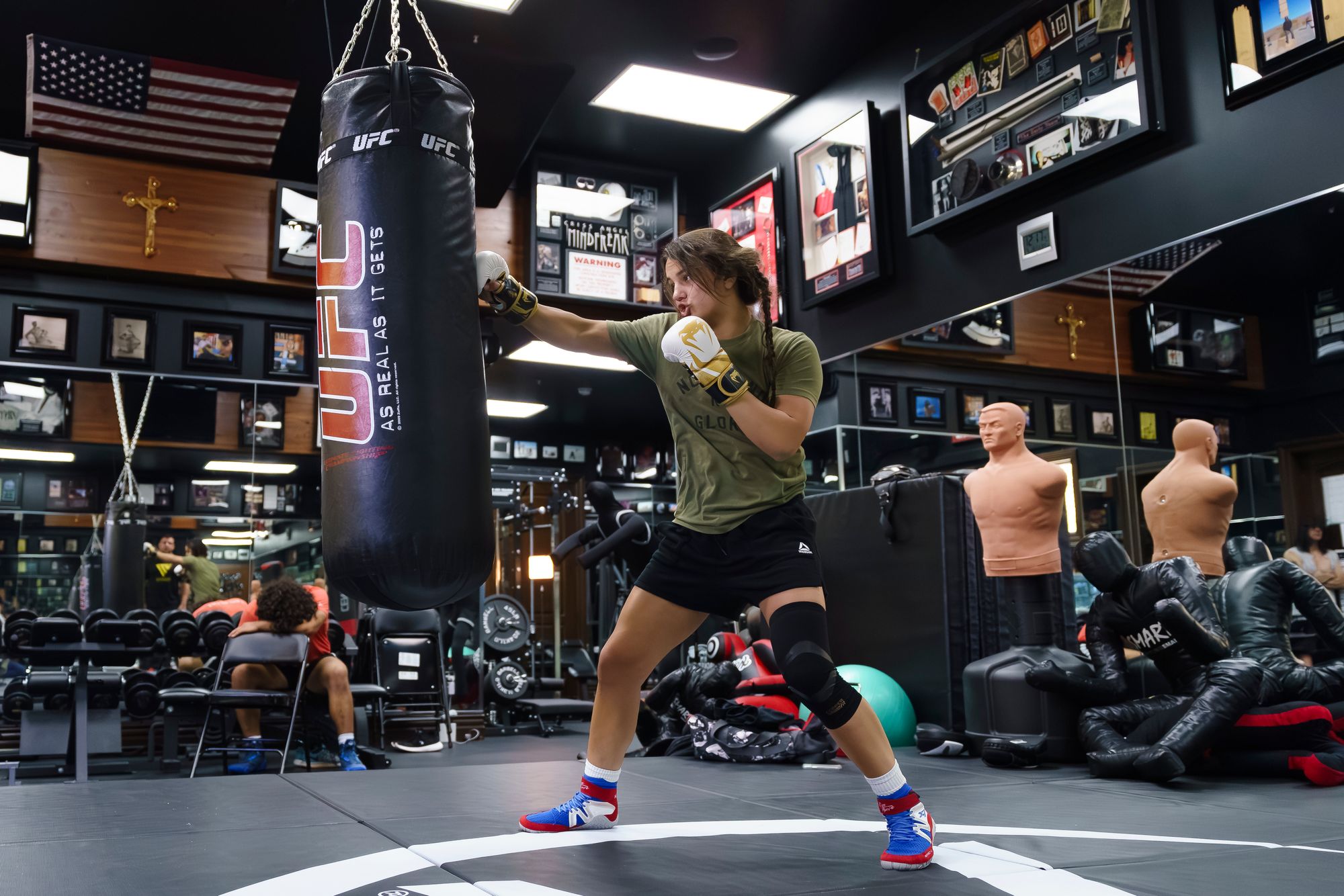 She'll compete in the United World Wrestling Championships in Warsaw, Poland August 14–20 — her chance to fulfill that daily notebook entry, "I'm going to be a world champion."
How does she prepare for competing on such a big stage? She never looks at an opponent like they're special.
"I didn't want to put my focus on them. I wanted to focus on myself and put all my energy into myself. I kind of like to hype myself up, I guess like being cocky in my head. Like, 'I'm the boss. You can't beat me. I'm strong. I'm faster than you. I'm better than you. There's no way you could beat me.'
She can be cocky and real at the same time, especially before a fight: "I like to have a smile on my face too, hide my anxiety. People like to say they're not scared or nervous before a fight. They're lying. It's not true. Because I mean, there's a chance of you getting knocked out or your arm twisted into three different positions. Getting choked out in front of thousands of people. There's no way you're not nervous."
---
Before Bella made the World Team, she and Frank were hatching the ultimate passing of the family torch: fighting on the same card. Imagine it. After fighting in front of a roaring crowd, Bella heads to the corner, where her proud father "cuts her hands" and then raises his own hands for wrapping before he goes out and fights his final fight.
With Worlds and school ahead for Bella and 44 years behind Frank, the window for a father–daughter card is not yet closed, but closing.
"If Bella doesn't make it, we don't fight on the same card, and I'll just have a retirement fight by myself," Frank says. "And then, you know, c'est la vie."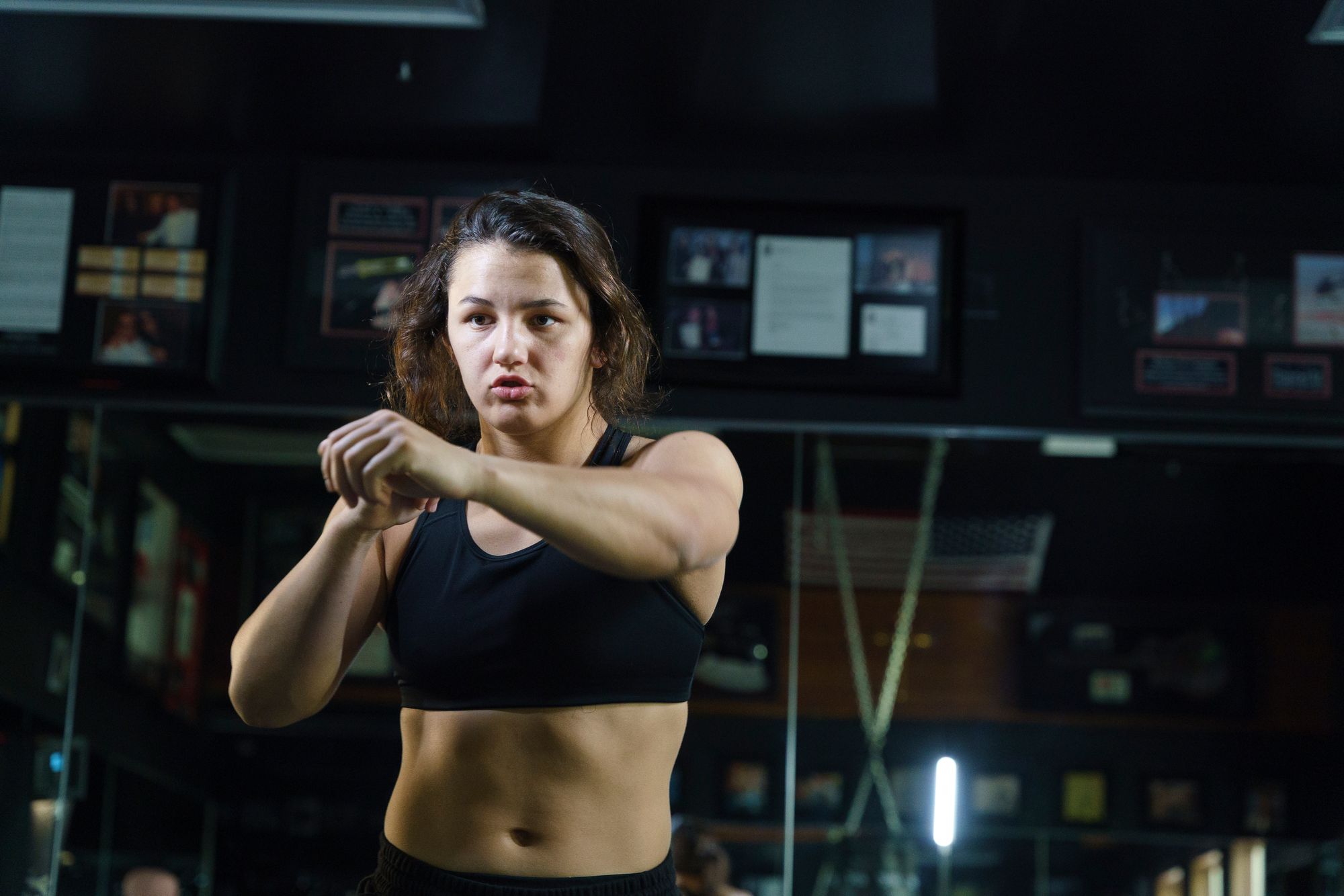 Whether it happens or not, nature and nurture run deep: "I always tell my dad, … not only are you so good at your game, but you always prove a point when you beat somebody at their game."
But she's her own person, too. Asked who inspires her, she goes inward.
"I don't really look at anyone because I don't want to mock anybody else. I want to be my own."
Chris Soule contributed to this story.